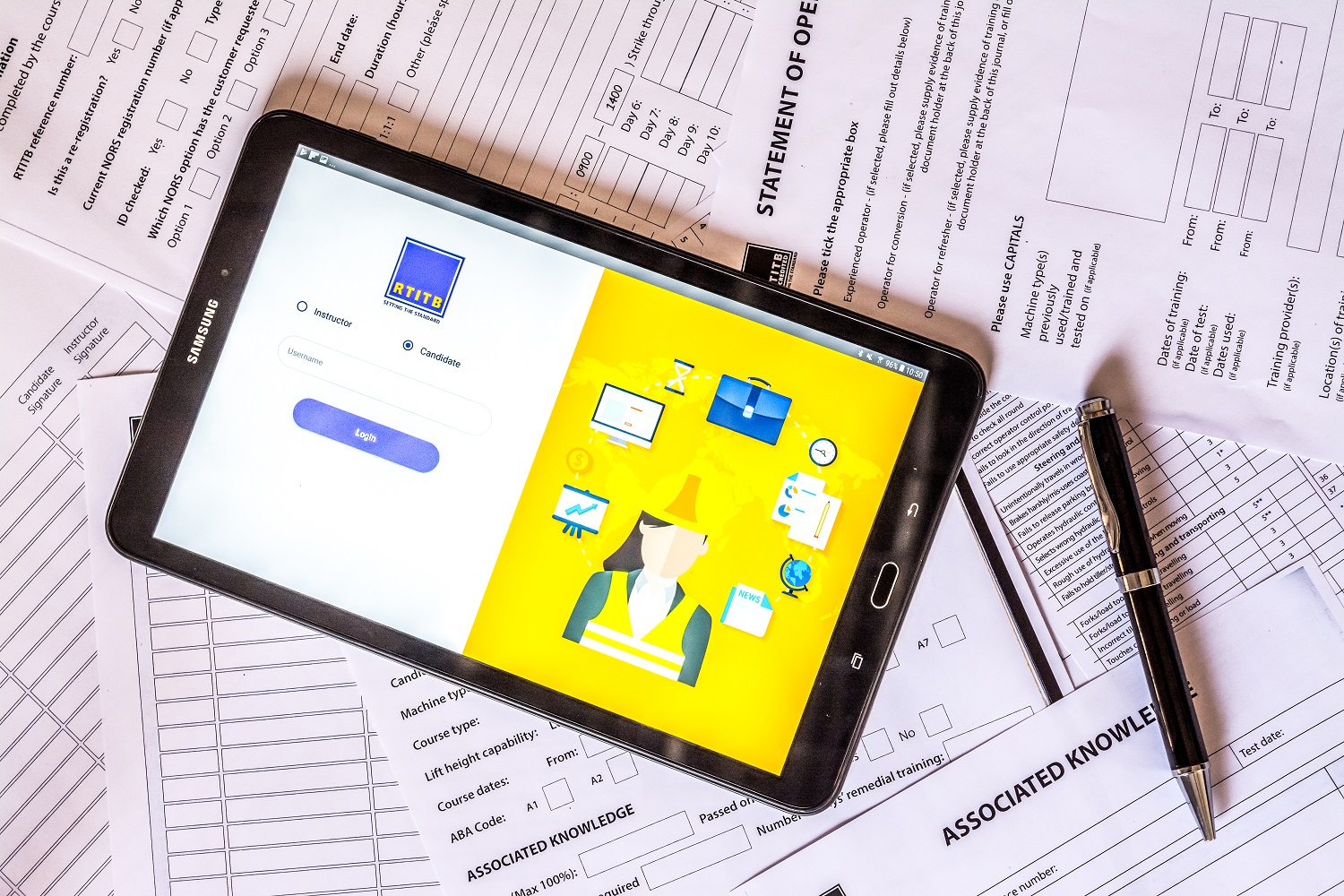 Since its launch in June 2018, the MyRTITB TrainingFriend app has revolutionised forklift training by making the administration and testing process completely paperless.
Only available to RTITB accredited organisations, the MyRTITB TrainingFriend app helps your lift truck  instructors do what they do best – training, not paperwork. With our unique solution, your instructors can become more efficient and accurate than ever when it comes to training administration and testing.  This will help your organisation tosave time and money, reduce errors and comply with GDPR and training standards.
Save Money
For the equivalent of just £20 per month*, theMyRTITB TrainingFriend app makes training 100% paperless. No more buying, printing or photocopying test marking sheets, training records, training journals or registration forms!
But as every organisation is different, we have different payment options to meet your business needs.  For instance, our pay monthly approach is a great fit if you prefer to avoid an upfront outlay. We have also recently launched a new service, providing users with the hardware (4 android tablets) and licences they need at a monthly cost of just £70+VAT. Not only does this ensure they can get started right away, but it also removes the burden of high investment in the tech required.
Save your business 5 hours each course
Using the app can save up to 5 hours administration time per training course.
That's right, 5 hours on every course!  Imagine how many hours you will save every year.
With just 1-click, you can register candidates onto NORS (National Operator Registration Scheme), our online extranet which quality assures and securely stores training data. This can be by the instructor in the app itself, or by the office through the app web portal.
There are at least 2 theory papers for every course automatically built into the app, so there is no need to waste your time creating and updating theory test papers.
The app also automatically collates and creates a highly professional, electronic 'Training Record' (PDF format) for you See an example of this here. There is no more wasted time copying and collating candidate training records.
No More Audit Headaches
All the paperwork you need to deliver fully compliant forklift operator course is in one place, making training audits quicker and easier than ever.
You only see the test marking sheets for the course you are running with no chance of accidentally using the wrong (or out of date) pre-use or practical test marking sheet.
The app totals up penalties and scores plus auto-marks multiple choice questions for you, captures candidate eligibility and reminds you if you've missed anything.
Use it for all types of training
The app covers training for more than 120 types of machine, including counterbalance lift truck, reach truck, rough terrain telescopic and pallet truck training, plus training for powered access equipment (MEWPs), lorry loaders, cranes and many more.
Easy to get started
It is easy to get started using the app even if you struggle with computers. We provide free training at Telford, via webinar or on your site if you require multiple licenses. We offer full support from the RTITB team, and will hand-hold you through the first few courses you run using the app.
You can also run 'test courses' with the app so that you are 100% confident before you make the transition to using it in the live training environment, so what are you waiting for?  The app downloads to 7-10" Android tablets.
For more information visit the official forklift training app page, or contact our Solutions team on 01952 520207. 
Already accredited with RTITB? Contact Josh on 01952 520231 to learn more about our free MyRTITB TrainingFriend demo days held throughout the UK and new subscription service which includes all the tablets you need to help get you up and running quickly.
*Prices shown are for 1 licence. Prices stated are charged either per month or per annum. All subscriptions require a minimum 12 month commitment.