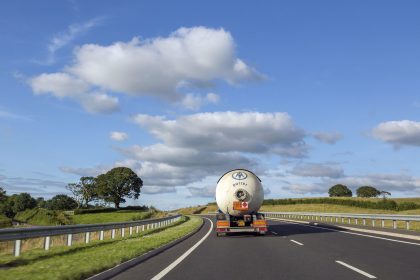 What do you need to be an ADR Instructor? This is a question our team gets asked a lot by training companies and Instructors keen to add a dangerous goods driver training offering to their skillset.
Many people assume that there is a set ADR Instructor qualification, similar to those you would need to obtain if you wanted to become an LGV Instructor or a Lift Truck Instructor. However, there's not! Some organisations have developed their own courses and called it an 'ADR Instructor Course'.
This can make it tricky to understand what the requirements actually are, both for individuals looking to deliver ADR courses, but also for businesses looking to appoint a suitably qualified employee or training provider. Remember anyone wishing to run dangerous good driver training must have substantial 'real-world' experience of the transport of dangerous goods.
People are often surprised to learn what the five things are that are actually needed to be a Dangerous Goods Driver Training Instructor.
1. A recognised Instructor qualification
To become an ADR Instructor, one of the first things you will need is a recognised qualification that endorses your credentials to deliver training and instructor candidates. As there is no Instructor qualification specific to ADR, an RTITB qualification, such as LGV Instructor, is sufficient for proving competence.
A QCF Preparing to Teach in the Lifelong Learning Sector (PTLLS) qualification or a Certificate in Education (Cert. Ed) are also acceptable. You could also meet this requirement by proving your experience in preparing and running training courses for adults on vocational subjects.
2. A current ADR Driver Training Certificate
In order to carry dangerous goods, drivers must hold a special vocational certificate of training, sometimes referred to informally as an 'ADR Certificate' or 'ADR Licence'. To become an ADR Instructor, you will need this too.
3. A First Aid at Work Qualification
Completing first aid training brings many benefits – not only can it save lives, but it also ensures workplaces are a safer environment for employees and encourages a positive work environment too.
It's also an essential in order to become an ADR Instructor (if you wish to deliver the Core Practical Exercises) . You will need a full and current First Aid at Work qualification, such as those obtained from attending training with the British Red Cross. Paramedics, RGNs and first aid instructors from the Forces with current, up-to-date qualifications are also accepted.
4. Fire Fighting training
When handling dangerous and hazardous goods, fire fighting training is an absolute must for those wishing to deliver the Practical Exercises. In order to successfully qualify as an ADR Instructor for the Practical Exercises, you must have sufficient evidence of previous formal training as a Fire Officer or Instructor, or alternatively, have another competent source (such as training by a fire extinguisher manufacturer). This is essential for ensuring that an ADR Instructor has the knowledge and skills to deliver practical fire extinguisher training to training candidates. Because of its importance, online training or eLearning is not acceptable as sufficient evidence of fire fighting training.
5. SQA Approval
Finally, to be able to deliver ADR training, you will need approval from SQA as an approved ADR training provider or trainer. You can learn more about the specific requirements here. You will also need high-quality SQA-approved ADR training materials, and that's where we can help make becoming an ADR Instructor easier.
As a member of the RTITB Dangerous Goods Driver Training Consortium, a lot of hassle is taken off your hands! You'll still need to put in an application and have the relevant credit checks and audits from the SQA before becoming approved, but you'll then have access to everything you need to start delivering SQA approved ADR training for classes 2,3,4,5,6,8 and 9, Packages and Bulk, Tank and Core, such as Instructor guides, PowerPoint presentations, and videos.
To run ADR training courses for drivers, training providers must be approved to do so by the Department for Transport (via SQA). We take care of this for you – joining includes your SQA approval and audit fees, making it much better value than being SQA approved in your own right. It is also much quicker to get started with our training materials than to get your own ADR training materials developed and approved by SQA.
Find out more about the benefits of joining the RTITB ADR Consortium.
Need ADR training?
If you need to train multiple drivers across different sites across the UK, we can organise SQA approved ADR training for you. Rather than dealing with multiple training providers, RTITB Dangerous Goods Training Solutions can coordinate standardised training to meet your needs nationwide via our network of trusted Consortium members. Let us do the hard work so you don't have to!
Alternatively, speak to our team on +44(0)1952 520200 to find out more.