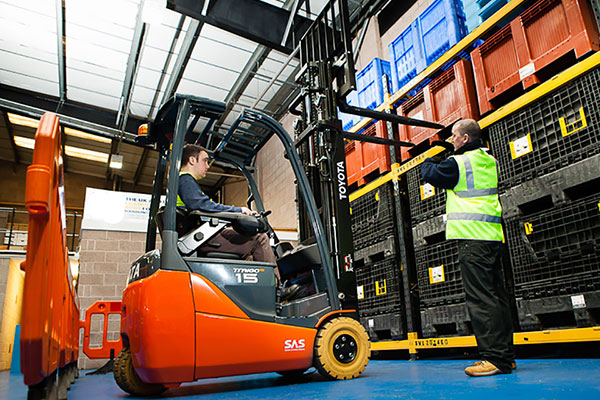 The majority of all lift truck training in the UK is conducted through a training provider accredited by either RTITB, ITSSAR, AITT or NPORS. We explain what makes RTITB different from the other accrediting bodies and why we are the leading standards setting body for workplace transport training.
As accrediting bodies, RTITB, ITSSAR, AITT and NPORS all help to set and maintain professional lift truck training standards across the UK. They help employers select training organisations (or lift-truck suppliers) that offer a good standard of training, or they accredit employers directly to deliver their own inhouse training.
This is really positive for the UK workforce, helping to drive safety standards nationwide in all types of businesses from warehousing to manufacturing, metal works to retail outlets.
However, RTITB accreditation continues to stand out and here are 10 reasons why.
1) Superior Training Materials
RTITB instructor guides, handouts, videos and presentations are the best in the industry. We continuously improve and develop them and offer free instructor material updates, so you are always 100% compliant. If you are an inhouse trainer, we can tailor the material to suit your business.
2) Fast certificate turnaround time
Exceptional certificate turnaround times (less than 3 working days on average and within ½ a day for emailed certificates)
3) Cost
To register and verify each trainee costs from just £5.30+VAT, with discounts for companies making more than 750 uploads a year.
4) Free Marketing
Training providers can benefit from free marketing on the RTITB course finder which sees 180,000+ searches per year and is supported by strong results in Google's search pages and with Google Ad campaigns.
You can also grow your training business using the recognised RTITB accreditation brand your customers look for and trust.
5) We listen and learn
Our quarterly customer service surveys give you a chance to let us know what we can do better, then you can sit back and watch us put your feedback into action. We also hold members meetings, all around the UK, Ireland and the Middle East, giving all our customers the chance to let us know what they think and what we can change.
6) Professionalism and Standards 
We monitor test result data so that we can identify areas for improvement or closer inspection. Mystery shoppers and unannounced audits help get rid of the rogues.
7) Excellent, responsive support 
Our dedicated customer care co-ordinator is there for you whenever you need him. His only job is to help you!
8) FREE toolkit and FREE trainers' guides
When you join RTITB we'll give you a FREE toolkit with every form and useful documents you may need to deliver RTITB training. We also give you 4 free trainers' guides when you join.
9) Discounts
We offer exclusive discounts on the RTITB online shop.
10) Exclusive access to app for paper free training
You get exclusive access to the RTITB App which enables 100% paperless training and testing administration combined with one-click upload to NORS (our registration database). At only £20 per month, there's no more buying, printing or photocopying test marking sheets, training records or registration forms, saving you money and time.
Find out why becoming accredited by the premier workplace transport training accrediting body is the best choice for you and get your Free Download.
If you want accreditation that makes a difference to your business, it is easy to switch to RTITB. Download an application form and we will be in touch. Call our team on 01952 520207 or email solutions@rtitb.co.uk.