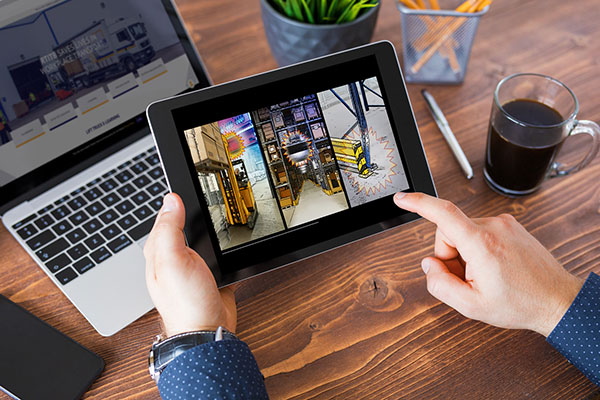 Safety should always be the top priority. You mustn't cut corners when it comes to delivering reach truck operator training. But did you know that you could use eLearning to deliver novice reach truck theory training? This can help save you time with no compromise on quality and compliance.
eTruck UK is now available from RTITB as part of reach truck operator eLearning. Here are three tips for using this innovative solution for novice theory training to save your business, and Instructors, time.
Train 66% more candidates in a two week period!
A practical element of reach truck operator training is still essential. At a time when there is a shortage of warehouse staff, Instructors also seem to need more hours in the day to deliver this practical training and clear backlogs so skilled operators can enter the workplace.
By using eTruck UK for novice reach truck operator training, Instructors can train ten novice candidates in a 2-week period instead of just six.
The theory knowledge and introduction to key practical themes like racking, pallets, and pre-use inspection are all covered in the online learning. This frees up valuable time for instructors to deliver more practical training. For instance, in a 5-day week, they could complete a 3:1 and a 2:1 reach truck operator novice course!
Thanks to the data provided by eTruck, Instructors also enter the practical training with greater insight on their trainees' strengths and weaknesses, so they can be more time-efficient when it comes to focusing and working on these areas.
Let candidates learn at their own pace
Everybody learns differently. In a classroom setting, this can be challenging both for candidates and the Instructor. Some learners are keen to race ahead, and others may struggle to keep up. Some candidates like to listen, others like to read information.
When you use eTruck UK for reach truck operator training, candidates can work through the training at their own pace. This prevents trainee operators from being slowed down or distracted by other candidates. Plus, the system is designed to appeal to many different learning styles, helping to keep candidates engaged and interested for longer, as well as resulting in better knowledge retention.
At the same time, Instructors have access to insights on every learner through the online training system. Instead of spending time trying to keep the majority of the group's needs covered, they can more efficiently pick up with specific candidates on particular areas where attention is needed.
Train at convenient times, not just when a trainer is available
Staff in supply chain organisations and warehouses are in short supply. This makes 'losing' valued employees for days at a time for reach truck operator training a daunting prospect.
Instead of using a traditional novice course, with five days off the job at a time, why not try an eTruck eLearning course?
The theory side of the training is provided online. This means that operators can learn anytime, anywhere. You can save hours of lost operational time – the equivalent of two days, per operator, per novice course.
Your employees can complete reach truck theory eLearning outside of their working hours, or in quieter operational times. The online reach truck training also does not need to be completed in one go. The time can be split across multiple days (or weeks), which is an ideal time-saving solution. Especially when two days away from daily duties is just not an option for your operation.
eTruck UK for reach truck operator training
eTruck UK is a completely unique, award-winning solution eLearning solution available only in the UK from RTITB. Why not request a demo now?
Don't forget your forklifts!
Remember! As well as training your reach truck operators with eTruck, it can also be used for online forklift operator theory training – both for novices and those looking to undertake refresher training – with all the same benefits!
Learn more or contact our team now to discuss your eLearning requirements.