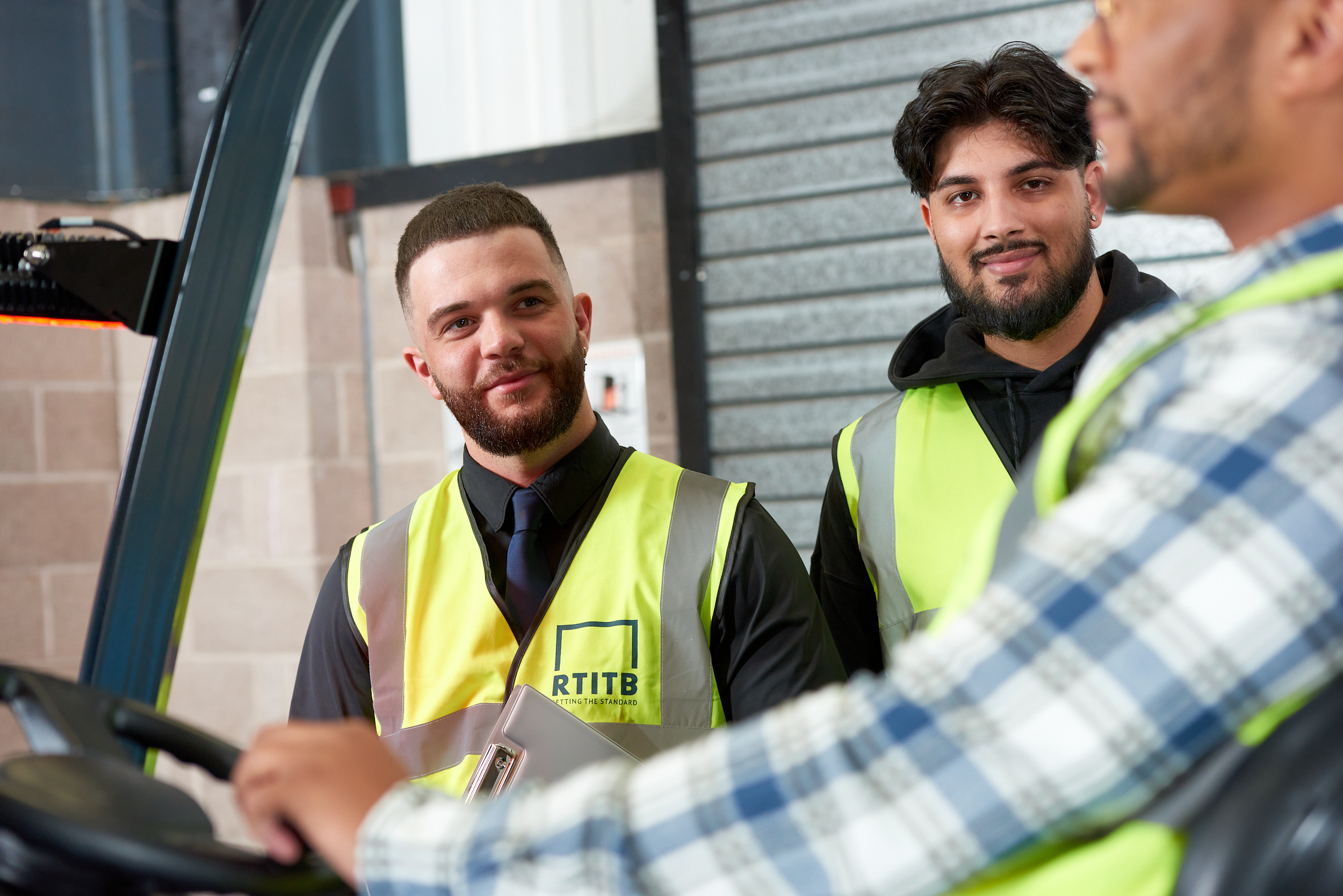 National Forklift Safety Day 2023 took place in June. The focus this year was 'Safe Sites Save Lives'.  And there is a clear need to improve safety in materials handling. According to the HSE, there were 16 fatal injuries in the transportation and storage industry in 2021/2022. There were also around 31,000 workers who sustained a non-fatal injury at work.
At RTITB, our mission is to keep people safe. So, we want to do whatever we can to help reduce these numbers. Here are three of the ways we help protect people.
Training prevents injuries and incidents
Our key focus at RTITB is making sure that operators, drivers, Instructors, managers, and supervisors are correctly trained. Training is a proven way to increase safety, which in turn saves lives, and prevents serious injuries. Delivering the right training is also essential for compliance should an incident occur.
Through RTITB Accreditation and the RTITB Driver CPC Consortium, our members receive access to standardised training materials that make it simple to deliver operator or driver training of the highest quality. These courses are simple to find via our Course Locator. To support safety, we also provide training materials for more than 20 different courses via our Online Shop.
What's more, our RTITB Dangerous Goods Driver Training Consortium supports those operations handling hazardous materials. Approved ADR training materials help keep drivers on the road, and those around them, safe.
Our innovative eLearning courses also make training flexible and accessible. They remove barriers, such as cost and time, so that training isn't overlooked. And safety isn't compromised. Our eLearning courses also give Instructors back time that they can spend with candidates on essential practical training. This supports safety across forklift, plant and LGV banksman operations.
Taking action on mental health
Our new Driver Compliance eLearning also helps equip drivers with the knowledge and skills they need to navigate the roads safely. This helps reduce the likelihood of accidents, while also minimising the risk of penalties, delays, and fleet maintenance costs.
In transportation and storage, stress, depression, and anxiety are the leading causes of work-related ill health (41%). There are an estimated 20,000 self-reported cases each year. At RTITB, we are just as dedicated to looking after the mental health of people in our industry, as we are to preventing physical injuries.
The nature of work in our industry can be demanding and stressful. Lift truck operators may be carrying out repetitive tasks, across long shifts, under time pressures. While LGV/HGV drivers may be working long or irregular hours, in isolation, out on the road.  These working conditions can contribute to mental ill-health. This in turn can also lead to physical dangers from distraction or lack of concentration.
We are helping our Driver CPC Consortium members to address this. The Driver CPC Periodic Training materials that we provide include mental health focused modules. These educate on different types of mental ill-health. And importantly, how to seek help if needed. Modules include:
'Improving Drivers Understanding of Mental Health' – topics cover an introduction to mental health, and introductions to anxiety, depression, and PTSD.
'Understanding Mental Health in the Workplace' topics cover an introduction to mental health, an introduction to depression, bullying in the workplace, and stress in the workplace.
RTITB also encourages businesses to use LGV Assessors to monitor and address mental health concerns. Regular LGV Driver Assessments with a trained Assessor can provide a safe space to share any concerns. With trained LGV Assessors  you can bring individuals into your business, who are in a position to tackle driver isolation, and connect Drivers with the suitable support that they need.
At RTITB, we have appointed our own in-house mental health first aiders. This is something employers could also consider. In some areas, there are free courses available for this.
Protecting the planet
For us, keeping people safe isn't just about considering the day to day of workplace transport operations. RTITB has a strong focus on environmental and sustainability initiatives. We want to help the businesses that we work with to look after the planet too. Because by doing so, we help to protect the people that live here too.
At RTITB, for example, we minimise paper and plastic use. We provide digital training materials to reduce waste paper. For example, our Instructor guides for materials handling equipment operator training come on USB sticks. Or training materials are available via a subscription to the online RTITB eLibrary – included at no extra cost for in-house RTITB accredited organisations.
We were also the first to introduce electronic operator ID cards. The eCard can be saved on a smartphone or as a PDF, replacing a plastic or paper printed card. As well as the environmental benefits, it also enables cards to be received by operators more quickly.
The MyRTITB TrainingFriend app is also in use by a number of RTITB accredited partners. This makes training administration and assessment 100% paperless, with clear environmental benefits. As well as saving time and money, it also helps support compliance and training standards, helping Instructors to train safer materials handling equipment operators.
For Driver CPC Periodic Training, we have an online Driver CPC Material Portal. Here Instructors can make customised courses and deliver them on the go, without the need to carry printed copies. Get a demo here.
Fuel emissions is of course a key environmental focus in the transport industry. Within our Driver CPC Periodic Training materials, we have modules designed to teach drivers to economise on fuel. In turn, reducing unnecessary emissions.
We also have a module 'Looking into the future of logistics' which helps prepare drivers for upcoming emissions legislation. And helps them build their knowledge on Alternatively Fuelled Vehicles (AFVs), how these might replace internal combustion engines, and what the environmental benefits might be.
Let's work together to make our industry safer
The above are just some of the ways we are helping to protect people and save lives. If you'd like to discuss how RTITB can support safety across your whole operation, please contact to our friendly Solutions team.