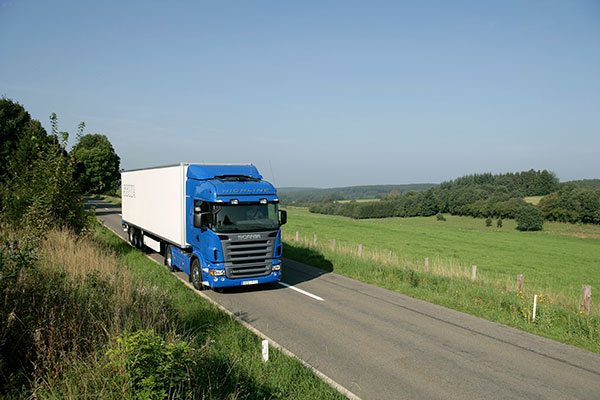 Did you know that, statistically, rural roads are more dangerous than urban roads, with country roads accounting for 58% of all road fatalities? In fact, rural roads are ten times more dangerous than motorways. This makes it especially important for LGV/HGV drivers to plan accordingly for rural road driving and the specific hazards they might encounter.
There are many different risks involved in driving on any road. However, this blog provides a quick reminder to LGV/HGV drivers of five hazards commonly encountered when driving rurally.
Cyclists
Rural roads are narrower than urban roads. So, although the high position of an LGV/HGV driver typically provides a good general line of sight, the narrowness and bends in roads make it harder to spot cyclists in time and to take evasive action.
Also, some cyclists make the incorrect assumption that because rural roads are quieter, they are less at risk. They are therefore prone to taking greater risks themselves, such as straying a long way from the verge or riding several abreast. Together with the fact that sound does not travel well around twisting roads, it is difficult for cyclists and vehicle drivers to see or hear each other on rural roads.
To minimise risk, anticipation and planning are the best defence for an LGV driver.
Pedestrians
The lack of a pavement and crossings puts pedestrians at increased risk on rural roads. It is also common practice for many vehicle drivers to hug the verge on bends in order to give oncoming vehicles as much room as they might need, yet this is exactly where pedestrians may be present.
Drivers must also remember that not all pedestrians they encounter on a rural road will be aware of recommended safety techniques, such as walking facing oncoming traffic, or wearing high visibility clothing. This could make them particularly vulnerable.
Horse riders and livestock
Did you know that many of the three million horse riders who use the roads in Britain are young children? A lack of experience presents a big risk, along with the fact that they are riding an unpredictable animal.
It is estimated that around 3,000 accidents involving horses occur on the roads of Britain every year. As with cyclists and pedestrians, anticipation and forward planning are critical. Rule 215 of the Highway Code is also helpful, providing clear guidance on dealing with horses on the road.
Extra care should be taken when passing horses and other livestock. Remember that animals may be nervous due to the noise of your vehicle. You should never rev the engine when passing them and it's a promising idea to gently apply the brakes on approach so that the relief valve doesn't let off as you go past.
Large, slow-moving vehicles
Agricultural vehicles would not be able to do their work without moving around rural roads and yet many drivers are still surprised to come across them (and are impatient when they do!).
Always expect to meet a large vehicle on a country road and prepare for it. Pay attention to potential passing points, look as far ahead as possible and look for clues on the road. For example, a tractor pulling a trailer full of hay will often leave a trail in the road, as will a vehicle pulling muddy equipment. If you see the signs, expect to meet the vehicle sooner or later.
Other road users
Both car drivers and motorcyclists tend to break speed limits on rural roads because they believe the roads are quieter and they are far enough from law enforcement to avoid prosecution.
Rural roads see a particularly high proportion of accidents that are a direct result of overtaking manoeuvres. Again, car drivers (in particular, young drivers) and motorcyclists are more prone to ignoring overtaking prohibition signs and markings in this environment.
The condition of a rural road surface, bends, brows, and dips also contribute to accidents involving motorcycles and cars. A large number of drivers disregard warning signs and road markings and many fail to read the condition of the road, such as observing potholes and mud.
To remain safe, LGV/HGV drivers should be on the alert for other road users that may be inexperienced or taking dangerous risks.
What can LGV/HGV drivers do to reduce the risks?
LGV/HGV drivers can minimise the risks associated with driving on rural roads by appreciating the environment, driving defensively with other road users in mind, and by taking the size and dimensions and capabilities of their own vehicle into account.
Ensuring that drivers who commonly encounter rural roads are training to deal with them accordingly is also vitally important. Members of the RTITB Driver CPC Consortium have access to the Driver CPC Periodic Training module 'Reducing Incidents on Different Road Types' which may help.
This module not only covers Rural Driving, and Urban Driving, but also Motorway Driving, and a specific focus on Cyclists / Vulnerable Road Users. It can be delivered by Driver CPC Instructors as part of Periodic Training hours.
Get a demo of the Driver CPC Training Portal.
Or find out more about joining the RTITB Driver CPC Consortium.
Short on Driver CPC training resource?
Did you know that we have fully managed Driver CPC service which means we arrange all your Driver CPC Training to be delivered by trusted members of the RTITB Driver CPC Consortium? It's a great option if you don't have enough in-house resource for managing your Driver CPC Periodic Training at multiple sites or depots. Talk to our team about how we can help.