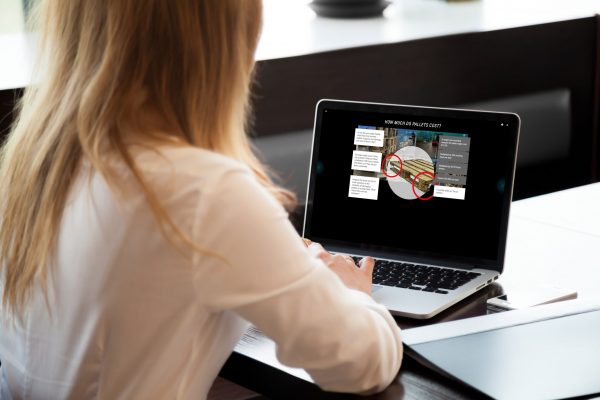 We recently had cause to celebrate as our eTruck UK forklift eLearning solution, produced in partnership with MA-system, scooped yet another award!
On 3rd March, we were excited to receive the news that eTruck UK had been crowned the winner of the 'Innovation' category at The Logistics Awards 2021. Even though we'd usually be celebrating this achievement in person at an awards ceremony, our team is still absolutely delighted that this unique and innovative solution has received recognition.
Not least because eTruck has been such an important tool for many organisations during the disruptions of Covid-19.
What's the fuss about eLearning?
The HSE suggests that eLearning is a suitable way to reduce risk around forklift training, and we are seeing a growing number of businesses adopting eTruck UK to fulfil this need.
eTruck is a completely online forklift training tool that can be used to deliver the theory part of Basic and Refresher training for lift truck operators. It enables the training to be completed from anywhere, even from home, reducing infection risks and minimising contact time to only the essential practical component of training. eTruck is also quick to get started with, enabling trainees to be up and running quickly when extra staff are needed.
This also saves Instructors time, giving them more capacity to deliver essential and urgent practical courses – critical for safety and compliance and essential for many businesses still attempting to clear training backlogs.
Learning online with eTruck is different
Though there are benefits for organisations navigating the challenges of Covid-19, there are plenty of reasons why businesses are adopting eTruck as a permanent addition to their training solutions.
It creates real behaviour change – the interactive digital storytelling style used in the Basic operator training version is designed to truly look at the reasons behind operator behaviour as well as the relevant theory
It's engaging and memorable – learners are 20x more likely to remember information learnt through storytelling and are better prepared for the workplace
It reduces training time – for a novice using eTruck could take a five-day operator training course down to three days. Across a business, this really adds up!
It minimises costs and downtime – as the forklift theory training is done online, candidates are out the business for a shorter time. Learning can also take place around shift patterns, reducing disruption when resource is scarce
You can learn for a lifetime – eTruck licenses enable you to return to content to refresh operator knowledge or use eTruck as part of toolbox talks
eTruck licenses can be included as part of your RTITB Accreditation package
Multi award-winning forklift eLearning
With all this in mind, its no wonder that eTruck UK, produced in collaboration with MA-system, has received this latest award! In fact, it's a multiple award-winning solution.
In 2020, it also received the Innovative Training Programme award at the Talent in Logistics Awards, was a finalist in the Technology Innovation category at the CILT Awards for Excellence and shortlisted for the 'Most Innovative Product of the Year' at the Logistics UK Awards.
Ready to modernise the way you train forklift operators? (and save time and money too?!)
Request a demo license to try eTruck for yourself.