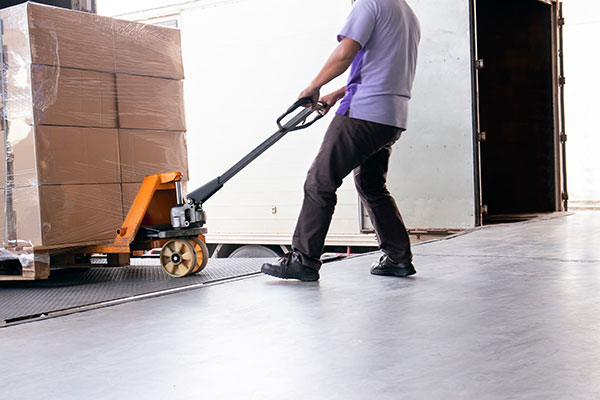 Manual handling is a daily part of the job for many LGV Drivers. Yet some are unaware of the risks it carries and are unsure of where manual handling risk assessments can come into play. Here's what your drivers need to know.
Why are manual handling risk assessments important?
Manual handling risk assessments can be seen by drivers as laborious, unnecessary tasks that only serve to create extra paperwork and are not really part of their role. Due to this negative view, they are often overlooked or carried out without due care and attention, making them ineffective, and pointless.
However, carrying out risk assessments correctly is far from being 'just a waste of time' and can help drivers to avoid serious injury.
Who is responsible for carrying out manual handling risk assessments?
While the overall responsibility of risk assessment falls with the employer, drivers and other employees are also responsible for reporting any risks that they encounter throughout their working day, with a view to subsequently remove or reduce those risks.
Remember, risk assessments are not always a formal activity – we all assess risks multiple times each day at home and at work.
What counts as manual handling for LGV drivers?
Manual handling tasks often occur throughout a typical LGV driver's day. For example, a driver might pick up items up from a conveyor, place them on a pallet or into a trolley, push the pallet truck or trolley to another location, and then unload them onto shelving at varying heights. This is an example of multiple manual handling movements.
Plus, drivers may be required to transport goods by hand or on wheeled equipment, such as roll cages, hand trolleys, pump trucks, pallet tucks, carts, or wheelbarrows. Moving loads without wheels involves different actions such as dragging, sliding, churning (pivoting and rolling), hauling, and rolling the goods.
Where are the main risks in manual handling?
It may not be immediately obvious, but there are multiple risks involved throughout any manual handling process. The majority of people tend to think they know exactly how to lift something, after all, it doesn't look difficult! However, recent studies showed that 1 in 3 accidents in the workplace are a result of manual handling, causing back sprains, muscle pulls, wrist, elbow, and spinal injuries too.
How do you conduct a risk assessment?
Things covered in a risk assessment could include the size and shape of loads, how often loads are handled, the order in which tasks are carried out, and the environment in which handling operations are carried out. Risks in the environment can relate to space constraints that make it difficult to manoeuvre the load, unsuitable shelving and storage systems, and uneven flooring.
Drivers that are unsure of what they should be looking for during risk assessments should speak to their line manager or supervisor about training. An efficient way for employers to equip drivers with what they need to know about manual handling is through Driver CPC Periodic Training.
The RTITB Driver CPC module titled 'Reducing Manual Handling Incidents' is now available.
This module looks at the role of good posture in manual handling (and everyday life) in order to reduce risks when it comes to lifting – something we know drivers can do a lot of! It also looks at how to identify factors of an individual's capabilities and carry out an initial risk assessment, as well as demonstrating the safe and effective techniques that drivers must know. Topics include 'The Spine and Human Movement', 'Manual Handling Capabilities', 'Risk Assessments', and 'Manual Handling Techniques'.
Not yet a member of the RTITB Master Driver CPC Consortium? Find out more or get a free demo of the training course materials.
What happens after a risk assessment?
Failure to act upon the findings in a risk assessment makes the process pointless, so it's important that drivers feedback to employers any risk they encounter and need support to mitigate. From there, risks can be minimised.
For example, could the weight of the packages be reduced? Could the worker be rotated onto another task to minimise time spent repeating the same actions? Is there any form of automation or mechanical aid that could be introduced to eliminate some manual handling? Making any of these seemingly small changes could save a driver from spinal injury.
The benefits of assessing the risks involved in manual handling far outweigh the time cost for a driver or their employer conducting the assessment.
Learn more about manual handling in supply chain operations
Members of the RTITB Driver CPC Consortium can access the materials for the Reducing Manual Handling Incidents module via the Driver CPC Instructor portal.
Managing Driver CPC across multiple depots nationwide? We can help! Our fully managed Driver CPC service is designed to support businesses during these challenging times, in a way that also enables them to be reassured of consistent, and compliant, training standards for every driver across their organisation.
The service sees RTITB arrange for all of an organisation's Driver CPC Periodic Training to be delivered by trusted members of the RTITB Master Driver CPC Consortium.
Employers looking to deliver manual handling training for their other employees should also consider our new RTITB eLearning course: 'Manual Handling in Transport, Warehousing and Logistics', available from just £29+VAT.
Contact RTITB for more information about these, or any other training materials for supporting safe operation in the supply chain.