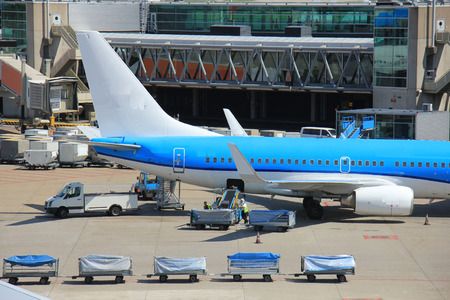 An aircraft engineering firm has been fined £160,000 after two workers were left seriously injured after being thrown from mobile elevated work platforms (MEWPs) whilst completing maintenance on an aeroplane at Stanstead Airport.
On 10th June 2015, the workers – one of whom was an agency worker – were working on either side of the plane's tail when another employee accidentally closed the wrong circuit breaker, which caused the plane's airbrake to open. As a result, both platforms were knocked over, and the workers fell up to 4.5 metres to the ground.
One of the men, a 62-year old man, suffered three fractures to his pelvis, a broken back, three broken ribs, a fractured elbow and a punctured lung. The other, aged 60, sustained a chipped bone in his spine and a broken wrist.
Investigation into the incident by the Health and Safety Executive (HSE) found that no suitable risk assessment had been put in place for the task and there was a lack of sufficient monitoring. On the case, HSE Inspector, Tania van Rixtel, said: "Both of these men suffered shocking injuries after falling from height, which could easily have been a double fatality. Our investigation found the incident could have been avoided had adequate monitoring been taking place. Aircraft maintenance companies are reminded that not all risks are covered by the Aircraft Maintenance Manual and additional measures need to be introduced."
Inflite Engineering Limited, who are based at Stanstead Airport, pleaded guilty to breaches of Section 2 and 3 of the Health and Safety at Work Act 1974. Inflite Engineering Limited were fined £160,000, with further costs of £5,492.90.
Source: Health and Safety at Work, Aircraft engineers knocked from MEWPs by plane's airbrake, 20th March 2017. Read the full article.