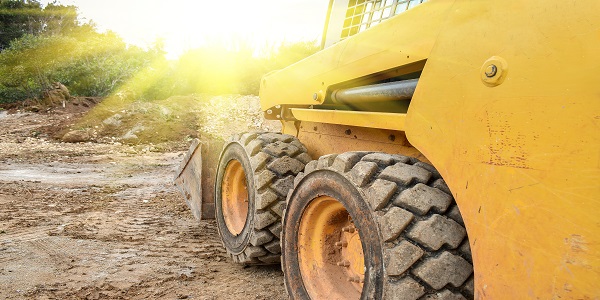 A waste management company has been fined £25,000 after a worker was crushed by a mini-digger.
On 3rd October 2017, Grzegorz Mucha was working the night shift at ISL Waste Management, based in County Antrim. Mr Mucha had worked for the company for seven years and on the night of the incident, reversed a refuse collection vehicle into the unloading area on site. Waste was unloaded then placed on a low-level conveyor belt, for which the discharge process requires the driver to operate controls located at the rear of the vehicle.
Mr Mucha was reportedly using a stick to remove waste from the vehicle's rear flaps, when he became crushed against the rear of the refuse collection truck by the grab of the mini-digger. His injuries included fractured ribs, a punctured lung and a laceration to his liver, which resulted in the removal of his spleen and renal replacement therapy. Following the incident, it was reported that Mr Mucha had returned home to Poland and had not taken part in the prosecution, not had he provided a victim impact statement.
An investigation into the accident by the Health and Safety Executive for Northern Ireland (HSENI) highlighted that the mini-digger had been operated by a shift supervisor who had received no training, nor did they have an authorisation to operate the machine. On the night of Mr Mucha's accident, it was also reported that the operator had not been adequately supervised and there was inadequate segregation between vehicles and pedestrians.
The defence for ISL Waste Management said that a risk assessment had been in place for the task, but the measures had not been implemented on the day in question. They also confirmed that the shift supervisor should not have been operating the mini-digger.
Following the incident, the company has undergone a major refurbishment of the waste unloading area, and has deployed extra supervisory staff, including a production manager on every shift. All employees have also been provided with video instruction on the correct operation of machinery on site.
HSENI inspector, Kyle Carrick, commented "Loading and unloading activities are high risk activities and often require drivers to leave the safety of their vehicle cab. Where drivers may need to leave their cabs to perform essential tasks, such as opening container door and operating discharge controls, adequate safeguards should be in place to protect them."
"This incident was entirely foreseeable and could have been avoided had appropriate control measures been put in place to maintain an adequate separation distance between vehicles and pedestrians."
ISL Water Management pleaded guilty to a breach of Article 4(1) of the Health and Safety at Work (Northern Ireland) Order 1978, which is a duty of every employer to ensure, so far as is reasonably practical, the health, safety and welfare at work of all their employees. They received a fine of £25,000, with further costs of £1,725.60.
Source: Health and Safety at Work, £25k fine after worker crushed by mini-digger driven by untrained supervisor, 2nd September 2019. Read the full article here.