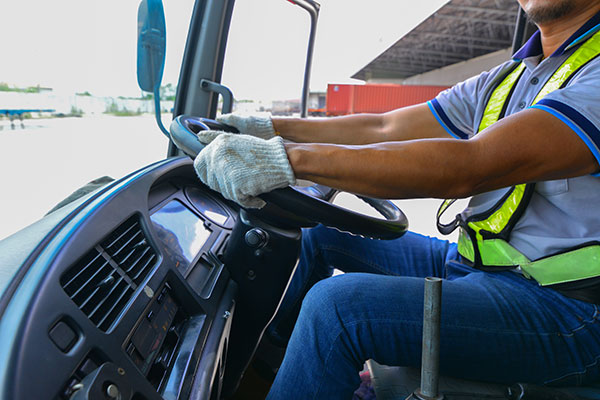 As the national LGV/HGV driver shortage has become a more widely discussed topic since the events of BREXIT and Covid-19, one of the misconceptions that has arisen is that the training requirements to qualify as an LGV/HGV driver have become lax in order to rush drivers through the training process and fill vacancies. As one of the UK's largest Driver CPC Consortiums, we feel it is important to dispel that myth and explain the facts about new LGV/HGV driving test rules.
What changed about the LGV/HGV driving test in November 2021?
To speed up the process of getting drivers on the road, the UK government did change the law so that a driver with a first provisional lorry licence obtained after 15th November 2021 can take the DVSA test in an articulated lorry (Category C+E) without first having to be trained and pass the DVSA test in a rigid lorry (Category C). This change means that drivers who want to drive articulated lorries can start training in a C+E as soon as they obtain their provisional licence and only have to take one DVSA test, saving time and cost.
During the consultation on these changes however, the road haulage industry told the UK government that the testing standards used by DVSA must be maintained to ensure road safety and public confidence, and this change does just that. So, the standard of driving required in the C+E test is the same now as it was before the changes.
The Driver Shortage
The HGV/LGV driver shortage has been caused by multiple factors, including unfair demands placed on drivers, poor working conditions, and little done to attract new drivers into the industry (and the logistics and transport industry in general), and it continues to impact us all.
What more can be done to address the driver shortage?
The RTITB Driver CPC Consortium worked with Talent in Logistics to commission a survey of existing LGV/HGV drivers. It revealed that quick fixes already attempted by the industry – like big upfront cash bonuses – are not necessarily the answer. For instance, in the research 88% of LGV/HGV drivers in the UK would actually be attracted to a role that offers income protection insurance, with 83% stating that critical illness cover would also be an attractive benefit. Moreover, many drivers stated that they would be greatly incentivised by their management having more understanding and empathy.
One of the most used words by drivers in this survey was 'respect', demonstrating that our industry should be looking at ways to ensure drivers are treated with more respect, by their companies, the general public, and other road users.
Alongside streamlining the testing process, which will of course cut down the time taken to get multi-skilled drivers on the road, the industry now needs to look more at retaining valuable existing driving talent while maintaining stringent safety standards. This combined with adopting new ways to attract new talent to driving roles will be what will really make a difference when it comes to tackling the skills shortage.
Providing engaging and relevant Driver CPC Periodic Training also contributes to driver retention, as it keeps drivers skills up to date, and when relevant, interesting topics are planned and delivered correctly, it shows them they are valued, and you care about their development.
By joining the RTITB Driver CPC Consortium, you can gain access to our unique online Driver CPC Material Portal to create customised courses, maintaining high standards and encouraging driver engagement and retention, all while saving time and money.
Apply to join the RTITB Driver CPC Consortium now.  Or contact our team to discuss the benefits.