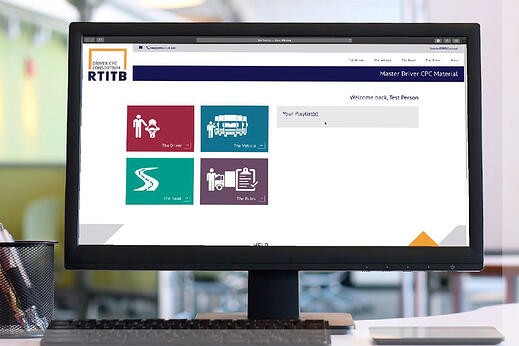 RTITB has launched a new online Driver CPC Periodic training portal featuring new topics and refreshed course content, all of which can be built into customisable training playlists. Though designed to support members of the RTITB Master Driver CPC Consortium, a free 30-day demo is currently available for instructors, employers and training providers.
"We have developed a completely new portal to provide the best user experience for Instructors who need fast and flexible access to training material on a daily basis," says Laura Nelson, Managing Director for RTITB, the UK's leading workplace transport training accrediting body. "As many organisations are experiencing disruption around driver training and assessment at the moment, we have also added a variety of new and up-to-date topics and materials."
With the second year of the current Driver CPC Periodic training cycle having begun in September for many drivers, the brand-new RTITB system and materials ensure trainers can easily create training programmes that help drivers, and employers, get the most out of Driver CPC training hours.
The courses are split into four simple categories: The Driver, The Vehicle, The Road and The Rules. Modules are simple to find, with each comprising of an introduction, four relevant 45-minute topics and a conclusion. The wide range of informative courses allow instructors, employers and training providers to prepare for the future with 'The Future of Logistics' topic, ensure they excel when liaising with customers with the 'Delivering Excellent Customer Service' topic and highlight vital awareness of mental health through the 'Mental Health in the Workplace' topic, to name a few.
"Our new portal makes it easy to build JAUPT (Joint Approvals Unit For Periodic Training) approved tailored courses for different groups of drivers or to suit specific business needs, helping to maintain course quality while saving a lot of time," says Laura, explaining that Instructors can select from different delivery methods, from presentations to discussions, case studies to workshops, true or false quizzes to video discussions, and more.
Instructors can quickly navigate the portal to create a bespoke learning playlist that meets their operation's demands and works around their driver's working schedules. With the system, users can choose to either build and save playlists or download all the material they need to use offline later.
Although the portal is already available to members of the RTITB Master Driver CPC Consortium, the largest in the UK, free trials are currently available so that instructors, employers and training providers can see how easy it is to customise Driver CPC courses that really make a difference. The demo version of the portal will give users 30 days full access to the full Driver CPC materials and course building functionality, but without permissions to download content.
"Our new portal is more engaging, more flexible, and more modern than anything we have seen in this sector, as well as being fully up to date to reflect changes in our industry and legislation," says Laura. "Our aim is to help keep drivers engaged with the very best training materials as we know they play such an important part in keeping the vital logistics and transport sectors moving."
To get started with RTITB Driver CPC Periodic Training portal trial, visit www.rtitb.com/dcpcdemo.
For more information, call +44 (0) 1952 520207 or email solutions@rtitb.com. Alternatively, visit www.rtitb.com for more information.