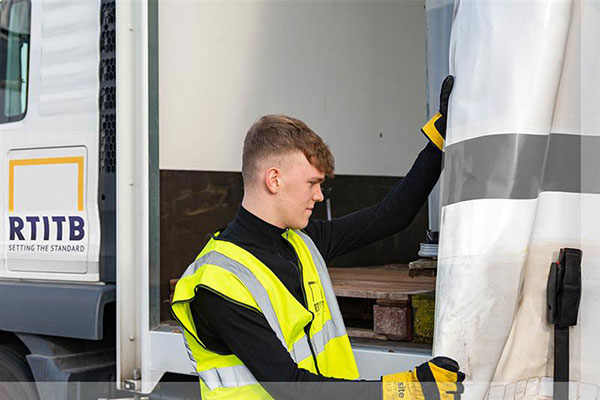 Securing loads and carrying out safety checks is an important part of LGV driving and is being promoted by the family of a man who was killed when a lump of concrete fell off a wagon and smashed through his windscreen. 
Steven Oscroft died last year when a rock fell from an HGV in Meden Vale, Nottinghamshire and landed on his car. 
Although the lorry driver was arrested shortly afterwards on suspicion of dangerous driving, he was released without charge after a serious collision investigation concluded there were no offences against him or the haulage company, Paul Wainwright Construction Services. 
However, a coroner said action needed to be taken and he called on the DVSA to clarify legislation around securing loads. 
Gordon Macdonald, head of enforcement policy at the DVSA, said drivers, operators and consignors all play a part in safe loading, adding: "DVSA is revising the guidance available on load security to ensure that those involved in loading vehicles are fully aware of all safety requirements, and the implications of choosing to ignore the guidance,". 
Oscroft's family are seeking changes in the industry to prevent anyone else experiencing the loss of a loved one.  
In a joint statement, the family said: "Steve was killed in a totally preventable incident. Had the load in the tipper been adequately secured it would not have happened. 
"We live every day knowing this, we could still have him here with us – we should still have him here with us. 
"Nothing can bring Steve back, but we hope that his tragic death can somehow help raise awareness of the importance of securing your load and ensuring the same doesn't happen to another family." 
An open letter supported by police forces, the DVSA and the office of the traffic commissioner, said: "Nobody goes to work to intentionally harm or kill someone, but the reality is that unless you make sure the loads you carry are safe you are putting yourself and other people at risk during your journey and when you come to unload. 
"Any item capable of being thrown from or bouncing out of a vehicle needs to be secured whatever vehicle it is being carried on, whether it's a plastic bucket or wheelbarrow, steel beams, or heavy plant equipment. 
"Even small items can kill or seriously injure someone if they come off a vehicle at speed. 
"Load shift incidents on the road and in the workplace are both foreseeable and completely preventable." 
Detective Sergeant Adam Cooper, who led the collision investigation, said: "As a force, we have been working with our partners at the DVSA and National Highways to improve the safety of vehicles carrying loads on the roads which has included several multi-agency operations. 
"We know that from the results of these and from speaking to drivers, the Oscrofts' message is getting through and we hope the family can gain comfort from knowing what they've achieved so far."