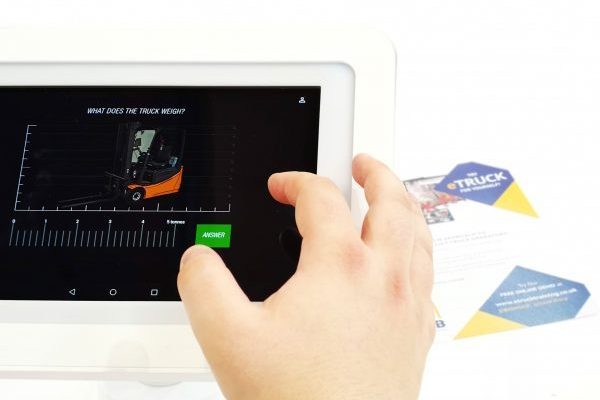 As digital training tool eTruck UK goes live, employers training forklift and reach truck operators are set to save up to 2 days per person per course, with large logistics companies able to claw back thousands of costly training hours every year.
The completely unique digital storytelling system, exclusively available in the UK from RTITB, enables lift truck theory training to be delivered online in a new and innovative way. To learn more, many 3PLs and businesses with forklift and/or reach truck fleets will be heading to an RTITB seminar on "Digital learning in lift truck training" on the 27th January in Telford, West Midlands.
"Since previewing eTruck last Autumn at IMHX, we've had lots of interest from employers who want to save time but are also committed to improving lift truck safety and understand the important role that training plays in this," says Laura Nelson, Managing Director for RTITB. "eTruck is designed to deliver real behavioural change as well as relevant legislative and regulatory knowledge, making it a more powerful, effective way of improving safety and efficiency through training."
With eTruck UK, candidates learn by following a story that encourages them to think about the effects that their actions and decisions have on others. It shows them how lucky they are on a day to day basis and how easily it can (and does) go wrong. eTruck tackles decision making under pressure and provides an insight into the workplace and where lift truck operations fit in.
Once a lifetime licence for eTruck UK is purchased for a candidate, it can be used immediately as part of Counterbalance Lift Truck Operator training. The training is delivered entirely online, enabling candidates to study at their own pace and consume relevant content before arriving for practical lift truck operator training. This can reduce the time taken for an Instructor to train a novice forklift and reach truck operator down from the industry standard of 5 days, to just 3 days.
"We know that finding the time for training is difficult for employers, so saving 2 days per candidate will make a big difference to employers," says Laura. "But there are also lots of other reasons that they should use eTruck to help maximise the impact of their forklift and reach truck operator training."
For instance, research has shown that facts delivered via a story are 20 times more likely to be remembered, so training via eTruck can help improve the retention of learned information. Furthermore, a story-based approach to training is proven to work with learners of all types, catering to the very different preferences of visual and auditory learners as well as kinaesthetic and emotional learners.
To enable employers to explore the benefits of self-paced learning and digital storytelling further, RTITB is hosting a half day seminar "Digital learning in training – making it efficient and powerful" on the 27th January at their Head Office in Telford.
At the seminar, delivered by Per Nilsson, a digital learning expert with over 25 years' experience attendees will learn more about transforming training with technology, with the chance to try the eTruck training tool as well as the MyRTITB TrainingFriend app for training assessment and administration. The latest digital training research will be discussed and using digital storytelling to engage operators for better long term results at lower costs will be explored in depth.
To book a place at the event email marketing@rtitb.com.
A £15 deposit is payable to secure a space and will be refunded to all those who attend the seminar. Lunch and refreshments are included, and the event is limited to a maximum of 50 places. Attendees can also use the seminar to network with industry peers, meet the RTITB team and will be given access to exclusive discounts.
For more information on eTruck contact RTITB by emailing etruck@rtitb.com, calling +44(0)1952 520207 or visiting www.rtitb.com/etruck.