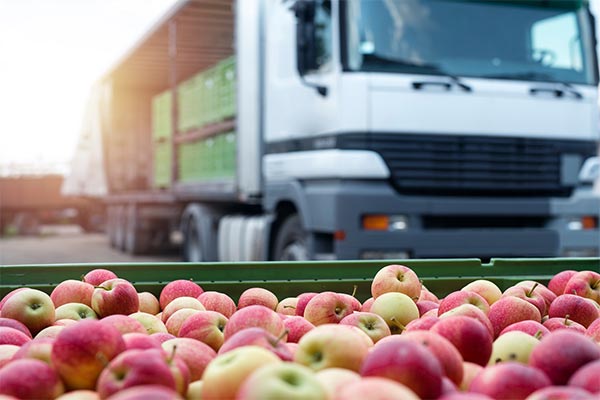 Over recent months, many food and drink operations have been busy meeting increased demands due to the Covid-19 pandemic, while also trying to keep forklift truck operator training on course. To help these operations, a range of RTITB eLearning courses are available now to uphold safety and standards, fitting around both peak times and Covid-19 lockdown restrictions.  
Here are five ways that RTITB eLearning for forklift truck operators can help.
Reduce face to face contact and keep training safely
With lockdown 2.0 being newly implemented and certain sectors seeing fresh changes to rules and regulations, it's difficult to make plans for the imminent future, let alone solid training plans. Our eLearning solutions for forklift and plant refresher training not only allows candidates to complete vital training without the need to travel anywhere, but it also allows your business to plan training that can go ahead without the worry of having to cancel further down the road.
Due to current lockdown restrictions, it might be impossible for trainers to come onto your site, refresher eLearning gets around this. It takes place 100% online and is Covid-secure, while still ensuring your business remains legally compliant. We are also finding that candidates are more willing to try eLearning now than ever before, as it feels like the safest option for not only refresher training, but for novice, conversion and existing training too.
For novices, our eLearning minimises the amount of trainer / trainee contact time necessary for sufficient theory training, with candidates able to go on and complete practical training at a time that best suits them and their operation's needs.
Reduce face-to-face training with eLearning
Keep operations up and running
Time is at a premium and there's no sign of this slowing down, especially with the latest national lockdown in full swing. With some food and drink operations experiencing bigger peaks in business than a typical Christmas or Black Friday, it's understandable that many workplaces are unable to find a reasonable amount of time to allow for training. But forklift operator training, whether at a novice or refresher level, is essential for both compliance and safety and should not be overlooked, even during busy times. Workplace transport accidents in the food and drink industries are the second highest cause of fatal injury, and, now more than ever, operators should be kept safe to help keep the logistics sector moving.
With RTITB forklift truck eLearning, you can lose less time from your operation, as candidates can undertake training in the comfort of their home at a suitable time. Even operators who are on furlough or self-isolating can do their training, so there are no delays when they do return to the workplace.
Get extra hands on deck!
Many forklift truck operations across the country saw business levels jump almost overnight earlier this year. Temporary and contract staff were an option for some, but others needed to harness internal resource instead.
eLearning is a great way to quickly and affordably deliver refresher training to your team members who can operate a forklift, but may not often do so, in order that they can help support demand. This is not only necessary for safety and compliance but is also important for giving 'occasional' operators confidence to step back on board the truck during a busy time.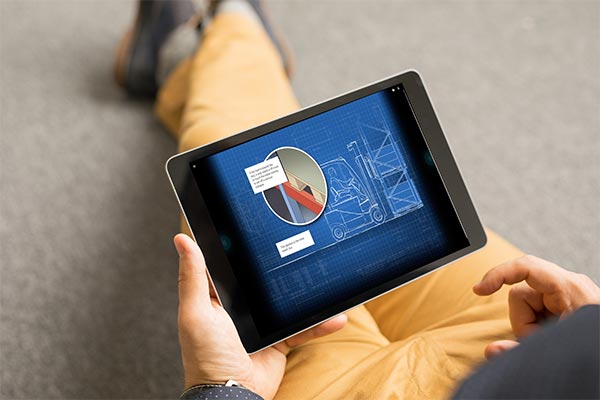 Novice eLearning, such as our eTruck UK forklift and reach truck operator training, can also help you deliver theory training to new operators that you're bringing into your business, getting them ready to attend practical training later. As the theory is already completed, this results in fewer days out of the operation completing practical training.
Try out eTruck today
Extend operator's refresher period by up to 2-years
RTITB eLearning is an ideal way to top up a forklift operator's knowledge, so they can extend their refresher period. With our eTruck Refresher training, forklift operators can get a two-year RTITB operator registration (NORS) for Counterbalance Lift Truck without doing any practical training as long as they successfully complete the final test, comprising of 25 multiple choice questions.
Although this two-year NORS extension can only be applied once before a full practical course must be undertaken to obtain further RTITB operator registration, it is an ideal solution for busy operations or those struggling to arrange practical training around Covid-19.  It also keeps operators and employers within scope of the refresher period recommended by the Health and Safety Executive (HSE).
Extend your lift truck operators' refresher period with eLearning
Save time and money
We know that, for many, time and money are tight at the moment, and that operations are especially complex as we strive to keep people safe and reduce Covid-19 infection risks in training.
With our new novice and refresher eLearning, candidates can complete interactive theory courses completely online rather than in a classroom setting. Plus, as it's accessible from tablet, laptop or PC, there is no time lost to travel to training offsite. It can even be done outside of usual work hours, such as during a lunch break, helping to keep operations running profitably, efficiently and safely.
Covid-secure forklift refresher training with eTruck
Our new eTruck Refresher eLearning enables businesses to offer high quality Refresher training online, focused on improving safety and changing operator behaviour. Time is also saved when theory training is completed online, so when it comes to the practical element, Instructors can now train three refresher candidates in the time it would usually take to train one.
Similarly, for novice operators, award-winning eTruck UK for Basic operator training theory reduces training time by up to two days. The novice eTruck eLearning platform is a completely unique digital storytelling tool that increases training effectiveness, whilst enabling candidates to do their theory training anywhere, anytime, at their own pace before practical training.
Try out eTruck today
A wide range of refresher courses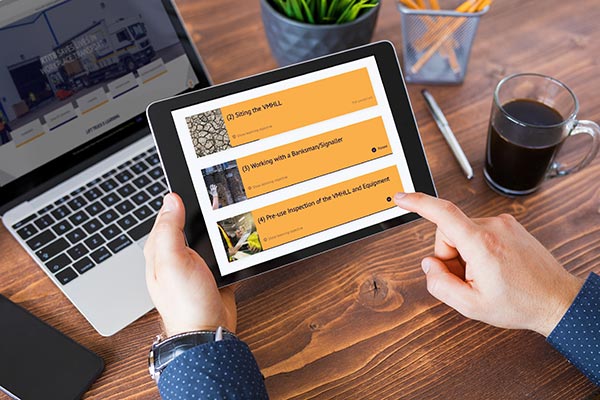 We also offer interactive online refresher training with RTITB quality content for a number of our most popular courses, including:
Mobile Elevating Work Platforms (MEWP)
Reach Truck
Pallet Truck
Stacker Truck
Tow Tractors
Pivot Steer Trucks
Very Narrow Aisle (VNA)
Order Picker
Banksman
Vehicle Mounted Lift Trucks
Yardshunter
Slinger & Signaller
Ready to get started?
Find out more about our eLearning options
If you're ready to reap the benefits of going digital, either get online courses booked with our RTITB Accredited training providers or contact us by email or calling the team on +44 (0) 1952 520 236 to find out about delivering eLearning in-house.