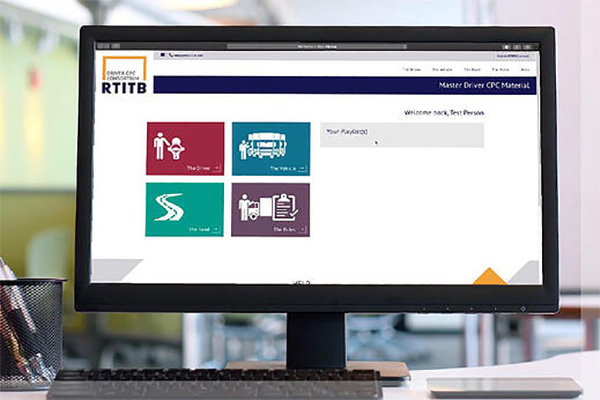 Did you know that we recently launched our new online RTITB Driver CPC Periodic training portal?
Not only does it feature new topics and up to date course content that is sure to increase drivers' engagement in training, but it also provides a totally new experience for Instructors and Trainers, with simple to use customisable training playlists.
Our Master Driver CPC Consortium members are already using this fantastic and flexible tool, but if you're not yet a member, you can still experience the benefits thanks to a free 30-day demo.
Whether you're a commercial training provider or part of an in-house training team, you can register for 30 days of trial access to the Driver CPC training portal. It really is the best way to see how simple it is to customise Driver CPC courses that really make a difference.
Here are 5 reasons you should give the new training portal a try
1. Simple to use
The new online portal has been specially designed to be easy to use, and to give Instructors and Trainers fast and flexible access to the training material that they need, day in day out, from wherever they may be. Navigation is simple, with four categories: The Driver, The Vehicle, The Road and The Rules, and modules are simple to find.
You can quickly navigate the portal to create a bespoke learning playlist that meets operational demands and works around driver's working schedules.
2. Training themes for the real world
Training themes have been refreshed and several new modules added to more accurately reflect the real world that LGV drivers work in. For instance, 'The Future of Logistics' topic looks at how their role and vehicle may change, while 'Delivering Excellent Customer Service' will give drivers the skills they need to deal directly with customers as e-commerce and roadside deliveries boom. The 'Mental Health in the Workplace' module also aims to look after drivers after what has been a particularly stressful year, encouraging them to speak out if help is needed.
Each training module includes an introduction, four relevant 45-minute topics and a conclusion.
3. Choice of delivery methods
Not all drivers learn the same way, and not all Instructors are alike. That's why our portal offers far more than just presentations. PowerPoint slide decks are there if you want them, but so are guided discussion topics, case studies to discover and workshop activities. True or false quizzes to inspire discussion and test knowledge are ready to go in the portal and there is even access to video you can share and explore.
When building your customised course playlist, you can mix and match the delivery methods that will work best for you and your candidates, to keep them engaged and ensure the training is as effective as possible.
4. Save time
Our new online Driver CPC portal makes it easy to build JAUPT approved tailored courses. So, whether you need to customise courses to meet the needs of different groups of drivers or to suit specific business requirements and objectives, you can do so quickly and easily. The portal is there to help you maintain the high training course quality your candidates expect, while saving a lot of time.
The second year of the current Driver CPC Periodic training cycle began in September for many drivers. Our new Driver CPC training portal will help both drivers and employers to get the most out of Driver CPC training hours.
5. It's free!
Did we mention that you can try our new Driver CPC Periodic Training portal for free for 30 days? You'll get a chance to see how easy it is to customise Driver CPC courses and will have full access to all of the Driver CPC training materials and content, as well as the innovative ability to build and save your bespoke courses.
Should you choose to join the RTITB Master Driver CPC Consortium, access to the portal will be included in your membership, with 24/7 access. You'll also get the added bonus of the ability to download the training material you need to use offline later.
So don't delay!
Get started with your RTITB Driver CPC Periodic Training portal trial now.
Or if you need more information, please give one of our friendly team a call today +44 (0) 1952 520207 or email solutions@rtitb.com.