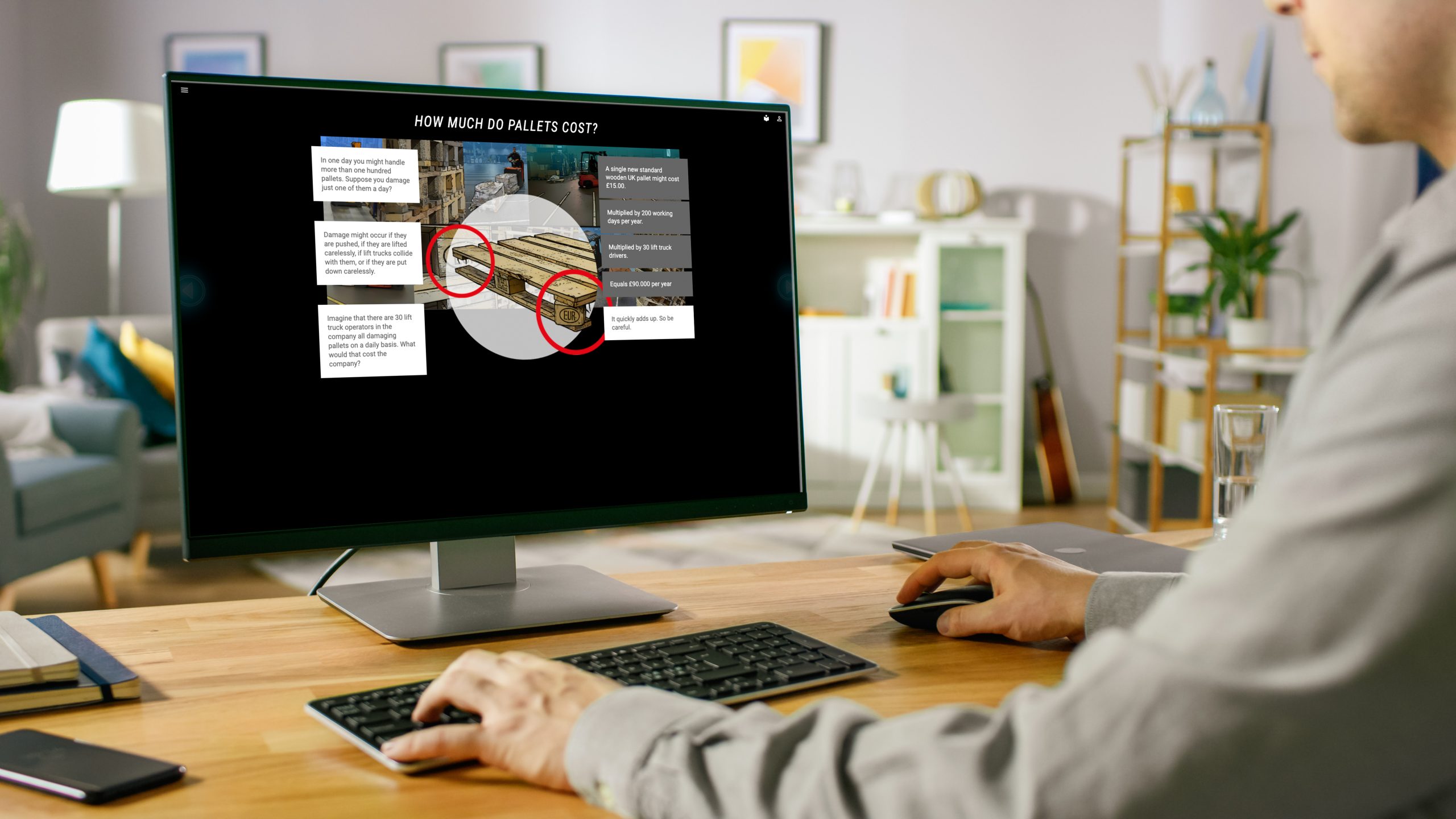 For training providers and in-house teams alike, classroom training has traditionally been the chosen method for delivering theory courses for forklift and reach truck operators. However, eLearning options offer an opportunity to make training simpler and more efficient for Instructors and Trainers like you! Join our free webinar to discover how it can help you, and why this could be the new normal.
Our free live webinar at 10:00am on Tuesday 8th February 2022, will introduce you to a new online eLearning option, and explain how it can help Instructors to deliver theory training for lift truck operators and reach truck operators, resulting in operator training that is more efficient overall, as well as more engaging for learners.
HOW TO IMPROVE FORKLIFT THEORY TRAINING USING eLEARNING
08/02/22 | 10:00AM GMT
eLearning grew in popularity in recent years due to Covid-19, but many have mistakenly viewed it only as a replacement for Instructor-led training when face to face training is restricted. In fact, when a solution like eLearning is integrated into training programs, managed by a skilled and qualified Instructor, and alongside in-person practical training, it is a great tool for improving training standards and safety, as well as saving time!
An overview of what will be covered in the webinar:
How forklift theory eLearning works
What are the benefits?
Case study 1 – benefits for a sole trader: real-time testimonial from the owner of a commercial training provider based in Stockholm, including why theory eLearning makes economic sense
Case study 2 – experiences of a national UK training provider: real-time testimonial from a company who has delivered forklift theory training via eLearning to hundreds of delegates
Webinar attendees will hear from training providers that have been using eTruck with great success, as they share their experiences, including what the benefits have been, and how they have dealt with any challenges of this blended approach to lift truck training.
You'll get all of this in just 45 minutes (including a 10-minute Q&A session)!
Our webinars often welcome hundreds of attendees, so make sure you don't miss out.
What is forklift and reach eLearning (eTruck UK) from RTITB?
eTruck UK is a completely unique digital storytelling tool that increases training effectiveness, whilst reducing training time for forklift and reach truck operator training. Completed totally online, candidates can do their theory training via eLearning anywhere, anytime, at their own pace before attending practical training.
For Instructors, this saves days of classroom time, making you available to complete more practical training (and clear those training backlogs faster!). The award-winning eTruck UK solution is available for novice counterbalance and reach truck operators and reduces training time by up to two days.
Compliant forklift eLearning and reach truck eLearning
As an Instructor, you retain full visibility and control of the novice candidate's journey through theory training. The back-end administration system enables you to see, in real time, the areas where the learner is excelling, or is finding the course more challenging. Interventions to support the candidate can be made where necessary and this data can also help focus attention in the most crucial areas when they later attend practical training.
eTruck creates real behaviour change by exploring the reasons behind operator behaviour as well as the relevant theory – it's far from an online presentation or simple quiz! It is engaging and memorable, and research backs up that this training approach appeals to a wider range of learning styles than many more traditional methods, making it more effective.
The eTruck forklift and reach truck training solution is completely unique and only available from RTITB. Don't miss out on your chance to learn more! Register for the webinar now or contact us with any questions.