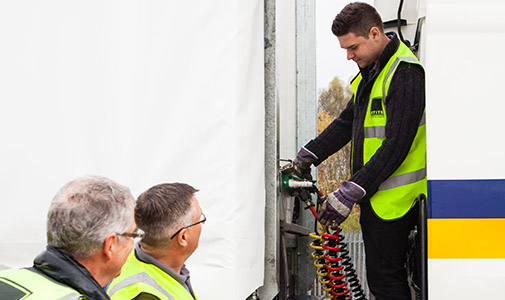 A road haulage company has been fined £170,000 after a driver was fatally crushed between two vehicles.
On 20th October 2015, the driver was at the Tilbury based site of YCT, trading as Youngs Container Transport. The driver was attempting to couple an HGV tractor unit to a trailer, and ran to the front of the tractor's cab in order to apply the brake. As his vehicle rolled forward, the driver was crushed between his vehicle and another on site, suffering fatal injuries.
During an investigation carried out by the Health and Safety Executive (HSE), it was discovered that YCT had failed to implement a safe system of work which resulted in the frequent misuse of trailer parking brakes by drivers on site.
HSE inspector, Jessica Churchyard, commented: "This tragic accident led to the avoidable death of a young man, and was caused in part by the failure of his employer to implement and monitor safe systems of work to prevent vehicle runaways. This death could have easily been prevented if his employer had acted to identify and manage the risks involved, and followed the industry guidance."
YCT pleaded guilty to breaching the Health and Safety at Work Act 1974 and were fined £170,000 with further costs of £6,268.80.
Source: Commercial Motor, Fatal coupling incident sees YCT fined £170,000, 9th October 2017. Read the full article.