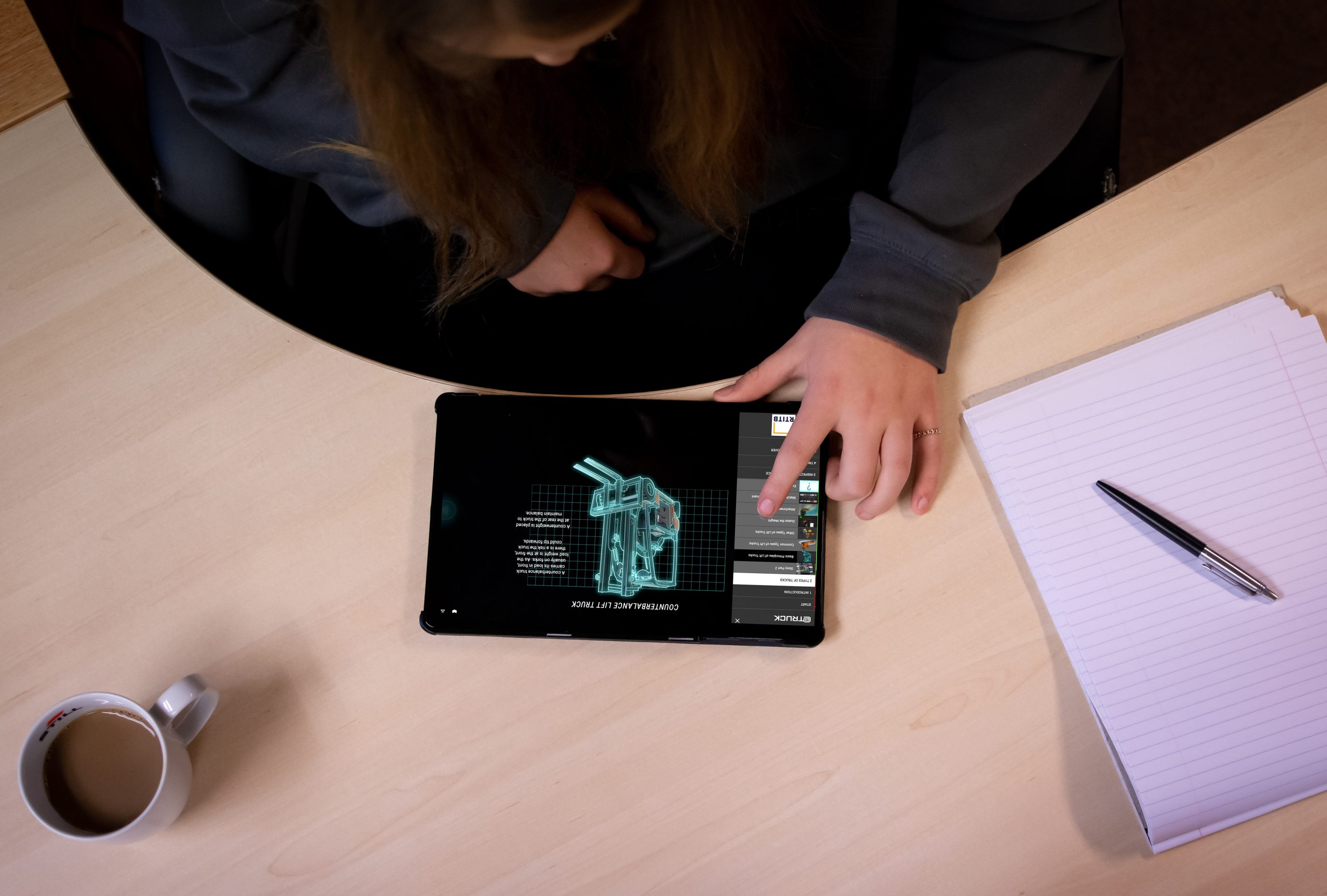 The eTruck UK forklift eLearning platform is great for getting lift truck operators' theory knowledge up to speed. But it will now also play an important role in Instructor training.
From January 2023, RTITB Lift Truck Instructor candidates must complete eTruck before attending the course. This will bring benefits to both the trainee Instructors, and their employers.
What is eTruck for Instructors?
eTruck UK from RTITB is an online platform for forklift theory eLearning. It uses an engaging digital storytelling style. This includes images, audio, video, and text. The approach has been found to improve the experience for the learner, as well as the retention of information.
The tool provides self-paced eLearning. Training candidates can complete it at their own pace​. By giving candidates greater control, eTruck encourages active rather than passive learning.
Until now, eTruck has been used for teaching the theory element of counterbalance lift truck and reach truck operator training. However, those attending an RTITB Lift Truck Instructor course will now benefit from eTruck too, due to changes to course eligibility.
eTruck instils confidence in Instructor training candidates
eTruck enables training candidates to complete theory training at home, online, which enables optimised classroom time. This is known as a "flipped classroom" approach.
By completing the eLearning course before attending the in-person part of the training, Instructor course candidates can arrive confident. All candidates will be ready with the required level of theory knowledge from the start.  This will ensure that less time is spent recapping theory topics, which can be disengaging.
Also, being a good Lift Truck Instructor is about more than knowing how to operate a Lift Truck.  It is about learning the skills, underpinning knowledge, and confidence required to teach others how to safely operate a lift truck. By completing eTruck before attending the course, there is more time to focus on learning to Instruct. Candidates will also have more opportunity to ask questions, complete exercises to test and strengthen knowledge, and take part in role plays, and discussions to further develop their instructor skills.
Having successfully completed eTruck forklift training, candidates will also arrive confident in their knowledge, enabling them to perform at a higher standard during and after training. And giving them a better chance of passing their final Instructor examination.
eTruck comes with a lifetime license. After they have completed the course as a requirement of their qualification, Instructors can also rely on the tool later to help them uphold high standards. They can revisit the eTruck information library anytime they want to refresh their knowledge. eTruck is updated regularly and frequently, in line with regulations and legal requirements. It is therefore an effective way for Instructors to keep their knowledge and skills up to date.
eTruck provides quality instructors for your business
As an employer, getting the right results from your training investment is key. Introducing eTruck in Instructor training is one way that RTITB is helping to improve standards. Which in turn gives your business high quality Instructors, that go on to train skilled and knowledgeable operators.
The new RTITB Lift Truck Instructor course gives you the reassurance that when one of your team members embarks on the training, their time will be used in the most valuable way. Every moment will be dedicated to them becoming excellent Instructors, rather than revisiting operator learning topics that they should already be familiar with.
Having completed an engaging and exciting course, businesses can also expect qualified Instructors to be highly engaged. Employees often appreciate an employer that is willing to invest in training and people. Nowadays, this includes providing the modern, up to date and high-quality Instructor training.
By embracing technology, and digital learning, you are modernising your workplace for current and future generations of Lift Truck Instructors. This can help to retain existing skilled employees and attract new talent. Which may help overcome the challenges of the Lift Truck Instructor shortage.
And all these benefits come at an affordable price.
Are you a training provider that is interested in becoming an eTruck reseller? Learn more here.
RTITB – Raising Standards
In addition to the requirement to complete eTruck training before RTITB Lift Truck Instructor training, further changes to the syllabus will be announced. This includes a modernised Lift Truck Instructor course, currently in development.
This will be designed to better cater to different generations and learning styles in the workplace. It will also help uphold high standards, to benefit businesses and the industry as a whole. Resulting in safer and more efficient lift truck operations.
By bringing training up to date, it will also help counter perceptions that the materials handling and logistics industry is old-fashioned. At the same time demonstrating clear career opportunities. This may make it more attractive to new talent.
Learn more or book Instructor training
We recently held a webinar to explain all of the eligibility changes for the RTITB Lift Truck Instructor course in detail. Download and watch it here.
The updated course will be available from RTITB Accredited Instructor Centres. Find your local provider to make a booking.
Or if you have any queries, please contact our team.