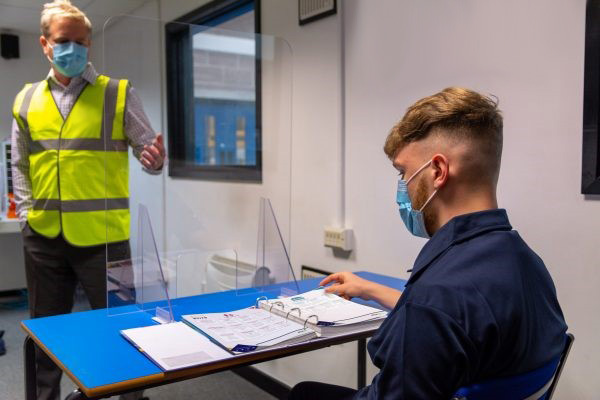 Last year, when many everyday activities went remote and training suddenly took the form of online learning through Microsoft Teams, Zoom and other video-conferencing platforms, Driver CPC Instructors faced a new challenge – engaging trainees in a completely new style of training delivery.
This was no easy feat, considering that there are already many Driver CPC sceptics out there – employers that see it as a box ticking exercise and drivers that dread having to complete their hours each training cycle. However, it can be done! Here, our training experts explain how.
Remote Driver CPC Training
According to a poll from our recent online webinar titled 'How to Deliver Great Remote Driver CPC Training', prior to March 2020, 76% of attendees said they wouldn't have considered using remote delivery as an effective tool for instruction.
It's clear to see that the Covid-19 pandemic forced the hands of many businesses and Instructors to get on board with remote learning. At RTITB, we found that sometimes even those quick to get started with remote training expressed a lot of doubt regarding its effectiveness and had reservations around using new technology, as well as apathy around change.
Going back just over a year, remote Driver CPC training was not even a DVSA endorsed option. Then it became the only possible way for drivers to carry out their Driver CPC Periodic Training hours. And as restrictions ease, it remains (at the time of writing) an option after 12th April 2021, even though Covid-secure classroom training is set to resume.
Members of our Driver CPC Consortium have done a fantastic job of making their training sessions as engaging as possible during recent months, and we've compiled some of the best practices we have seen in action.
5 top tips for keeping CPC trainees engaged
1. Set the scene at the start
Having the right foundations makes for an effective training session.
For example, when delivering Driver CPC training, it's a good idea to make sure that attendees are all aware of what the objectives are and understand what knowledge they'll be coming away with.
Let them know at the beginning what they can expect to achieve. By doing so, they'll be more onboard with the session and feel involved from the start. If they're invested in the plan and understand what's being discussed and why, they'll be more likely to take part and voice their thoughts and opinions.
2. Train with dialogue, NOT a monologue!
Driver CPC training can be lengthy so it's not surprising that drivers, who aren't used to being in a classroom setting or sitting at a computer for long periods, aren't always best engaged with online learning.
To ensure that drivers get the most out of their learning, Driver CPC Periodic training, whether it's remote or in-person, should always be a dialogue as opposed to a monologue. If you're delivering CPC training remotely, be sure to get everyone involved in the conversation so that they feel they're a part of the session, not just being talked at.
3. Think OUTSIDE the box…
Online training doesn't have to be a one way conversation where an Instructor talks or demonstrates for hours on end.
We've seen some innovative ideas from members of our Driver CPC Consortium to make online learning really stimulating.
"Many still believe that Driver CPC is simply a box-ticking exercise", says Iain Case, Managing Director of UK Training Team, members of the RTITB Driver CPC Consortium.
"At the beginning of the Covid-19 national lockdown, Driver CPC training quickly switched to remote learning. I looked into how schools were teaching through Zoom and worked hard to ensure that CPC training hours are as interactive and fun as possible", adds Ian. "Drivers aren't used to spending time in a classroom setting so when they do, make sure that they get the most out of the experience as they possibly can."
For instance, interactive flipcharts, quizzes, and even some 'Mr and Mrs' style paddleboards. If remote Driver CPC training is here to stay for the time being, now is the time to think creatively! You may even get some new ideas you can take into the classroom (when its safe to do so).
4. Challenge misconceptions
Picture this. You're delivering a Driver CPC training session remotely and an attendee declares that it is a waste of their time, an exercise that they have to do, instead of something worthwhile. What should you do? Challenge their thoughts!
Why do they feel that way? During training, don't try to steer away from the issues at play. Resolve them and ensure that the next time these drivers attend Driver CPC training, they feel more positively about it.
What's more, if drivers have felt that CPC training hasn't benefitted them in the past, why is that? Maybe they've felt that they haven't been heard by previous trainers. Perhaps this is a chance for you to show them just how useful CPC hours can be.
5. Think twice about direct questions
Do you remember being at school and being called on for an answer out of the middle of nowhere? It didn't feel good back then and chances are, it wouldn't now.
During remote Driver CPC training, try not to ask direct questions. Ask for opinions instead. Not only does this avoid the fear of giving a 'wrong' answer, but it allows trainees to have their voices heard too and makes for a more interactive learning experience, especially in a group setting.
Evolve your training offering with the RTITB Master Driver CPC Consortium
As well as ensuring our Master Driver CPC Consortium members have options that help them to continue to deliver training, regardless of the pandemic, we also provide access to our fantastic and flexible new Driver CPC portal. But if you're not yet a member, you can still experience the benefits thanks to a free 30-day demo.
Not only does the portal feature new topics and up to date course content that is sure to increase drivers' engagement in training, but it also provides a totally new experience for Instructors and Trainers, with simple to use customisable training playlists that save time.
If you need more information, please give one of our friendly team a call today +44 (0) 1952 520207 or email solutions@rtitb.com.