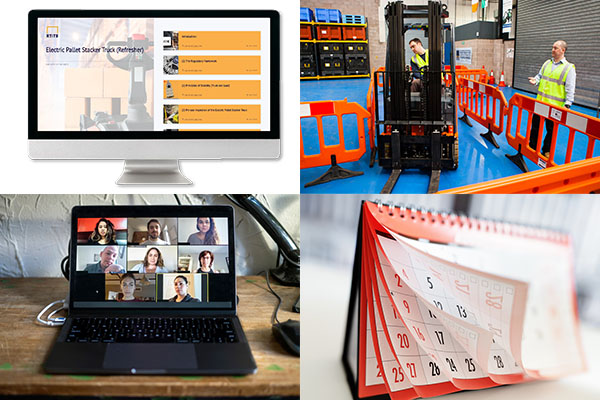 While some materials handling and logistics operations have continued during recent months, this month many others are resuming operations on a larger scale. This sees many MHE operators returning to work.
Whether your operators are employees or contract staff, it's important to maintain operational compliance and safety in the current climate.
What are your obligations?
Current advice is clear, that despite out of the ordinary recent circumstances, lift trucks must only be operated by a suitably trained and competent person. Employers of operators whose authorisations to operate have expired and have experienced difficulty in arranging Refresher training can (until 26th June) extend authorisations to operate by up to 3 months. However, they must clearly state the reasons for delaying re-qualification and also demonstrate the steps they have taken to attempt Refresher training as well as how they are maintaining their duty to monitor and supervise operators.
This means that training and ongoing supervision are still major requirements to maintain the standards of the current operator workforce during busy times and re-familiarise returning furloughed staff. They are also crucial in maintaining safety and efficiency and for legal and regulatory compliance.
What can be done to maintain compliance in MHE operations?
Employers have a few options in line with requirements and regulations, and the right one for you will depend on your specific operation. Below we cover the pros and cons of the main five options available to you at this time.
Option 1: Extend Authorisation to Operate
At first look, this might seem the easy option. No training delivery is required, there is no associated cost and the risk of infection is reduced as there is no increased human interaction. It also means no time is lost from the operation to training.
However, there are some significant potential drawbacks too. Simply extending an Authorisation to Operate does not give you the chance to identify and remedy poor working practices or update an operator's knowledge to ensure they are working safely and efficiently. This, as well as the inability to cater to returning or infrequent operators with this approach, can increase the risk of incidents which in turn could pose a risk of prosecution. It is also easy to fall out of the scope of the ACoP/HSE statement relating to the extension.
What's more, when a 'new normal' is established and training requirements are reinstated, you may find you have a backlog of Refresher training to organise and deliver, at great cost and disruption to your operations.
Option 2: Conduct your 'usual' Refresher training
The type of Refresher training traditionally carried out brings some great benefits. It's thorough, ACoP compliant, provides insight into practical ability and knowledge and gives you peace of mind that you're in scope of requirements. Instructors are also comfortable with this type of delivery and candidates may benefit from the direct interaction element.
However, during the current times this type of training incurs extra costs, on PPE, control measures, contaminated material disposal etc. It is also more time consuming. Importantly, it also comes with the risk of spreading infection, so both operators and employers are reluctant to take the risk. Some training centres are also reluctant to accept liability for running a 'COVID-secure centre' while those looking to train in-house may encounter resource issues as a result of furloughed staff.
Option 3: Assessment only
Perhaps delivering a course is unfeasible, but you're confident you can conduct assessment of relevant operators. This is certainly a quicker option compared to traditional training and reduces contact time for a lower infection risk. It will enable you to have direct interaction with operators to gain insight into, and assess, their ability and knowledge. It also complies with the relevant requirements for peace of mind.
However, it poses many of the same problems as 'traditional' Refresher training. The same time consuming and costly measures need to be taken to control infection risk and resource both to deliver the training and keep operations running may be an issue. Importantly, this option lacks any update of operator knowledge, which is particularly relevant in operations with staff returning to work after a period of time on furlough.
Option 4: Theory training via remote session
We have seen more organisations than ever embracing remote training opportunities in recent months, and it's clear that it's a great way to share up-to-date information. There is zero risk of infection as operators can learn at home, even while they are furloughed. Live training delivered remotely still offers the important interaction with the Instructor and opportunities for operators to pose questions, alongside the usual advantages of learning in a group.
That said, this is a new process to many and relies heavily on the technology itself, and the competence to use it. Online meetings can be difficult to manage and connection issues for those logging on from home can be common. It can be a challenge to ensure everyone has the right hardware and software available, and that everybody has the IT ability to use it!
In a virtual setting, it is also harder to track results and attendance and there is the question of how legitimate an assessment this can be with the absence of a hands-on practical element.
Option 5: The eLearning route to compliance
It's easy to assume that eLearning will have identical pros and cons to the remote training described above and there are some commonalities. For instance, it shares the benefits that the infection risk is zero and it's in the scope of current requirements. On the flip side, it still requires a decent internet connection and a reliable, hands-on practical assessment will be absent.
However, there are some important differences too. Unlike a remote session, forklift eLearning gives operators (including those on furlough) the chance to learn at a convenient time, at their own pace and is designed to be easy to follow for the less tech savvy. The training is also standardised for every single operator, ensuring that it includes the same relevant, up-to-date content.
While the hardware spec required is relatively low, MHE eLearning systems can often provide clever tracking of candidate progress and any knowledge gaps that need addressing. Proof of completions necessary for training records can also be easily produced. Importantly, all of this comes at a comparatively low cost to employers.
To meet this requirement, RTITB online knowledge top-ups, ideal for Refresher training at this time, are now available for a wide range of machine types including Reach Trucks, Electric Pallet/Stacker Trucks, VNA, MEWPs and more. These high-quality online courses enable operators to extend their registration by up to 12 months or for operators that are not RTITB registered, employers can extend their authorisation to operate for up to 12 months.
Learn more about your eLearning options for MHE operation compliance.
Or find your local RTITB Accredited forklift training provider to get started.