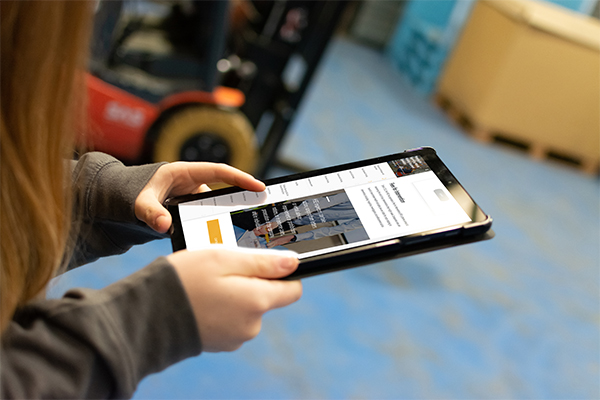 Unfortunately, almost every week we hear from the Health & Safety Executive (HSE) about an incident or accident in material handling equipment (MHE) operations. Often when we think about incidents in the workplace, the natural instinct is to point the finger and find out who's to blame.
More often than not, that process ends up with the issue being deemed to result from sub-standard operator training or performance. However, poor supervision and management are often part of the root cause – without effective supervisors, operators will naturally pick up bad habits and cut corners – we all need reminding about the right way to do things from time to time.
A properly trained supervisor or manager will promote safe working principles, challenge poor standards, and, importantly, help encourage an environment of transparency and openness. The question is, as a site manager or supervisor, do you feel that you've received adequate training to keep operations safe? Do you know what your role really entails and what your responsibilities are?
Employers are required to provide adequate supervision for material handling operations according to the Health and Safety at Work etc Act. That's one of the reasons why we have just launched our new eLearning course 'Managing and Supervising Material Handling Equipment Operations'.
However, we often find that many Managers and Supervisors are unaware of the extent of their roles and what it should be covering on a daily basis.
The new eLearning course is perfect for those embarking on their first management role, or perhaps long time employees looking to take the next step in their careers. The course is also a welcome addition for Health & Safety Managers or Warehouse Managers, whose roles and responsibilities cover a wide area and where specific tasks may slip through the cracks.
Whatever your reasons for undertaking Managers and Supervisors eLearning, here we address some of the most frequently asked questions about the course, as well as highlight some key points that you may be unaware of.
How does the Supervisor or Manager support the lift truck operator?
As an MHE supervisor or manager you play a vital role in the post-training and ongoing operational phase of your lift truck operators' careers.  Part of your role is to enforce the best practice and skills learnt during operator training in the day-to-day operation. Supervisors must ensure that forklift operators continue to perform to the safest and most efficient standards under the pressures of the live workplace.
It is also the legal responsibility of the lift truck operation supervisor or manager to make sure that safety issues are reported and resolved, and that administrative and training requirements are met.
Many lift truck operations managers and supervisors are unaware that certain day-to-day tasks must be completed in order to ensure legal compliance.
What level of training does a Supervisor require?
To upskill to a forklift operation Supervisor or Manager, you do not need to be a qualified lift truck operator but you are legally required by PUWER (Provision and Use of Work Equipment Regulations) to receive training that enables you to understand potential risks posed by the equipment, and how to avoid or prevent them.
The Health and Safety Executive (HSE) ACoP L117 states that "users, supervisors and managers must receive adequate training for the purposes of health and safety".
At RTITB, we tend to find that some members of management structures aren't necessarily aware of their responsibilities and how to comply with industry laws. For example, how to carry out an effective observation, and more importantly, to know what to look for. Also, being able to communicate effectively with both operators and line managers, along with being able to recognise unsafe practices and behaviour in order to promote health and safety standards within the team.
Our new dedicated eLearning RTITB course titled "Managing & Supervising Material Handling Equipment Operations" makes it easier and more cost-effective than ever before to access the training legally required.
The purpose of this course is to introduce learners to the requirements of the critical role and the training and safe operating practices that should be at the heart of any MHE environment.
What are the benefits of RTITB eLearning courses?
We initially launched our eLearning courses to help keep businesses up and running and reduce face to face training time significantly during the early stages of the Covid-19 pandemic. The Health and Safety Executive (HSE) made it clear that throughout the national lockdowns, forklift training should not stop where it is essential or urgent, and that employers should consider eLearning to help keep people safe.
Our eLearning courses have proved extremely beneficial in terms of saving instructors time, without compromising on quality. Businesses have also benefitted, with less time lost to training, and costs saved, on factors such as travel and hotels. And importantly, learners love our interactive eLearning too!
Beyond the pandemic, eLearning gives employers more flexibility and options for training Managers and Supervisors in a way that suits their business and their budget. A licence for this elearning is available for just £49+VAT.
What does a Supervisor and Manager eLearning course entail?
Our 'Managing & Supervising Material Handling Equipment Operations' is a self-paced eLearning course, designed for anybody wishing to learn about managing or supervising lift truck and material handling equipment operations. It is ideal for anyone wishing to progress to a managerial or supervisory role or anybody already in the role, looking to improve understanding of their duties.
The brand new eLearning course provides Managers and Supervisors with information about the core regulations and safety principles related to equipment operation, as well as training requirements and standards, so that successful candidates, whether they're new employees, someone stepping up into a management role, or a staff member looking to brush up on their skills, can confidently observe operations, identify safety issues, and challenge issues when they arise with the aim of hopefully heading off serious escalation.
The course covers:
Health and Safety at Work
Regulations, ACoPs, and Guidance
Operational Experience and Qualification requirements
Administrative Responsibilities
Operator Training
Operational Safety
How do we get started with an RTITB eLearning course?
Visit our eLearning hub to see details of all our courses that are currently available. Your trainees could get started within hours!
Or if you prefer classroom training options, discover more about becoming an RTITB Accredited Partner to deliver in-house courses, or find your nearest RTITB Accredited Training Provider.
Looking to become an RTITB eLearning reseller? Get in touch with our team by emailing elearning@rtitb.com for more information.
If you have any other questions, please don't hesitate to contact Kelly Woolley, our dedicated eLearning advisor, on +44 (0) 1952 520231.