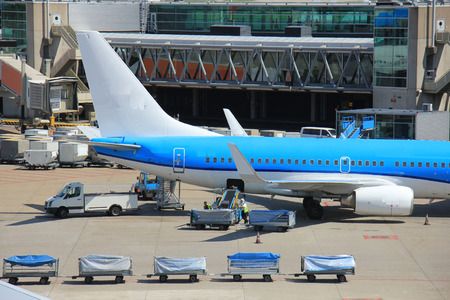 Swissport GB Limited has been fined £502,000 following two incidents in 2015 at Luton airport.
The first incident, which took place on 23rd June 2015, involved a ramp agent and team leader for Swissport. The team leader, along with members of his team, used a flatbed lorry and belt loader to unload bags from an aircraft onto the lorry. A worker stood on the back of the flatbed lorry, directing a colleague to transport the bags to the airport's inbound terminal. The colleague transporting the bags then moved into the cab of the lorry and moved off, forgetting the worker still stood on top of the lorry.
The worker fell from the moving flatbed, receiving damage to his spine and substantial bruising, leading to 8 weeks off work.
The second incident took place on 9th September 2015, involving a different worker who was on a night shift, loading cargo onto an aircraft, operating a high loader. The high loader had been partially raised with the team leader began to climb the access ladder when his foot slipped and he fell backwards, sustaining an impact injury to his right foot.
Following the incident, Luton Crown Court heard that Swissport GB Limited had failed to complete an adequate risk assessment, or implement a safe system of work to address issues that could arise from employees falling from the flatbed, or as a result of the flatbed being driven away with workers still on top. They were also found guilty of improper planning for working at height, ensuring that tasks were carried out safely and ensuring tasks were appropriately supervised.
Following the hearing, Health and Safety Executive (HSE) inspector, Emma Page, commented "Employers should be aware of their legal duty to protect the health and safety of their employees and those not in their employment. Companies should be aware that HSE will not hesitate to take appropriate enforcement action against those that fall below the required standards."
Swissport GB Limited pleaded guilty to breaching Sections 2 (1) ad 3 (1) of the Health and Safety at Work Act etc 1974 and Regulation 4 (1) of the Work at Height Regulations 2005. They received a fine of £502,000, with further costs of £44,444.
Source: SHP Online, £502k fine for Swissport after two airport incidents, 27th February 2018. Read the full article.