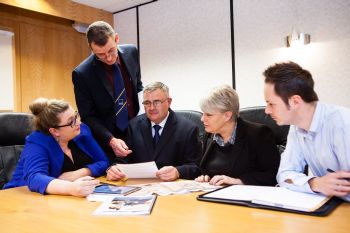 Driver CPC Periodic Training is frequently overlooked as a tool for progressing the careers of professional LGV drivers.
Laura Nelson, RTITB Managing Director, comments "Many businesses are missing the opportunities of Driver CPC Periodic Training. It doesn't have to just be about maintaining a driver's qualification or compliance. Planned and implemented in the right way, it can be a valuable way to truly develop drivers and find ways to progress their careers."
To help businesses tackle this and offer meaningful professional development for drivers, we have developed an extensive library of relevant Driver CPC Periodic Training topics to help reach a range of skills that support career progression. A new module specifically developed to equip drivers with the skills that they need to become team leaders, supervisors and managers, amongst other roles, will be released in due course.
It is claimed that the logistics industry will require 450,000 new people over the next 5 years. With the average age of HGV driver around 51, attracting and developing younger drivers will be critical to fill the skills gap as many drivers approach retirement. With 35 hours of compulsory training during every five-year cycle, Driver CPC can be used as an effective professional development tool to assist with career progression.
"The right choice of Driver CPC course can give drivers the chance to learn new, interesting and different skills, such as management and supervision," says Laura. "Traditionally considered too 'advanced' for drivers, these areas are often overlooked by employers. However, by incorporating them in Driver CPC training, drivers have an opportunity to truly develop a career, not just maintain their existing skills."
The RTITB Master Driver CPC Consortium is dedicated to developing today's professional LGV drivers through training. Driver CPC Periodic Training topics available to employers and drivers include Representing the Company and Professional Driver Roles and Responsibilities. These cover themes such as customer relations, professional duties, appearance and brand ambassadors, among others. The soon to be launched Interpersonal Skills module incorporates a focus on communication skills, while the new Teamwork topic includes managing and leading people, skills for career success, leading others to enhance the company, and maximising workplace interactions using techniques such as neuro-linguistic programming and emotional intelligence.
"Rather than just repeating the same courses on drivers hours or tachographs, for example, every cycle employers should consider which Driver CPC topics will provide their business with the maximum value," says Laura. "With drivers so crucial to the future success of the logistics sector, some businesses may find that training courses which aid career progression are their wisest investment."
Learn more about the benefits of joining the Master Driver CPC Consortium or, to discuss your needs, call our specialist team on +44(0)1952 520207.