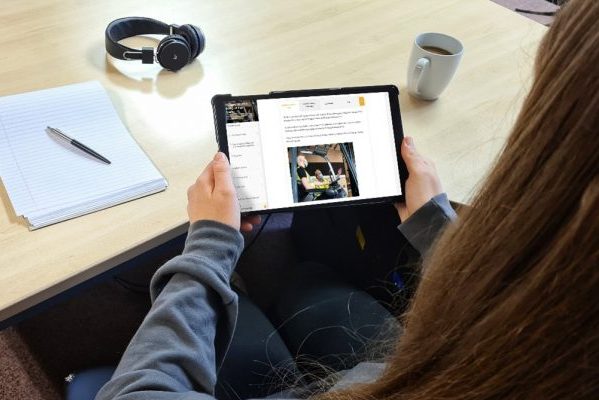 Lift truck training plays an essential role in keeping people safe, but how can you continue this vital service in a COVID-secure way? And what are the current rules and guidance for trainers? Our new FREE RTITB eLearning course has the answers!
Whether you are responsible for in-house training in a supply chain organisation, or you're a training provider delivering a service for customers, the short RTITB eLearning course will look at some of the things you and your team should consider when planning and running lift truck training to manage COVID risk.
Get the course now: Fill out this form or email your contact details with "FREE COURSE" in the subject line to elearning@rtitb.com and we'll send you a link.
Just half an hour to improve lift truck training safety!
By investing just 30 minutes of your time, you can get up to speed with the guidance and best practises that will help keep both training candidates and instructors safe. What's more, you can do the eLearning course anywhere with a web browser at a time that suits you as it is conducted completed online.
Key points covered in the Covid-19 eLearning course include:
Is training still essential?
The Health and Safety Executive hierarchy of controls
Assessing your training centre or site safety
Communicating COVID safety – what do candidates need to know?
Delivering safe theory training
Delivering safe practical training
Managing refreshments and breaks
There is also an optional session for trainers who deliver training on customer premises or who travel to other depots within the business to deliver courses, which looks at safely delivering training at other company or customer sites. This additional eLearning session is also free and takes just an extra 10 minutes for those who need it.
The course is designed to be straightforward and engaging – the changing guidance is confusing enough! Plus, there are quizzes at the end of each section to keep you on track. All those who complete the course can download a certificate of attendance.
Complete this form or email us now with FREE COURSE in the subject line to get a link to your FREE eLearning course licenses.
Forklift safety is paramount
Safety in lift truck operations is perhaps more important than it has ever been, as workplaces face increased stress because of COVID-19 on the workforce, increased demand for goods, and the logistical challenges created by the pandemic. And if you're an employer, you have a legal responsibility to keep your instructors safe during training too.
Though there may be a lot of information about training during the pandemic, some of it conflicting, you cannot take any unnecessary risks when it comes to lift truck training safety. Get the course now to keep people safe. Training licenses are completely free to supply chain organisations and training providers.
Or for more information on the course, email or call our eLearning team on +44 (0) 1952 520200.