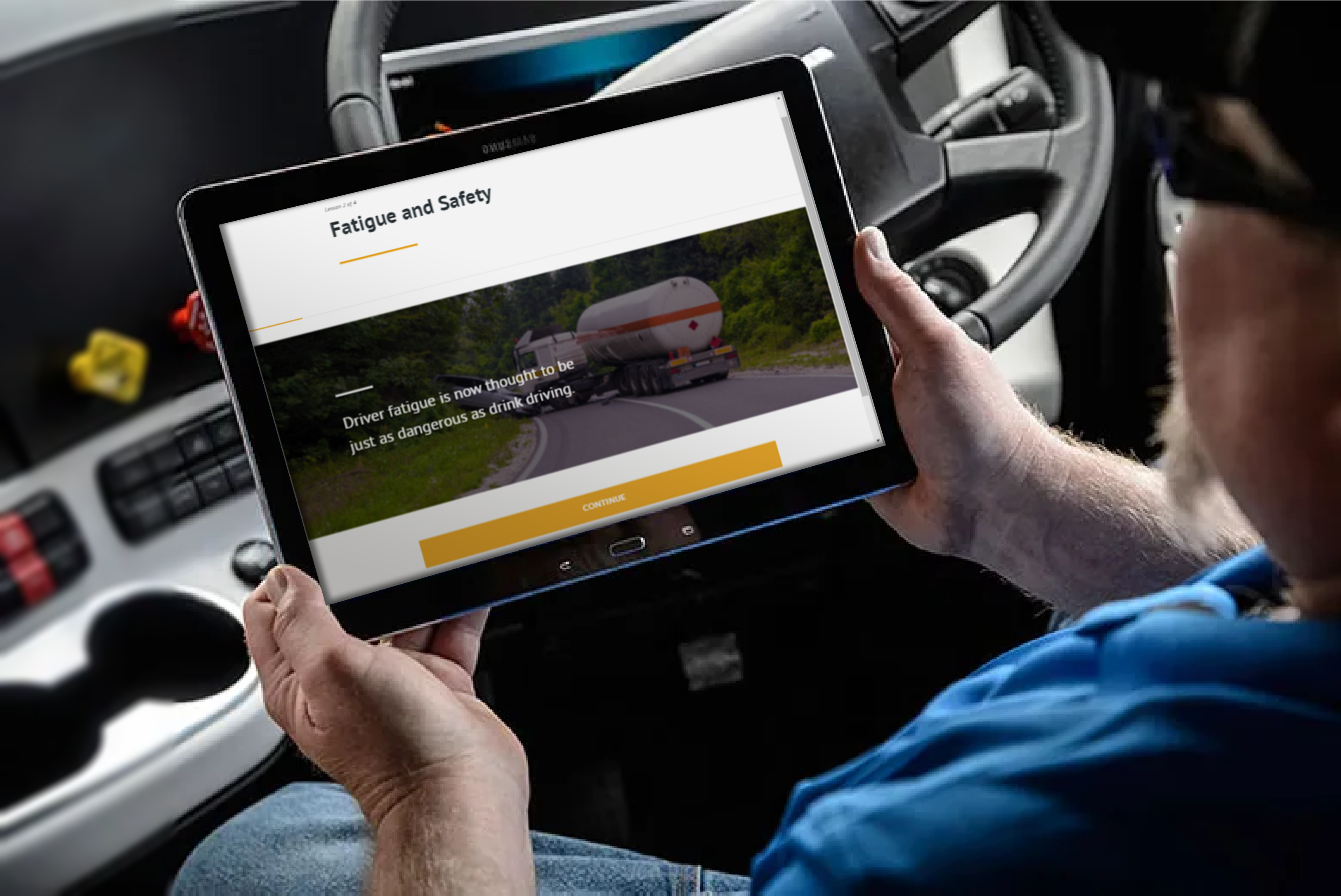 RTITB has launched a new Driver Compliance eLearning program. The new program will help transport operators, haulage companies and logistics providers take on the issues that lead to disruptive roadside inspections, delays, fines, and customer service issues in a cost-effective way.
The new self-paced training program is delivered entirely online in 2-10 minute modules. It consists of a library of bite-sized modules relating to compliance and safety issues. It is an engaging, time-efficient, and simple way to equip HGV/LGV drivers with the knowledge and skills they need to minimise the risk of delays and penalties.
Employers simply select the modules they need to address their drivers' specific issues, enabling targeted intervention. By giving employers complete control, it also prevents unnecessary or irrelevant training topics from being included, making it a more efficient and effective approach.
"Many qualified and experienced drivers still fail to comply with the rules of the road," explains Laura Nelson, Managing Director for RTITB. "In the worst-case scenario this leads to serious incidents. Safety is the most important reason why drivers must navigate the roads smoothly."
"However, when drivers don't observe regulations and best practice guidelines, this leads to other issues. For instance, drivers hours infringements, which 5% of drivers are still committing*. These result in damage to a company's OCRS (Operator Compliance Risk Score) leading to increased roadside inspections. This causes persistent delays and can really cause customer service to suffer," she continues.
The new RTITB eLearning program is designed to improve driver behaviour, and result in fewer compliance issues. This will help employers tackle ongoing issues such as speeding. Research has shown that 53% of vans, 42% of rigid HGVs, and 46% of articulated HGVs exceed the speed limit on 30mph roads.**
With 6% of road accidents caused by speeding and 17% of road accidents a result of drivers/riders being in a hurry or reckless***, the course aims to bring safety benefits, alongside better compliance. In turn, this brings other advantages to businesses. For example, when fewer accidents occur both fleet maintenance costs and insurance expenses are lower.
With skilled, professional drivers, companies will also be able to impress regulatory bodies and improve their OCRS. They can also ensure more deliveries arrive on time. This leads to greater customer satisfaction, helping them to retain and secure business.
One major logistics provider using the new system said:
"RTITB's Driver Compliance eLearning platform has revolutionised our driver training, aligning perfectly with our company's requirements. The accessible training sessions and comprehensive reporting capabilities have minimised downtime and saved us valuable resources."
Through the new eLearning platform, employers can also identify the common areas where drivers need to improve. Focused training interventions can then be made.
"Excellent drivers reflect well on your business. They show you are a reliable and responsible logistics provider," says Laura. "However, the way people learn is changing. Employers need to adapt their training if they want to maintain compliance and safety standards."
"With our new Driver Compliance eLearning, we provide a training format that many candidates prefer, giving it greater impact. The result is better driver compliance, measurable benefits for businesses, and safer roads for all," she continues.
Learn more about RTITB Driver Compliance eLearning: www.rtitb.com.
* https://www.gov.uk/government/news/drivers-hours-changes-to-fines-for-commercial-drivers
** https://www.gov.uk/government/statistics/vehicle-speed-compliance-statistics-for-great-britain-2020/vehicle-speed-compliance-statistics-for-great-britain-2020
*** https://www.acvm.com/news/the-most-common-causes-of-road-accidents.html