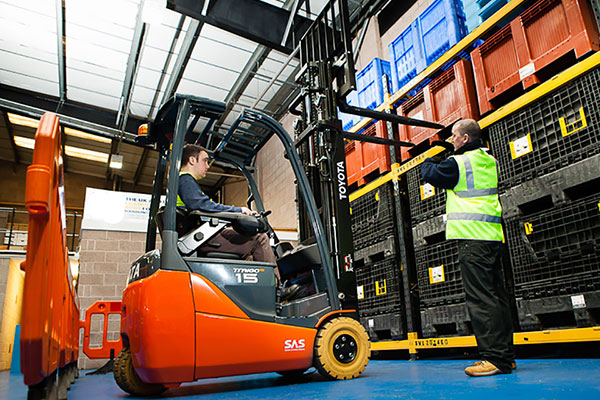 To keep operations safe and efficient, lift truck operator training should not only be compliant, it should be really engaging for trainees too. That's why our RTITB accreditation services incorporate a number of revolutionary new ways that help you raise training standards.
If you're looking for some fresh thinking when it comes to your in-house materials handling equipment (MHE) training or plant equipment training, here are some of the many reasons why you should become an accredited RTITB partner now.
Lift truck training is changing…keep up!
RTITB accredited training is harnessing new technologies and e-learning to enrich the training experience like never before. Becoming an accredited RTITB partner will help ensure you don't get left behind as MHE and plant training evolves.
At IMHX 2019, RTITB will exclusively reveal a first look at its unique, new e-learning solution. Not only does this have the potential to encourage greater trainee engagement but it has been specially designed to help reduce the time required to deliver lift truck training. As an employer, you could save days per course on every single candidate.
Visit us in Hall 20, stand 20C86 at IMHX to learn more.
Time-saving app makes training paper-free
Only accredited RTITB partners have the option to manage MHE training administration and assessment via the award-winning MyRTITB TrainingFriend app, making the process totally paperless for the first time. The app can save Instructors up to 5 hours per course, so they're available to deliver more of the operator training your business needs. And as all updates are completely free, you can rest assured that your lift truck operator training assessment materials are always up to date.
By improving the efficiency of admin and testing and removing the need to manage and complete printed paperwork, the unique app can also save your business money. Plus, the app simplifies compliance by ensuring that all the necessary information is captured and stored.
New online portal – coming soon!
To further support you and your training team, RTITB partners will shortly be given access to a new online portal – MyRTITB. This will give you everything you need to deliver training in one user-friendly location that you can access easily, anywhere.
As an RTITB partner, you'll have a dedicated customer account with a profile you can personalise. In the portal, you'll be able to access electronic copies of RTITB training materials, presentations and testing documentation and easily keep on top of CPD with relevant news articles, e-bulletins and webinars.
The new portal will help you keep on top of training and compliance easily, as you can analyse training completed per site or per instructor and send electronic reminders regarding qualifications which are about to expire. RTITB partners can still upload training onto NORS, the centralised validation, registration and certification scheme for RTITB accredited training which helps ensure that re-training and re-testing takes place at suitable intervals.
Come and see our friendly team at IMHX to find out more.
Tailored, standardised course materials
Our operator training courses are ready for the future – flexible enough to change with your business as it grows and evolves. As an RTITB partner, your training team will have access to the highest quality training materials which can be tailored to cover your specific equipment, operations and processes as well as reflecting your company culture and brand values.
When you become an RTITB partner, you can also be assured that your equipment operators are all being trained to the same high standards. Your team can deliver the same MHE training across all your sites with training and testing materials that are always up to date with the latest requirements for compliance.
Take a look at this MHE training accreditation case study to see the difference that standardised, custom operator training could make.
Join the revolution!
These are just a few of the latest benefits of becoming RTITB accredited for your in-house training. For years RTITB has set the gold standard when it comes to flexible, engaging training materials that utilise varied delivery methods to keep training interesting and fresh for lift truck operators.
Find out more about the benefits of RTITB accreditation, or get in touch to discuss becoming an accredited RTITB partner.