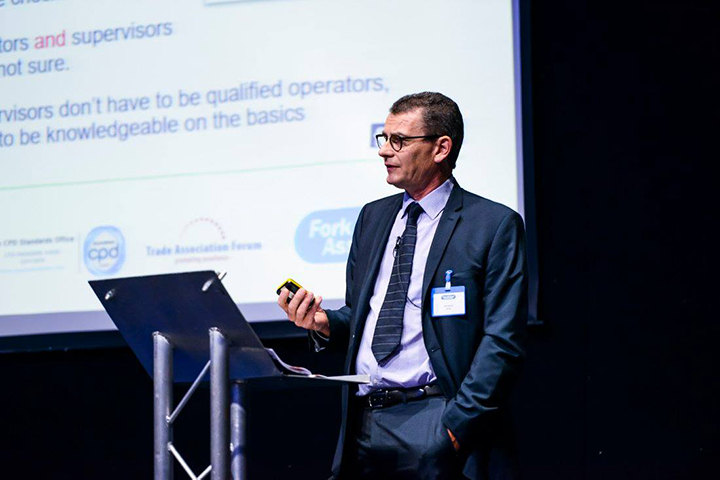 On the 20th September 2017, RTITB were thrilled to have the chance to speak at the FLTA Safety Conference  at the Heart of England Conference and Events Centre in Coventry.
This year's conference theme was 'Managing fork lift safety in changing times', and focused on preparing managers and supervisors for the challenges that lie ahead in the ever-evolving materials handling industry. Covering all bases, this event clarified changes in legislation, staff patterns, job security and much more.
RTITB's very own Nick Welch, Technical Director, delivered a presentation entitled 'Appearance isn't everything', looking at pre-use inspections – a crucial element of safe forklift truck operations that is often overlooked. For instance, did you know that 65% of forklift operators don't know how to correctly conduct the driving and braking pre-use check?
In the presentation Nick revealed the negative results that ineffective pre-use inspections have on the number of forklift truck related accidents each year and how simple changes to attitudes and knowledge can improve pre-use inspections, making them a meaningful part of any shift. If you were unable to attend the FLTA Safety Conference, we can email you a copy of Nick's presentation, by clicking here.
Reducing the number of forklift truck related accidents can easily be achieved by quality Lift Truck Operator training. At RTITB, we believe that all Materials Handling Equipment training should provide much more than legal compliance, which is why our Counterbalance (Forklift) Lift Truck Training course has such a high success rate. Our course gives candidates the skills to operate trucks safely and efficiently, carry out pre-use inspections correctly, and understand and explain the causes of truck and load instability.
Last year over 42,000 people completed and passed RTITB counterbalance training and testing and achieved their internationally recognised RTITB Certificate of Basic Operator Training. For more information on lift truck operator or lift truck instructor training from RTITB, or for advice about pre-use inspections, feel free to contact our friendly team on +44(0)1952 520207, or via email. We are always happy to discuss any queries you may have.