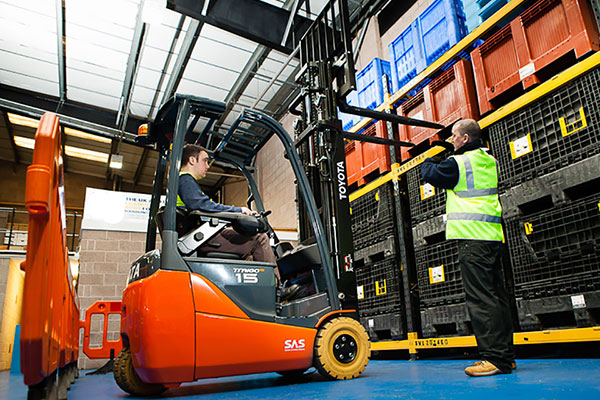 RTITB, the leading standards setting body for workplace transport training, is warning employers of the potential risks and penalties of failing to understand and correctly issue authorisation to operate for lift truck operators.
"Worryingly, some of employers that we speak to don't even know what authorisation to operate is, let alone why it is needed for lift truck operators," says Laura Nelson, Managing Director for RTITB.  "However, it is their responsibility to issue this important authorisation, not the job of a lift truck training Instructor."
"Under no circumstances should an employer allow anyone to operate a lift truck on their premises without an authorisation to operate, as this can pose a huge risk to safety and jeopardise legal compliance," Laura continues.
An authorisation to operate is granted by an employer when it is satisfied that its employee has competently completed the three stages of lift truck operator training (Basic, Specific and Familiarisation).
Before an authorisation to operate is issued, employers should ensure they have a clear record of all the training that was completed, when and on what type of machine. If new tasks or machinery are introduced to the operator, the relevant training should be conducted and a new authorisation to operate issued. All authorisations should also be time-limited, logged and recorded.
"An authorisation should relate to the tasks the operator will complete, including the specific truck type and capacity and the load types," explains Laura.  "It's also worth noting that an authorisation to operate is not transferrable between different employers. For compliance, employers should review even experienced operators and train them accordingly before issuing a new authorisation."
The Provision and Use of Work Equipment Regulations 1998 (PUWER) requires that equipment provided for use at work is used only by people who have received adequate information, instruction and training. Therefore, to help ensure legal compliance in the event of an incident, an authorisation to operate must be issued by the employer to any employee who ever operates a lift truck, whether as part of a full-time role, or only occasionally.  This also includes temporary and agency staff.
"Failure to ensure an operator has an authorisation to operate puts employers at risk of prosecution in the event of an incident being caused by an unauthorised operator," says Laura. "More importantly, with no authorisation and incomplete training, the risk of an incident sadly increases significantly."
"That said, employers must remember that an authorisation is not a guarantee of safe operation, the process leading to the authorisation to operate is key" she continues. "There are also other factors such as safe systems of work, and supervision required."
RTITB can provide employers with guidance on materials handling equipment training solutions to improve safety and compliance, including Instructor and Supervisor training. Contact RTITB on +44 (0) 1952 520207 or download the free e-leaflet "Training Recommendations for Workplace Transport".
Or for basic advice from the Health and Safety Executive, download HSE Lift-truck training: Advice for employers: http://www.hse.gov.uk/pubns/indg462.pdf .