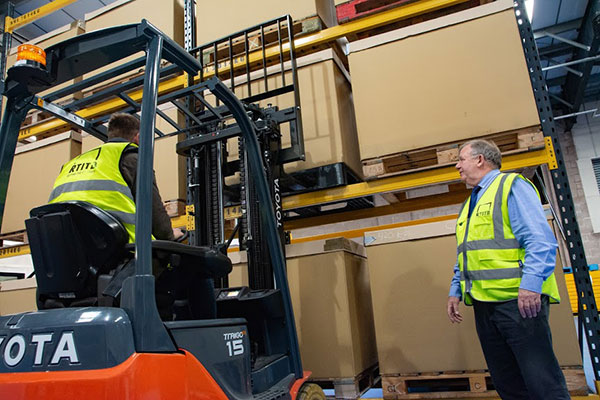 Having an in-house training team isn't the best choice for every operation. So, if you're looking to outsource your MHE operator training, how do you choose the best supplier?
A good place to start is choosing a single supplier for your forklift operator training in the UK and Ireland.
Standardised lift truck operator training nationwide
With different depots or warehouses across the country, working with a single supplier is a great way to ensure that everyone is trained to a particular standard with no need to worry about gaps in learning. This ensures a consistent standard of lift truck operation and safety across your different sites, helping to support both operational efficiency and compliance.
However, the reality is that your chosen Training Provider may not serve every area that you are based in or may charge expensive travel costs to deliver their forklift operator training nationwide.
The good news is that there are a couple of easy ways to overcome this with RTITB.
Forklift Training Course Locator
One way is to choose a series of RTITB Accredited Training Providers to deliver your lift truck operator training courses with our free, easy-to-use Course Locator tool.
Although they may be different businesses, all companies listed on the RTITB Course Locator are RTITB Accredited Training Providers. This means that they are approved to deliver standardised Materials Handling Equipment (MHE) training courses of the same high RTITB quality. They use all the same engaging training resources and are regularly audited by RTITB to ensure they are upholding the same industry-leading training standards.
This means you can benefit from standardised MHE operator training without having to find a company that is able to serve the whole country within your budget. What's more, finding these suppliers on the RTITB Course Locator makes identifying suitable training providers quicker and easier than seeking out different local providers that offer the exact courses that you need.
Check out the RTITB Course Locator now to see just how easy it is!
Outsourced Lift Truck Training Management
The RTITB Course Locator makes finding suppliers of standardised forklift training simple and efficient. But, if your business doesn't have a Training Coordinator, it could still be difficult and time-consuming to arrange a variety of UK wide lift truck operator course bookings.
If this sounds like you – don't worry! You can still benefit from the nationwide network of RTITB Accredited Training Providers. Working with a dedicated RTITB Solutions Manager, your operator training needs will be clearly identified. Then, we will liaise directly with our trusted lift truck Training Providers on your behalf. We will find a selection of RTITB Accredited providers that can meet your lift truck operator training needs anywhere in the UK, helping you to ensure consistent training standards while saving time.
Get in touch with our friendly RTITB Solutions team on +44(0)1952 520207 or solutions@rtitb.com to discuss how we can help you secure forklift operator training using RTITB Accredited Training Providers.
Forklift Operator Training for Your Industry
Alongside our Course Locator, RTITB provides a wide range of operator and instructor training solutions to meet the varied needs of many different industries. Find out more about how we can help your business improve standards, safety and efficiency when it comes to your MHE training.