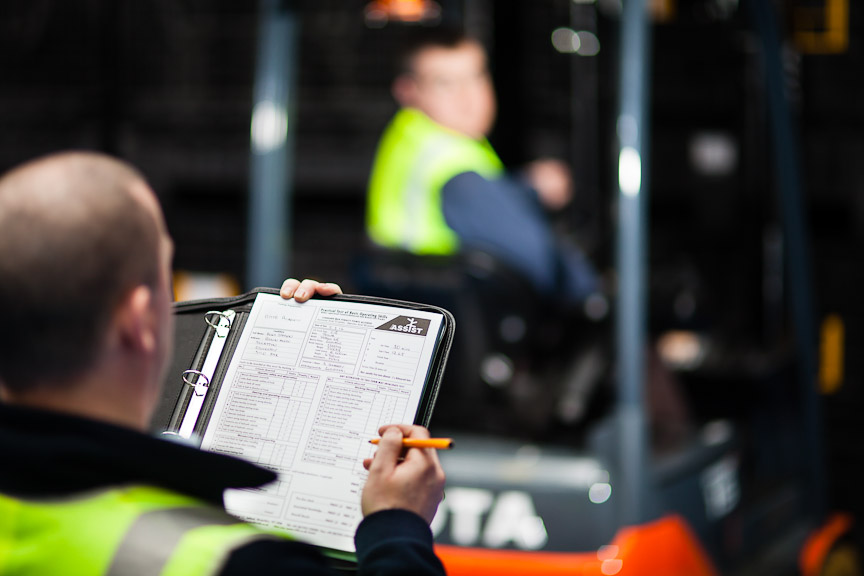 You have a new operator on site who has a valid qualification and experience, but you need to check their competency before you authorise them to work on-site and a lift truck instructor has to do this, don't they? Not necessarily!
The RTITB Instructor Academy's Lift Truck Assessor course enables employers to acquire in-house skills and knowledge for assessing and reporting on an operators abilities, without the need to spend unnecessary time and money investing in Lift Truck Instructor training.
Upon completion of this course, qualified Lift Truck – or MHE – Assessors, will be able to conduct pre-employment assessments, review an employee after absence, provide on-going periodic assessment, deliver post-incident and near miss assessment; and create records of all assessments that have taken place for employees.
Although Lift Truck Instructors can also deliver effective assessments, it requires a significant investment by employers who may not require this level of training for their on-site trainers – the Lift Truck Instructor course is designed for employers who wish to deliver training on-site, not just assess their operators. The Lift Truck Assessor course means employers can invest in training for their on-site assessors in half the time as an instructor and for a lower cost, making the best use of training budget whilst reducing downtime.
This course runs for 5 days and is available for up to 4 candidates. The course can also be delivered either at the Academy's dedicated training centre in Shropshire, or on customer premises, providing complete flexibility. Covering relevant regulations, health and safety, MHE assessment procedures and how to assess all key elements of MHE operation; the course will ensure assessors can support training and auditing needs by also training them on the correct use of operator test marking sheets and report writing.
An important element of the Assessor course is the successful completion of a three-part examination consisting of a basic operator skills test, associated knowledge multiple choice theory paper, and the delivery of an assessment of an assessment of practical operating ability.
Achieving an RTITB Assessor qualification is something for on-site trainers to be proud of, whilst also providing employers with an opportunity to offer professional development to their valued operators.
For more information on the RTITB Academy Lift Truck Assessor course, visit the course page here. If your business has requirements for MHE Assessor or Instructor training, call the Academy team on 01952 520214 to discuss your needs further and see what solution would be best for your business' needs.