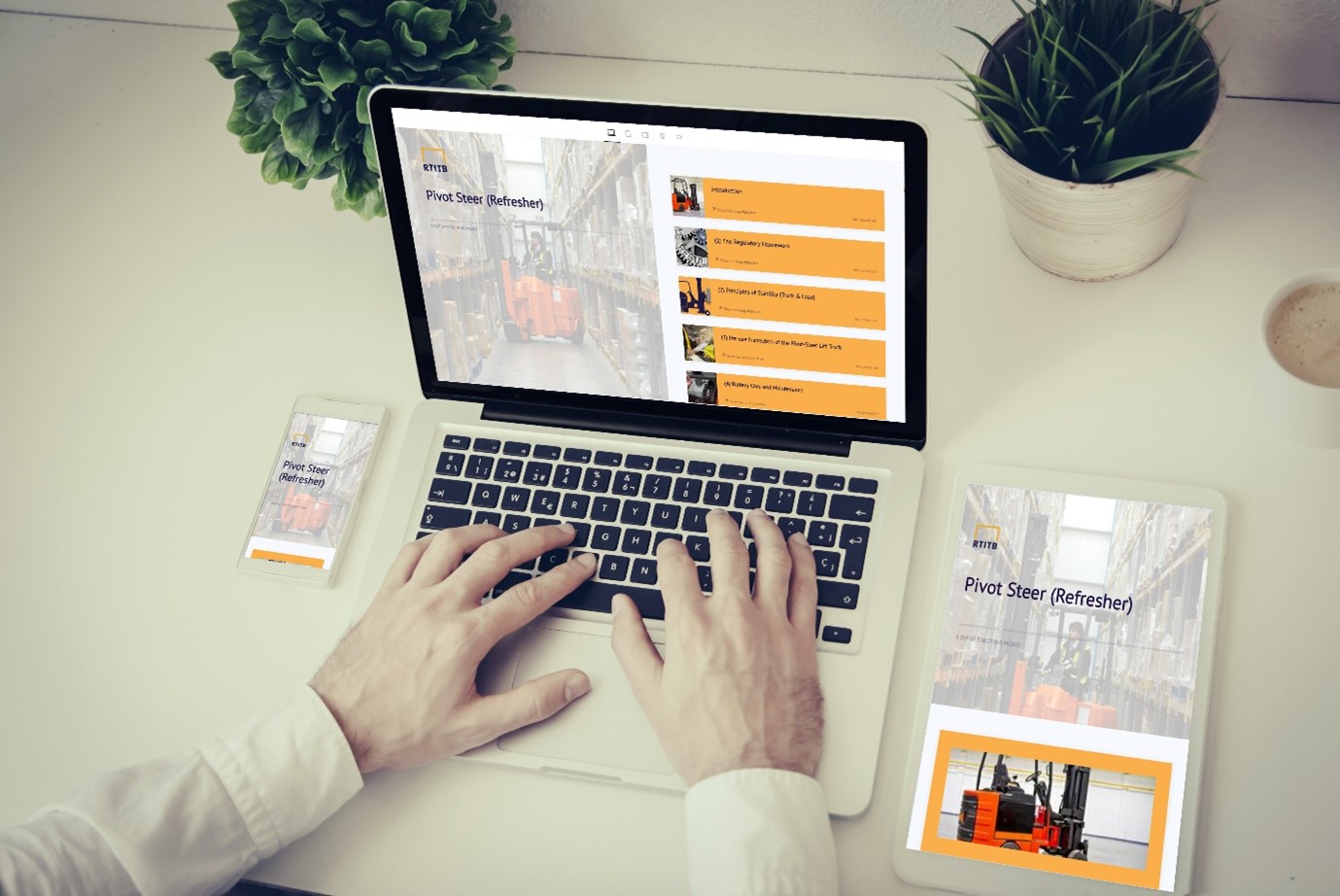 As we enter Lockdown 3.0, the Health and Safety Executive has made it clear that forklift training should not stop where it is essential, and that employers should also consider eLearning to help keep people safe.
According to a recent statement:
"Employers are required to ensure that their staff are trained and competent to operate any industrial lift truck equipment they use."
For this reason, necessary and urgent training for lift truck and plant operators should go ahead, whether that is novice or refresher level training. Regardless of lockdown, this training is vital for ensuring safety relating to lift truck operation.
However, employers should also be considering how to reduce the risk of COVID-19 transmission in training. One specific recommendation from the HSE is that employers should be "considering use of alternative learning methods such as e-learning or webinars where practicable".
We know that not everything can be taught during eLearning. You certainly can't train someone to operate a lift truck safely, from scratch, without them spending time learning on an actual machine under close supervision. They should also undergo an independent assessment to confirm their knowledge and skills.
However, it can still be extremely helpful for upholding safety and standards. With eLearning you can…
1. Reduce face to face training time
Although a novice lift truck operator will require in-person practical training, you can use eLearning to deliver the theory part of their course. eTruck UK from RTITB can help reduce face to face time by up to two days per Basic forklift operator course, for every trainee.
For refresher training, experienced lift truck and plant operators can do an RTITB eLearning course with no face-to-face contact time or travel needed. The Covid-secure refresher eLearning can be completed from anywhere, including at home, and is still legally compliant. It is ideal for topping up an operator's knowledge, so they can extend their refresher period. With our eTruck Refresher training, forklift operators can get a two-year RTITB operator registration (NORS) for Counterbalance Lift Truck without doing any practical training as long as they successfully complete the final test.
2. Prevent operational disruption
Furlough, self-isolation and social distancing are already proving disruptive to many operations. With RTITB eLearning there is no need for training to add to the disruption. Operators can complete training around their shifts or from home, and can even learn while isolating or on furlough, helping to ensure as little operational time as possible is lost to training.
And, if you need to get temporary or contract staff up to speed or deliver training to staff who don't often use lift trucks or plant equipment, RTITB eLearning is a quick and affordable way to do so.
3. Avoid training bottlenecks
Delaying training now could lead to challenges further down the line. Avoid training bottlenecks by keeping refresher training on course with RTITB eLearning, and by getting Novice forklift operators up to speed with their theory training, ready to do just the practical element at a later date (rather than the whole course).
Also, with eLearning it can be done, anywhere, anytime, lockdown or not! So, this is one training booking you can be confident will go ahead, despite regularly changing restrictions.
5. Save time and money
Our view is always that safety should come first. However, we know that time and money are important, especially so in these uncertain economic times for many businesses, some of which are navigating BREXIT as well as COVID-19.
RTITB eLearning removes the need to pay for travel and hotels for trainers and trainees. As it is done online, it can even be done outside of usual work hours, such as during a lunch break, helping to keep operations running profitably, efficiently and safely.
Even if a practical element of training will be needed later, such as novice operators learning with eTruck UK forklift training, there is a significant time saving overall for employers, with the associated cost savings.
RTITB eLearning Courses available include:
Interactive online refresher training with RTITB quality content is available for a number of our most popular courses, including:
Counterbalance Lift Truck (eTruck UK)
Mobile Elevating Work Platforms (MEWP)
Reach Truck
Pallet Truck
Stacker Truck
Vehicle-mounted Hydraulic Lorry Loaders (often called Hiab)
Tow Tractors
Pivot Steer Trucks
Very Narrow Aisle (VNA)
Order Picker (LLOPs)
Banksman
Vehicle-mounted Lift Trucks (sometimes called Moffetts)
Yardshunter
Slinger & Signaller
Ready to get started?
During lockdown, you may need to find a new way to train. Let us help you!
Contact us by email or calling the team on +44 (0) 1952 520 236 to find out about getting started with RTITB eLearning.