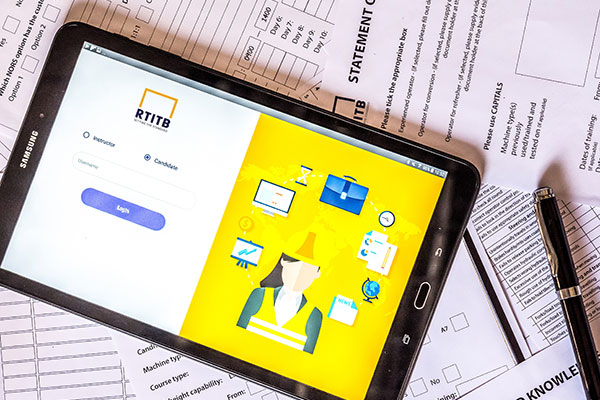 Are you searching for ways to improve your forklift training admin and assessment processes? There's an app for that! MyRTITB TrainingFriend is just one of our unique digital solutions designed to help organisations delivering training to improve efficiency and compliance, with lots more benefits too!
Here are three ways your business can benefit.
MyRTITB TrainingFriend saves you time and money
Training is an essential part of any forklift (Counterbalance Lift Truck) operator's development, and the admin side of things can be time consuming. We know Instructors would prefer to spend more hours delivering training than doing the paperwork, which is why we have pioneered a digital solution.
Using MyRTITB TrainingFriend can save around five hours administration time per training course – with Instructors so busy getting operators trained and into the workplace at the moment, these time savings really add up! And with time saved, costs can come right down too.
One way time is saved is the elimination of assessment papers. The assessment itself is also more efficient as the app automatically scores multiple choice questions and calculates test scores and results. With just one click, Instructors can upload from the app to RTITB's database and users can avoid duplicating training and assessment data entry work, which is ordinarily time consuming.
Based on the quantity of RTITB lift truck training courses delivered in over a year, the app will collectively save instructors an average of more than 123,000 hours per year, equating to more than 16,000 business days.
MyRTITB TrainingFriend helps you to 'go green'
At RTITB, we are committed to reducing our carbon footprint and impact on the planet. Helping to reduce the amount of paper used in training is one of our goals, and by going digital, you can do just that.
MyRTITB TrainingFriend is the only app that makes training administration and assessment 100% paperless. You can run training from the app on tablets, and then manage it online from the admin portal. That means there is no need to buy, print, or photocopy test marking sheets, training records or registration forms. Not only is it more environmentally friendly, but it also eliminates the associated time and costs too.
MyRTITB TrainingFriend keeps you compliant and organised
Without paper documents can you still keep on top of compliance? Yes! The MyRTITB TrainingFriend app is a fast and secure way to record compliant materials handling equipment training and enables easy access to data to support audits.
The app is designed to prevent human error – it makes sure all the essential information you need is captured. A candidate will never be able to forget to tick a box again!  It also gives you access to the most up to date question banks and answer sheets so you know your candidates are receiving the latest training materials, and you can easily record evidence and photos through your tablet's camera.
MyRTITB Training Friend also makes it easy to complete a digital compliant record of training, and you can receive automatic updates including instant proof of attendance through the app.
Time to go digital?
The MyRTITB TrainingFriend app can be used by in-house training teams or commercial training providers, for training and assessment on more than 120 courses, including counterbalance lift trucks, reach trucks, rough terrain telescopics, pallet trucks, and powered access equipment.
Although the app is designed to be intuitive to use, the switch to digital admin and assessment might sound daunting for Instructors. So, we have a dedicated support team to guide you through the process and answer your queries whenever needed, plus we provide training totally free of charge.
Why not try it out for your operation with a free demo? Register here today.