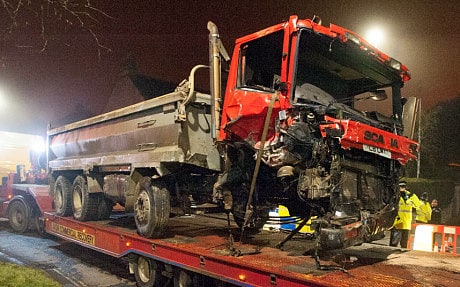 Two men have been convicted of manslaughter after four people were killed by a tipper truck.
The incident, which occurred in February 2015 in Bath, involved driver, Phillip Potter, who was behind the wheel of a 32-tonne truck when the vehicles brakes failed. The vehicle struck Mitzi Steady, Robert Parker, Philip Allen and Stephen Vaughan.
Following the incident, a trial cleared Mr Potter of dangerous and careless driving. During the hearing, it was discovered that Mr Potter had been in the job only a few days. It was also highlighted to the court that a previous employee of Mr Potter's employer, Grittenham Haulage Ltd, had reported a fault with the vehicle to company bosses. Mr Potter told the court that had he known the brakes were faulty, he would never have driven the lorry. At the time of the incident, the vehicle had clocked up almost 450,000 miles.
Mr Potter told the jury: "I tried the handbrake. I put it on and nothing. I tried putting the lorry into third gear to try and get the engine to slow it down. I was really scared because I never had anything like this happen before to me. I blasted the horn. It was the only thing I could think of to warn people that I couldn't stop."
He continued: "Somewhere in the back of my head I believed I was going to stop somehow. I am dead. I thought this was the end. I didn't know what was going to happen. My hands are on the steering wheel. I locked my arms and pushed myself back into the chair."
The jury heard that at the time of the crash Grittenham Haulage Ltd had no transport manager in place and had failed to carry out the recommended brake efficiency tests on the vehicle. A former driver for the company also disclosed that company boss, Matthew Gordon, often used restricted roads as a shortcut route and used other roads unsuitable for large vehicles. The driver also stated that he had driven the vehicle in question for six months back in 2014, experiencing brake faults, electrical faults and air press faults, recalling one occasion when he felt the brake go straight to the floor. Records showed the last safety check on the vehicle occurred in January 2015 – just weeks before the crash – when mechanic, Peter Wood, deemed is safe to drive.
Matthew Gordon and Peter Wood were each convicted of four counts of manslaughter and will sentenced on 27th January. Both are currently remanded in custody.
The Judge said on the case: "The offences they have been convicted of would attract substantial prison terms, so it seems to me that it would be wrong not to start serving those terms now."
Source: SHP Online (www.shponline.co.uk), Two men convicted of manslaughter after four die in tipper truck accident, 24th December 2016. Read the full article.