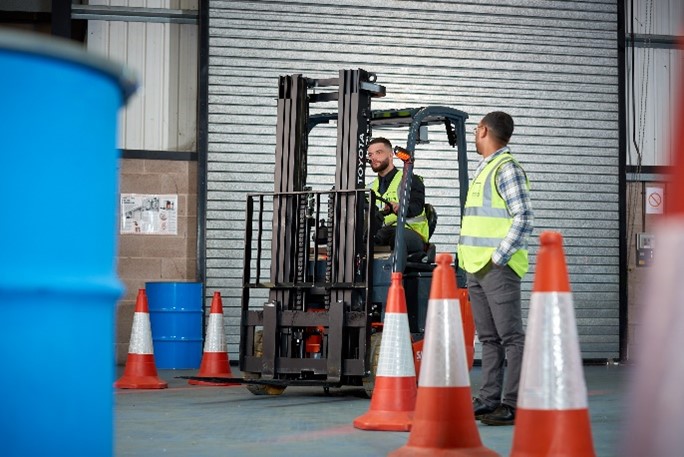 If you're an organisation delivering lift truck operator training, becoming RTITB Accredited can help.  Here's why.
Reputation matters
RTITB Accreditation shows that your company is delivering compliant lift truck training and cares about high standards. It also shows that you are a responsible employer committed to the health and safety of the workforce. Some candidates may be looking for an employer that is RTITB Accredited. Including this in a job advert can make your workplace an attractive option for Instructors.
Seeing that you have RTITB Accreditation, potential employees will get a sense that you care about their safety and wellbeing. They will also feel like they can make a meaningful impact in the workplace. They will want to be part of your organisation's mission of safe operations. Instructors will be motivated by being in a team with a shared sense of purpose.
This rings true once Instructors are part of your team too. In an RTITB Accredited organisation, they know that they will be entrusted with delivering high quality training. They understand that the organisation genuinely values their work. This shows respect and recognition, which can encourage loyalty. And with this loyalty comes improved staff retention.
Career is key
Being a Lift Truck Instructor comes with responsibility. Often it includes a lot of autonomy, which is an attractive part of the role for many candidates. And when employers demonstrate the desire to encourage Instructors to build on their strengths, this can have a positive impact on both talent attraction and retention.
Instructors not only love to educate, but also to learn. Development opportunities can be highly motivating for potential and existing employees. With annual CPD days, RTITB Accreditation is one simple way for organisations to demonstrate their commitment to career development and training in their Instructor team.
What's more, our RTITB technical team is available to offer advice, training, and technical support. This helps Instructors feel encouraged through their professional journey.
Take the strain
With high demand for operator training, Instructors may have a heavy workload. For a job to be appealing in the long term, Lift Truck Instructors need to feel that they are supported. Support makes them feel part of your organisation's community. And it shows that you understand their challenges.
RTITB Accreditation is one route to giving Instructors the support they need. RTITB Accredited Partners receive all the resources and systems needed to deliver standardised lift truck operator training of the highest quality. For example, access to our up-to-date eLibrary and 24/7 online reporting.
RTITB Accredited partners also have access to pioneering digital tools designed to remove the hassle associated with delivering training. The MyRTITB TrainingFriend app, for example, makes training administration and assessment completely paper free. It also helps Instructors to ensure high testing standards and training record compliance. All with less effort.
Instructors can also use eTruck UK, RTITB's unique forklift e-learning tool. This allows the theory part of lift truck operator training to be done online prior to attending in-person practical training. This gives Instructors hours of time back. It also helps Instructors to prepare efficiently for candidates' practical training. Instructors can monitor candidates from the system's back end to understand areas that may need special focus in-person.
With solutions that remove some of the hassle, Instructors get to do more of what they love. This helps improve job satisfaction. Potential recruits may also be drawn to the promise of being able to get on with their job, rather than doing more paperwork!
Using innovative systems also makes you attractive to the next generation of Instructors. Instructors don't always want to deliver training in a traditional way, and many enjoy using technology. Showing you're a company that embraces innovation and uses up to date IT systems can help you stand out against other employers in the market.
RTITB Accreditation for in-house lift truck training
We have seen how RTITB Accreditation can benefit Instructors and support your staff attraction and retention strategies. However, it can also help you to improve compliance, efficiency, and safety, all while reducing costs.
To find out more about the different ways that RTITB Accreditation could help your business, get in touch with our team today.