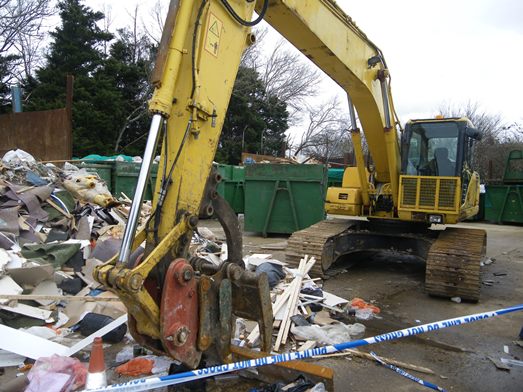 A hazardous waste disposal company has been fined £40,000 after a worker was crushed beneath an excavator, which resulted in life altering injuries.
On 7th February 2014, the worker was processing wood waste at a site operated by Cohart Asbestos Disposal Ltd, based at Archers Field in Basildon. At the time of the incident, a company director was operating a 360o tracked excavator to transport waste from a main pile to an adjacent manual-sorting area. As the director was completing this task, the worker moved behind the excavator to pick up an item to place into a skip. As he did, the operator reversed the vehicle, crushing the worker underneath one of the tracks.
As a result of the incident the worker suffered from serious crush injuries to his right leg, which later required amputation.
An investigation carried out by the Health & Safety Executive (HSE) after the incident found that the company had failed to ensure effective communications between the excavator operator and workers within the yard. A visibility assessment of the excavator revealed that the operator would have a 'blind spot' of up to 8 metres directly behind the vehicle and so would not have seen the worker. In addition, it was discovered that the excavators' reversing alarm and beacon did not work, a mirror was missing from the side of the cab and the vehicle was absent a mirror or camera on its rear.
At the court hearing, Cohart Asbestos Disposal Ltd pleaded guilty of breaching Section 2(1) of the Health and Safety at Work etc. Act 1974. The courts fined the company £40,000, with further costs of £5,674.
HSE Inspector, Edward Crick, said of the case: "Potentially fatal risks arise from operating heavy plant on waste sites, particularly if, as in this case, the vehicle operator's visibility is restricted. The worker suffered life-changing injuries after the company failed to put in place effective measures to protect pedestrian workers from its heavy plant operations."
He continued, "Every year many people are killed or seriously injured in incidents involving workplace transport, and there is no excuse for employers to neglect this risk. Pedestrians, whether employees or others, should be kept separate from workplace vehicle movements by using physical barriers or safe systems of work that are clear and well supervised."
Source: SHP Online (www.shponline.co.uk), Waste disposal firm fined after worker loses leg, 7th December 2016. Read the full article.