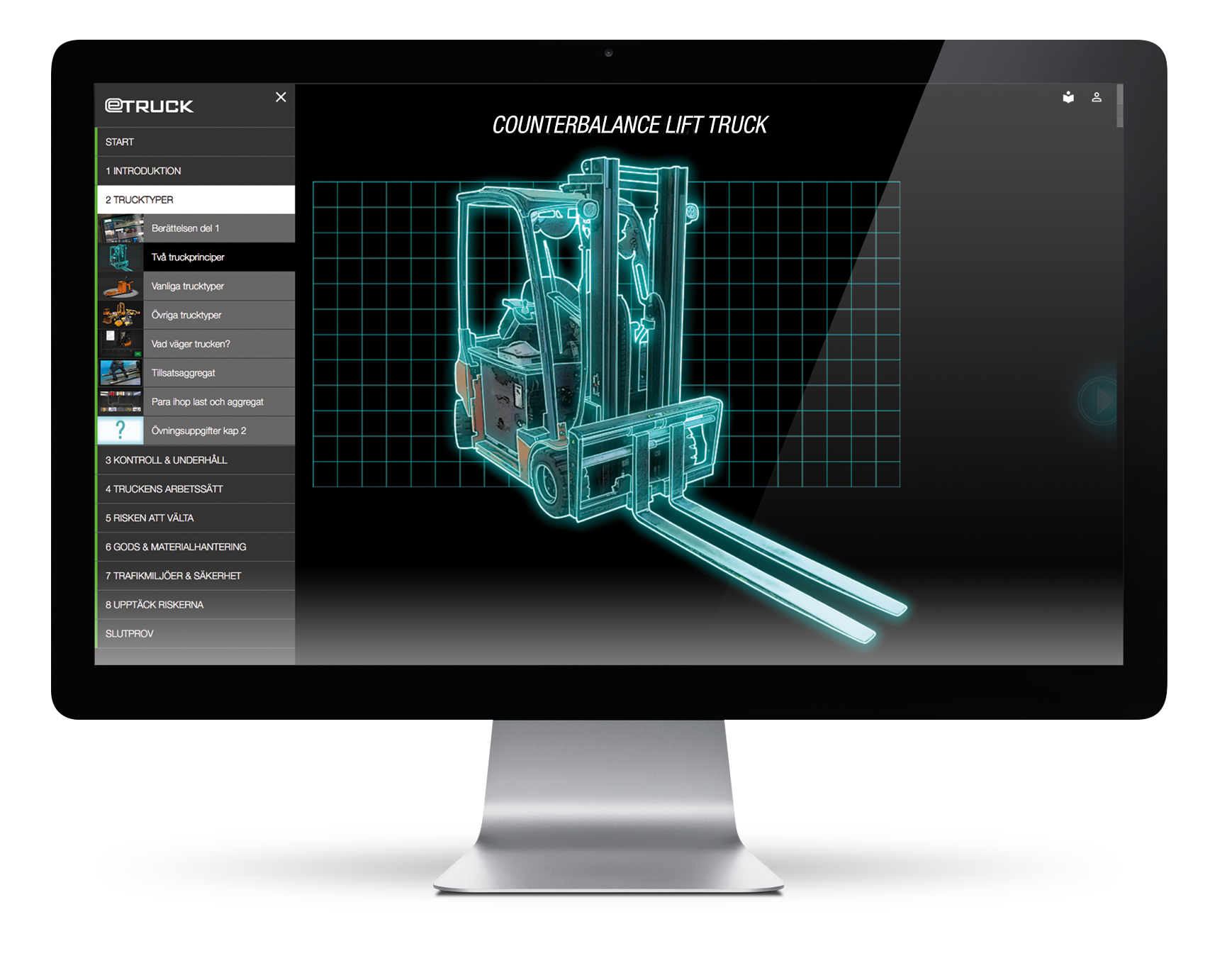 For many, online training for forklift trucks and other materials handling equipment is all new, and we are often asked what the biggest advantages of online training are. However, on our recent webinar – Forklift e-learning: Getting started – we turned the tables!
Getting started with elearning for materials handling equipment operators
We were interested to find out what Instructors, Training Managers, MHE Coordinators, Health and Safety Managers and other logistics professionals felt were the biggest benefits of e-learning for their operation.
We polled almost 200 attendees during the webinar, and asked:
If you had to choose one benefit of elearning, which would you choose?
Here are the results:
• It makes learning more relevant and more appealing – 39%
• It saves time – 25%
• You can give learners control – 20%
• It reduces costs / improve margins – 13%
• You can gain insights into learners – 4%
We were really pleased to see that 39% of people felt that making learning more relevant and appealing was the biggest benefit. Many people may have struggled with learning in the past, at school, college or during other workplace training. Often this is because the learning wasn't relevant and didn't have any context. One thing that well-constructed elearning can do it not only address the what, with the facts to build knowledge and the how, covering the skills needed, but also the why, which for many learners makes all the difference.
It was also interesting to see that 20% were sold on the idea of giving learners more control. Elearning can be done at a pace that suits the candidate, a time when they can concentrate, and this can make it more effective. As elearning can be done outside of the normal '9 to 5', it also gives you more control, with the ability to schedule in training at the time that best suits your business as well.
What are the advantages of lift truck elearning?
As well as those already mentioned, here are five more of the numerous benefits of online forklift training.
Create a comfort zone – some people are not comfortable in a classroom learning environment. We find this is often the case with those used to a practical working environment, such as materials handling equipment operators. With eLearning, forklift operators can choose where to do the training, whether at home or in the workplace, and complete it at a comfortable pace.
Reduce boredom – Training doesn't always have the best reputation, often due to negative past experiences. In particular, theory training can be wrongly perceived as 'the boring bit'. Once a candidate is bored, they are less engaged and the training will not be as impactful. It will also make the training much more difficult for the Instructor. Conversely, eLearning is highly interactive and engaging, and can go at a pace that keeps the candidate interested.
Easily updated – Keeping training materials up to date with the latest standards, equipment, operating practices and legislation can be difficult, especially if this then has to be disseminated to numerous trainers with training materials in hard copy. Elearning is digital, so its quick to instantly update the materials whenever you need to (no matter how often!).
Improved accuracy – Instructors are human, highly-skilled professionals, but human nonetheless. This means that they can have a tendency to bias the training they deliver to their specific areas of interest, or that some days they perform better than others. Elearning is the same every time, ensuring that all candidates that take the training receive the same level of knowledge, and that the facts are 100% accurate.
Cater to differences – Different people learn in different ways. For some, the traditional classroom setting with PowerPoint presentations works well. However, many others respond better to different learning approaches. Some people are more visual learners, some are more kinaesthetic, others are most responsive to listening. The right elearning can cater to these differences and engage all different types of learners, increasing training effectiveness.
For instance, eTruck UK, a unique online forklift and reach truck training tool only from RTITB, uses digital storytelling to build knowledge and change driver behaviour. Storytelling has been shown to make learning more meaningful and relevant, making facts 20 times more likely to be remembered! It also appeals to all types of learners and it suitable for training both forklift and reach truck operators, either for novice theory courses or for lift truck operator refresher training.
Learn more about eTruck and other MHE eLearning refresher courses from RTITB or contact us to learn more.