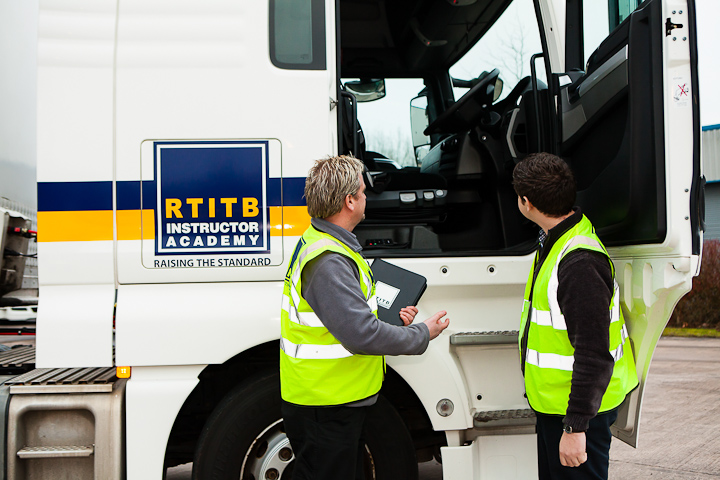 Making sure your business has appropriately qualified trainers and instructors for your drivers is vitally important for compliance and safety, with the added benefit of efficiency.  At the RTITB Instructor Academy, we understand that one size does not fit all when it comes to 'training the trainer'. That's why we offer a range of specialist LGV and Driver CPC Instructor courses to meet the different objectives and needs of road transport and haulage operations.
So which Instructor course should you choose to meet the needs of your fleet?
LGV Instructor Training
If you need to deliver varied LGV training, including driver training, driver assessment and Driver CPC, to your current or new drivers, our LGV Instructor course is the perfect option and the most complete course on offer. Upon completion of the course, candidates will sit the independent National Register of LGV Instructors (NRI) examination.
Having completed our LGV Instructor training and independent examination, your trainers will be able to prepare your drivers for DVSA LGV driving test, meaning you no longer need to rely on an external training provider.  What's more, a qualified LGV Instructor can deliver Driver CPC Periodic Training, ensuring that drivers complete the legally required training hours every cycle.
A trained LGV Instructor can also support businesses by providing thorough assessments of current driver skills and deliver remedial training to drivers where required, helping to improve safety.  Likewise, your LGV Instructors can add value by assessing the skill level of new staff or agency workers during inductions, making sure they are appropriately skilled before they are authorised to work for you.
LGV Assessor Training
If assessing drivers' skills is important for your business but you don't need to deliver LGV driver training, it is not necessary for your trainers or senior drivers to undertake the LGV Instructor qualification. Instead, if you're looking for someone to have the ability to mentor and coach your drivers, rather than providing remedial training, the LGV Assessor course from the RTITB Instructor Academy will better suit your needs.
Trained LGV Assessors have the skills to assess new drivers coming on site before authorising them to work, can produce reports following incidents, accidents or near misses and generally assess and report on drivers' skill levels.  As part of this process, your LGV Assessor can use their expert knowledge to provide guidance on where further driver training may be required so that your business can take action.
While those that complete this course will not be taught the skills to deliver training, the LGV Assessor training and qualification can be completed more quickly, and at a lower cost, than LGV Instructor training so is the ideal option for businesses whose primary need is to assess LGV drivers accurately and efficiently, whilst ensuring no unnecessary costs occur through training your driver to an Instructor level.
Driver CPC Instructor Training
All professional LGV drivers must complete 35 hours of Driver CPC Periodic Training across a five-year cycle.  Whether your business is working with new or experienced drivers, you may find that having your own Instructor/s to deliver Driver CPC training is the most efficient and flexible way to ensure that the legally required training hours are completed.
Those that successfully complete the Driver CPC Instructor course at the RTITB Instructor Academy will learn the necessary instructional techniques for delivering engaging Driver CPC training in a classroom environment, helping you keep on top of your Driver CPC training requirements.
Your business may already have Instructors delivering Driver CPC. However, this course ensures that you equip them with all the skills they need to confidently deliver this training, as well as providing them with a recognised qualification to encourage their professional development. It can also help Instructors who are looking to join a Driver CPC consortium, depending on the specific membership criteria.
NEW – LGV Fleet Instructor Training
You may have read through the above options and found that your business would benefit from some elements of each. In this case, you could consider the LGV Fleet Instructor course – new from the RTITB Instructor Academy.Qualified LGV Fleet Instructors can offer your business many of the same benefits as an LGV Instructor, LGV Assessor or Driver CPC Instructor, just without the ability to provide training for LGV license acquisition.
For instance, if your business needs someone who is not only qualified to assess current drivers or potential employees, support assessments during inductions, write reports on drivers' skills and recommend guidance on further training following incidents, accidents and near misses, but also to provide remedial driver training if required; an LGV Fleet Instructor will be a good fit for you. Those who successfully complete the LGV Fleet Instructor training from the RTITB Instructor Academy will also be able to deliver Driver CPC training to your drivers.
As the LGV Fleet Instructor course can be delivered in half the time of an LGV Instructor course, this can help your business to get training up and running with minimal delay and disruption. On successful completion, candidates will qualify to register on the RTITB Register of Professional Instructors, providing them with the opportunity to showcase themselves as reputable,  qualified Instructors to the highest standard.
Train the LGV Trainer
All the above courses are available at the RTITB Instructor Academy in the West Midlands, UK, which specialises in Instructor training for transport and logistics businesses.
Still unsure which LGV trainer courses would be best for your operation?
Contact our friendly team to discuss your needs with one of our training experts or call Tracey at the RTITB Instructor Academy on +44 (0)1952 520214.