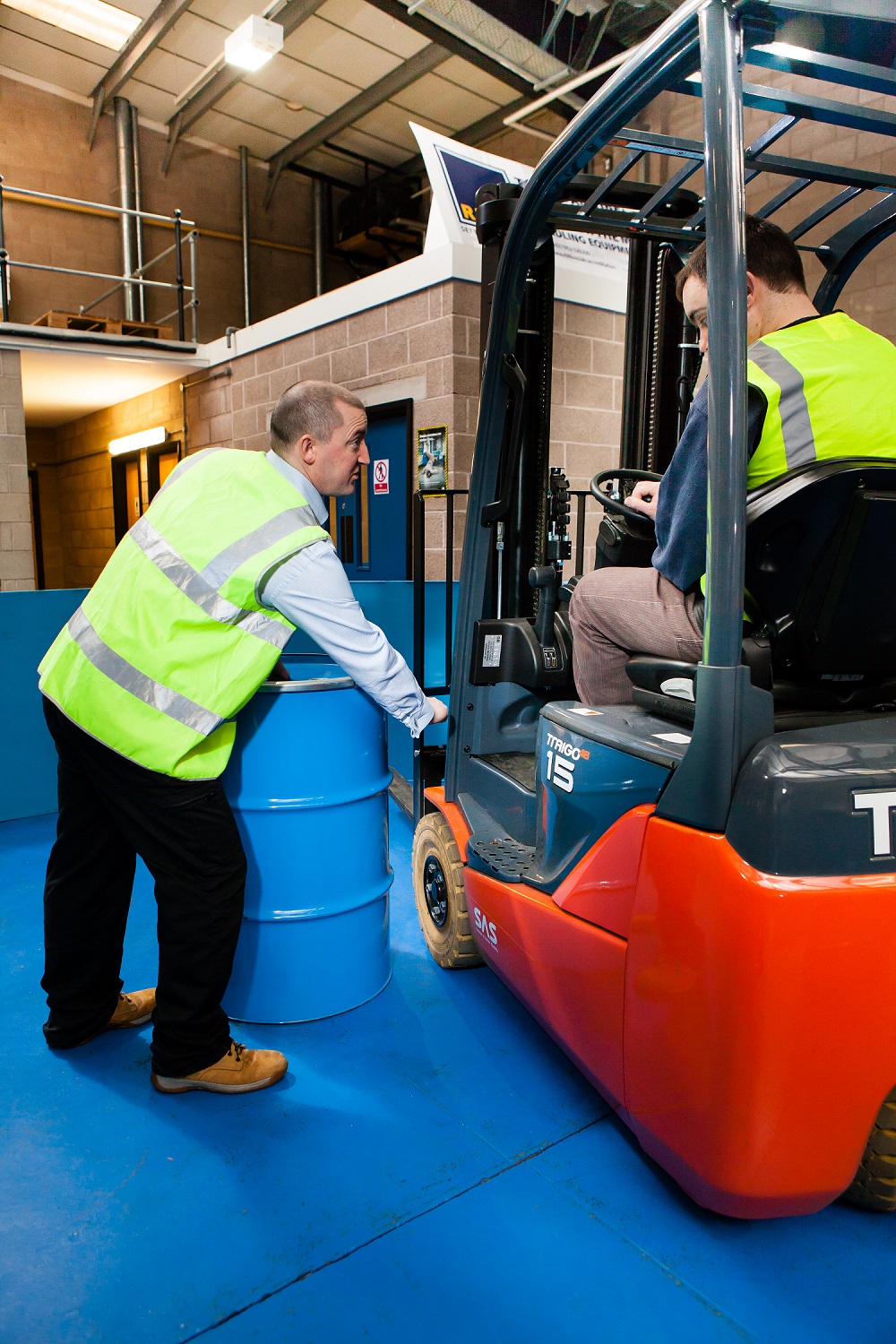 Instructor Training Courses are what we specialise in at the RTITB Instructor Academy and we pride ourselves on providing courses to cater for a wide variety of different working environments and the different machinery involved.
If you need resource to train operators on varied materials handling equipment, our Lift Truck Instructor course could be the perfect way to meet your business' and employee's needs.
Lift Truck Instructor Training (PPT or POET Training)
Those that successfully complete the RTITB Accredited Lift Truck Instructor training at the RTITB Instructor Academy will of course be able to deliver a high standard of training to your forklift operators.
The RTITB forklift instructor course equips candidates with the skills and knowledge to train operators on various truck types, including Counterbalance, Reach and Pallet / Stacker trucks (often referred to as POET or PPT), provided they are already trained as operators of that same truck type.
This gives your training operations more flexibility and saves time and money training specific Instructors for particular truck types – all you need to do is purchase the required course materials for your qualified Instructor to deliver. Even if the type of materials handling equipment that you use changes, your Lift Truck Instructor may still be able to train your operators to the highest standards without the need for complete re-training.
Benefits of our Lift Truck Instructor Training
At the RTITB Instructor Academy, simply attending a Lift Instructor Training course isn't enough. To successfully complete the qualification, candidates must pass an independent examination conducted by an impartial RTITB examiner. The exam assesses their skills and ability and verifies that they can deliver a high standard of instruction and meet the criteria to become a qualified instructor.
Providing Instructors with a diverse skill-set through our training course is great for their professional development, keeping them engaged with more varied work day-to-day and providing better career opportunities.
To support this further, successful candidates that complete Lift Truck Instructor training at the RTITB Instructor Academy are also eligible to register on the RTITB Register of Professional Instructors and will hold a highly sought after training qualification, as well as being able to train your workforce professionally and efficiently.
Lift Truck Instructor Course Content
RTITB Forklift Instructor courses cover topics such as:
Health and safety
Approved Code of Practice (ACOP)
Instructor role and qualities
Principles of instruction
Skills and task analysis
Practical and theoretical lesson structure
Report writing
Visual aids
Conducting a basic operating skills test
Pallet Truck (PPT) Instructor Training
If your operation only uses one type of truck, for example a pallet stacker truck, RTITB Instructor Academy offers an alternative course that may be a good fit for your business.
Pedestrian Operated Pallet Truck Instructor training (PPT) will give attendees the skills to deliver safe and efficient pedestrian pallet truck operator training, both practically and in a classroom setting. Candidates can undertake the course on a pedestrian operated pallet or stacker truck (depending on the needs of your business) and because it is focused on one truck type it is shorter and more cost effective than a full lift truck course.
Courses can cover various truck categories, such as low-level trucks, high-level trucks and eye-level trucks. Regardless, successful candidates will be able to plan, prepare and deliver specific pedestrian pallet truck operator training and recall and discuss the roles and responsibilities of a Pedestrian Pallet Truck Instructor as well as relevant legislation.
Like all our courses, PPT Instructor training is interactive to engage employees, rather than boring them with PowerPoint presentations that they won't remember!
As well as completing this course, Instructors will be required to take an independent examination in order to receive their qualification to train Pedestrian Pallet Truck Operators. However, this will not qualify them to train operators on other types of materials handling equipment, such as counterbalance forklift trucks.
If your operation uses a diverse range of workplace transport equipment, you will likely find that that Lift Truck Instructor training course better meets your needs, and delivers better ROI. It's always important to make sure that when it comes to training, you make an informed decision and don't enrol employees to simply 'tick a box'.
RTITB Dedicated Instructor Training Academy
Some businesses offer instructor training as a side-line, but at the RTITB Instructor Academy, we offer expert 'train the trainer' courses specially designed to prepare lift truck instructors to develop the most skilled and safe lift truck operators in the industry..
The RTITB Instructor Academy is a trusted and reputable training provider that will ensure that adequate training, assessment and examination are in place, giving you the confidence of quality and compliance when training Instructors in-house.
To find out more about our different training courses and discuss how we can support your business, get in touch with our friendly team.