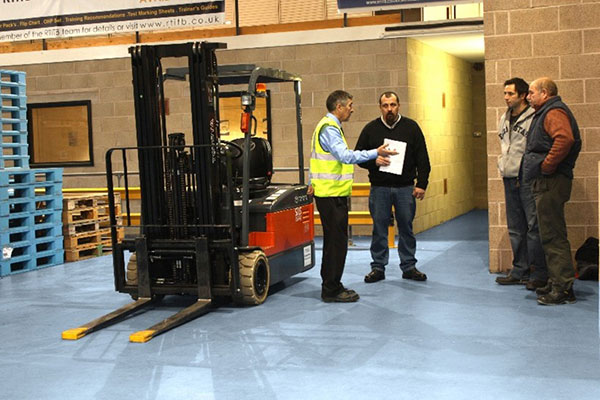 With training bottlenecks and high demand on warehouse and supply chain operations, more lift truck operators are needed. And more Lift Truck Instructors are needed to train them. However, there are other reasons why being a Lift Truck Instructor is an important vocation.
Lift Truck Instructors support career progression
Providing career development opportunities can help employees to feel more engaged in their roles. As a Lift Truck Instructor, you play a vital part in upskilling and reskilling workers.
You may be helping a warehouse operative to progress to a lift truck operator role. A role that they find more interesting and rewarding, resulting in a long career.
Once a lift truck operator is trained, this also opens the doors to cross-skilling. Operators can progress their careers with training on other machine types, such as reach trucks, VNAs, and order pickers. This helps fill skills gaps. For those that crave variety, it also can diversify their position. In turn, keeping them with their employer (and in the industry) for longer.
Lift Truck Instructors nurture future training talent
There are also many lift truck operators that possess the attributes to be a great Instructor. The opportunity to develop to Instructor level, demonstrates clear career progression.
It gives operators something to work towards. The individual can look forward to opportunities for higher pay. It also opens up new job opportunities, with existing and new employers.
For employers, this career development path also makes them an attractive workplace. It helps attract new talent to the industry and helps the industry to retain its best talent.
But operators must start somewhere. As a Lift Truck Instructor, you can help individuals take the first step in a fulfilling career journey.
Lift Truck Instructors help to save lives
As a Lift Truck Instructor, you have the skills, knowledge, and experience to deliver a high standard of training. In every course you deliver, you can instil critical safe operating practices in the operators you train.
Lift truck incidents are still too common. They can result in serious injury or even death. When you deliver training, you can improve lift truck operator standards. Your instruction can change operator behaviours for the better. It also gives operators understanding of how they can keep themselves and others safe. The fact is, that this could help to save lives.
Instructors also play a critical role in compliance with legislation and safety guidelines. Instructors have the knowledge of relevant regulations that exist to keep people safe. Compliance also helps employers to rest assured they have done what is needed to support safety in their operation. It is important to be able to improve this if an incident does unfortunately occur.
Do you want to make a difference?
If improving workplace safety and progressing the careers of others sounds attractive to you, then consider becoming a Lift Truck Instructor.
RTITB Accredited Instructor Centres deliver the Lift Truck Instructor courses nationwide across the UK and Republic of Ireland.
Each RTITB Accredited Instructor training provider upholds high standards to ensure that they deliver exceptional training. This results in highly skilled and safety-focused Lift Truck Instructors that can really make a difference.
Already an Instructor?
Instructor Centres can also provide Re-Registration for Lift Truck Instructors whose RTITB qualification may have lapsed. Plus, Conversion courses for those who have previously trained as Instructors to other standards.
Many employers specify that an RTITB Instructor Registration is required for Lift Truck Instructor positions. So, these courses can help expand your career opportunities.
Are you an employer that needs Lift Trucks Instructors?
With a shortage of qualified Lift Truck Instructors, many employers are seeking to upskill existing employees into this vital role. Selecting the right candidates is essential.
Experienced lift truck operators may not always make great Instructors. There are many attributes that make someone an effective and skilful Instructor. It's important to identify which of your team members would be well suited for career progression.
Check out this free guide to help you select the right candidates to train as in-house Lift Truck instructors.
Search for all Lift Truck Instructor training courses at an RTITB Accredited Instructor Centre now.