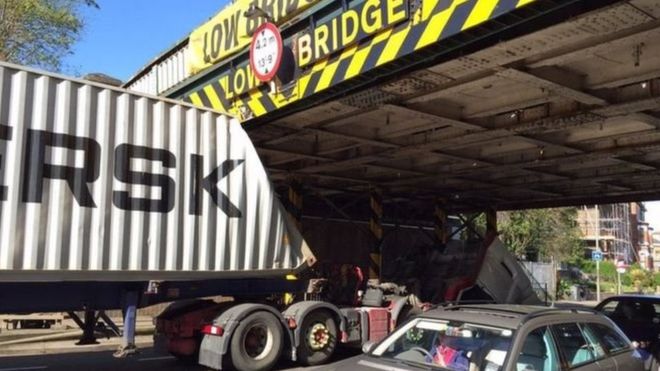 As a new update for sat-nav systems launches to help reduce incidents involving lorries getting stuck under bridges or in narrow roads, RTITB is reminding employers of the importance of correct LGV/HGV training for improving safety and reducing these incidents.
In the wake of numerous incidents involving lorry drivers getting 'stuck' after blindly following sat-nav directions, the Department for Transport has invested £3 million with Ordnance Survey to chart more detailed information about 200,000 miles of roadways in the UK. Combined with information from Councils, this will create a resource called the National Digital Roadmap database. Providers of navigation systems will be able purchase this to provide more in-depth route data for drivers, flagging bridge heights, weight restrictions, narrow roads and turning restrictions at junctions, as well as roadworks, speed restrictions and cycle lanes.
So why shouldn't drivers depend on this new sat-nav to avoid incidents?
Relying on sat-nav can be dangerous
"While it may sound like a great idea, more comprehensive sat-nav information could cause drivers to become over-reliant on technology," says Laura Nelson, Managing Director for RTITB, the leading Master Driver CPC Consortium. "For some drivers, sat-navs can also prove an in-cab distraction, causing potentially dangerous lapses in attention and judgement."
Road signs and restrictions must be observed
In most 'stuck lorry' incidents, road signs were present to warn drivers of potential hazards but were not observed, even though it is, in fact, an offense for drivers to ignore weight, height and other restriction signs.
A specific RTITB Driver CPC training module covering bridge strikes explains how these can be easily avoided by knowing the height and weight of the LGV and taking note of the appropriate restriction signs, as well as ensuring that any sat-nav used is intended for an HGV and not a standard car.
Driver CPC qualifies lorry drivers to help maintain high driving standards and improve safety. Drivers must complete 35 hours of training across a 5-year cycle to retain their certification.  With a huge library of training topics, RTITB has also made it an opportunity to focus on specific areas as needed.
Advance route planning improves safety
"Statistically rural roads are 11 times more dangerous than a motorway and this is where many incidents involving narrow roads or low bridges occur," says Laura.
A dedicated a Driver CPC module for rural driving exists to encourages best practice such as advance route planning for the size of the vehicle to improve safety.  Planning is crucial for avoiding incidents, whether in a rural or urban setting, so RTITB's Driver CPC course recommends that all drivers carry maps and do not rely on sat-nav systems.
Vulnerable road user training is vital
The new database will alert drivers to the presence of cycle lanes, but with half of all cyclist incidents involving an LGV, two RTITB Driver CPC training modules cover the issues of cyclists and vulnerable road users.
"Knowing that a cycle lane is coming up does not equate to safer driving," says Laura. "To reduce incidents, it is far more important that drivers are trained to be alert and observant and consider mirrors, blind-spots and timely indication."
To find out more about RTITB Master Driver CPC Training that can be customised for any business, visit www.rtitb.co.uk or call +44(0)1952 520207.