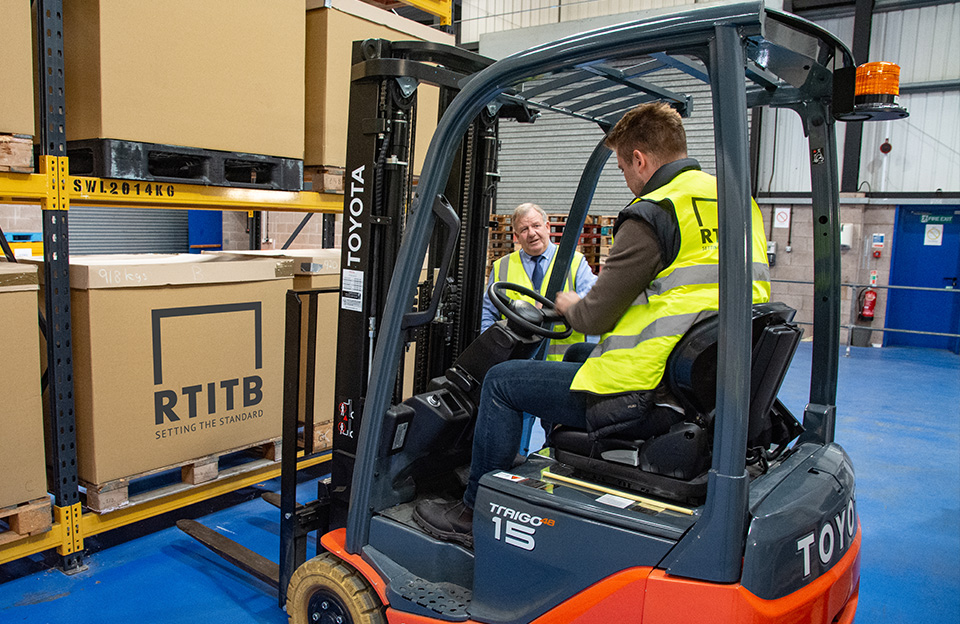 Every day, we talk to businesses delivering materials handling equipment operator training. In these conversations, we often hear confusion about the difference between having RTITB Registered Instructors and being RTITB Accredited.
In this blog, we will explain the ways they differ. And why it is so important to understand these differences.
What is an RTITB Registered Instructor?
A lot of self-employed RTITB Registered Instructors will say they are an 'RTITB accredited Instructor'. There is no such thing as an RTITB accredited instructor. Only organisations can be RTITB accredited.
An RTITB Registered Instructor has completed an RTITB Instructor training course and successfully passed an exam.  This gives them a qualification and proves that they have achieved the required standard on that particular day.
Qualified Instructors can choose to register on the RTITB International Register of Professional Instructors – a national database.
This provides businesses using these Instructors with documented, verifiable evidence of their qualification. It includes proof of compliance the particular guidance from the Health and Safety Executive (HSE) which states: "Operator training should only be carried out by instructors who have themselves undergone appropriate training in instructional techniques and skills' assessment."
­However, what this does not guarantee is the standards that the Instructor continues to work to once they are qualified.
It does not ensure a standardised training and testing structure is put in place to cover all topics required for skilled and safe operation. Ongoing supervision and development to keep standards high are also not mandatory.
What is RTITB Accreditation?
RTITB Accreditation is different because it ensures that operator training is delivered by Instructors to a high, nationally recognised standard. Accredited training is externally verified to bring safety to an operation. It is confirmed as meeting the requirements of PUWER Regulation 9.
When organisations are RTITB accredited, they have a clear and thorough record available of exactly what was covered in the training and its duration. It also confirms that testing took place under the proper conditions. This demonstrates that they have provided and actioned what is required by law.
Businesses backed by RTITB Accreditation will also have received the relevant audits and check that helps prove full compliance. This is especially vital in the event of an incident.
Even if a business is using RTITB Registered Instructors, this does not automatically guarantee full compliance in the same way.  Only RTITB Accreditation provides this complete peace of mind.
Benefits of RTITB Registered Instructors and RTITB Accreditation
Having RTITB Registered Instructors in an organisation offers benefits. It is especially helpful at the moment where more operator training is needed to help beat the ongoing skills shortages. Giving employees the option of training as an Instructor also helps provide career development, encouraging staff retention.
However, only RTITB Accreditation helps keep your lift truck operations fully compliant. For example, it includes:
Still have questions?
If you're unsure about how RTITB Registered Instructors and RTITB Accreditation can support compliance in your operation, please speak to our friendly team!
Get in touch today on +44 (0) 1952 520200 or email solutions@rtitb.com.