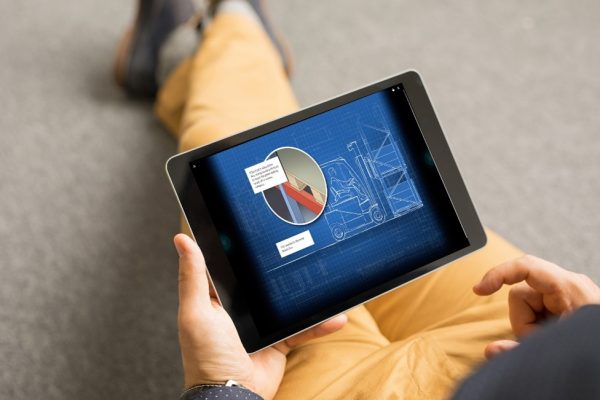 Throughout the COVID-19 pandemic, forklift operators have been more in demand than ever before, helping to keep critical supply chains running and the requirement for safe operation, best practice, and high training standards remain. However, as an industry it has been necessary to change the way we do things during the pandemic to ensure that lift truck training can continue safely.
According to the HSE (at the time of writing) forklift training must continue where it is essential or urgent, and organisations should take steps to limit risk.
Is eLearning allowed for forklift operators?
One of the HSE's specific suggestions is that employers should consider using eLearning to help keep people safe. However, we still often hear from many firms that forklift eLearning "isn't allowed" or "isn't compliant", which simply isn't true.
So, with eLearning being relatively new within the sector, for many, the questions remain: what is eLearning and how does it help?
What is forklift eLearning?
eLearning is the term generally used to refer to any form of training delivered digitally and is sometimes referred to as 'online training'. Often it consists of slides or screens of training materials that a candidate works through, either at their own pace or under time constraints. Tests and online assessments may also be included to confirm understanding.  It is often candidate driven but can also be interactive with a trainer.
The most important thing to remember is that the correct training is vital for ensuring safety relating to lifting truck operation. Not everything can (or should) be taught during eLearning – there will always be a practical element in teaching novice trainees to use a piece of potentially lethal equipment like a forklift – but it can help employers reduce face to face contact time, which in turn helps to reduce the risk of COVID-19 transmission in training.
But that's not the only benefit.
Here are six other reasons to choose eLearning for lift truck operators
Less disruption – MHE operations are already experiencing disruption with operators on furlough, self-isolating, or a reduced workforce on shift due to social distancing measures. eLearning prevents training from being yet another disruption. It can be done around shifts, or by operators that may be isolating. Training is also permitted on furlough.
Stability for training plans – eLearning also offers businesses welcome stability. Whereas other face to face training might have been postponed or cancelled due to COVID-19, eLearning can happen no matter what restrictions are in place.
Train through peaks – When operations are experiencing peaks, it is not considered the best time for training. The flexibility of eLearning removes that concern, while also helping operations continue training where necessary to avoid future bottlenecks, that ultimately would be even more disruptive.
Time saving forklift training – With novice lift truck operator training, eLearning can be used to deliver the entire theory part of training, so the candidate is ready for practical training later. For instance, RTITB's eTruck UK eLearning solution can help to reduce face to face time by up to two days per Basic forklift operator course, for every trainee. With eTruck, three refresher candidates can be trained in the time is usually takes to train one.
COVID-secure refresher training – For refresher training, experienced and qualified lift truck and plant operators can do RTITB eLearning courses to top up their knowledge. This is helpful if it's not an appropriate time to attend a full in-person training course, and provides a COVID-secure alternative, with no face-to-face contact time or travel needed
Engaging for candidates – Technology is being increasingly adopted in the modern workplace, and training needs to fall into step with this. Employees increasingly expect online learning options and research also shows that people like learning online, or from home
RTITB eLearning Courses for LGV, Plant and Forklift operators
At RTITB, we're certain that eLearning will be invaluable for years to come. Adopting eLearning now is a great way to stay one step ahead.
Interactive online refresher training with RTITB quality content is available now for many of our most popular courses, including:
Vehicle-mounted Hydraulic Lorry Loaders (often called "Hiab")
Slinger & Signaller
Contact us by email or by calling the team on +44 (0) 1952 520 236 to find out about getting started with RTITB eLearning.