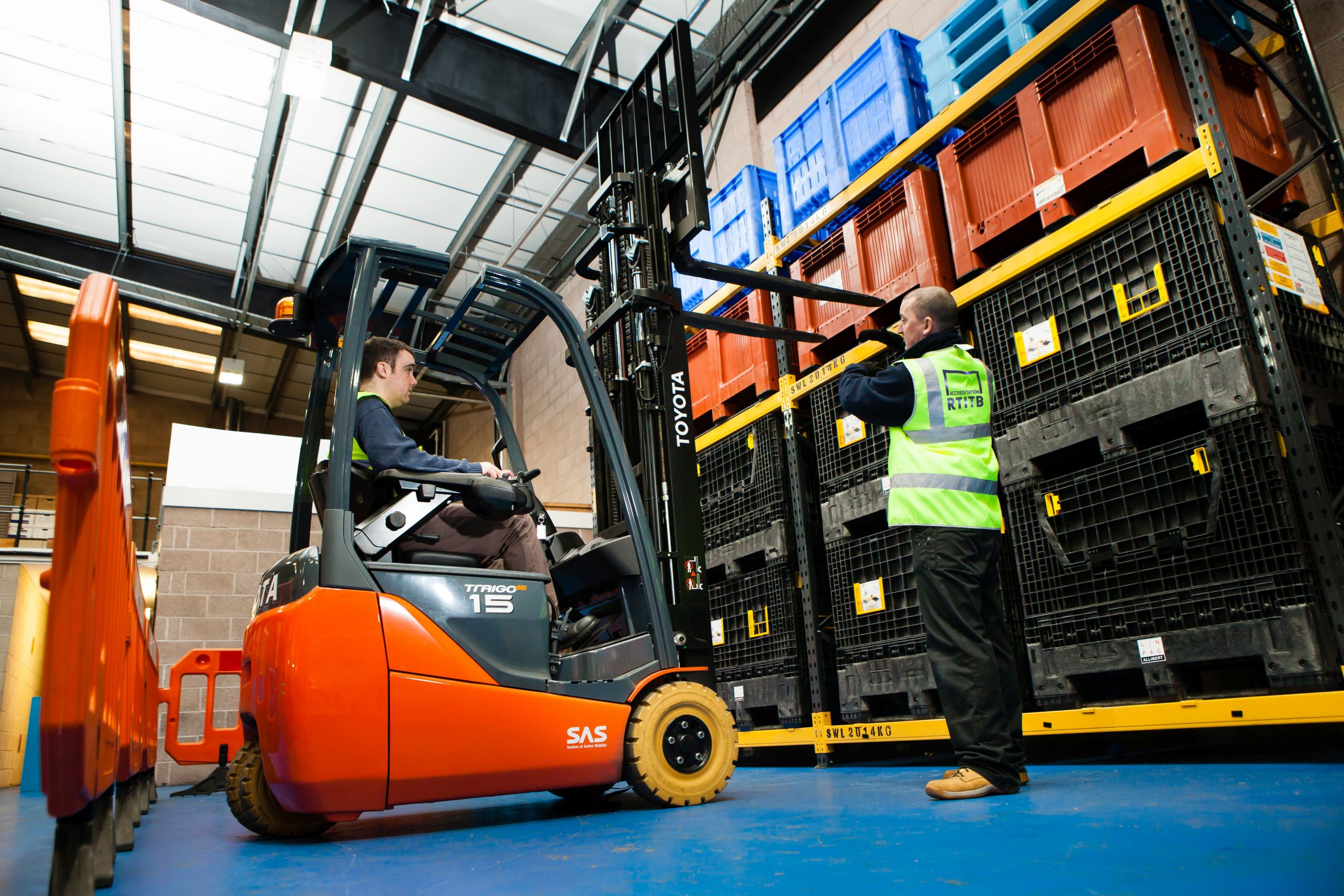 There are many benefits for organisations delivering materials handling equipment training in-house, but correct compliance with safety regulations should be top of the list. 
Some businesses may fall into the trap of thinking that an RTITB Registered Instructor delivering in-house forklift training is enough to be compliant with PUWER regulations, but that's often not the case. In the event of a workplace incident, this may not be enough to prove that everything has been done to ensure correct training delivery and safe operation on site.
The safety net that organisations need is RTITB Accreditation which is designed to keep the whole materials handling equipment operation compliant, not just its Basic forklift training. It enables the business to deliver operator training at every level that is compliant with the relevant legislation and Codes of Practice.
All RTITB Accredited lift truck training is externally verified and has been confirmed as meeting the requirement of adequate training in Regulation 9 of PUWER. This means that employers can prove that high quality training has been provided and that appropriate safety measures have been taken.
A further benefit is that RTITB Accredited training comes with a clear record of what was covered, the course duration, and confirmation that testing took place under the proper conditions. In the event of an accident, this clear audit trail demonstrates that they have done everything that is required by law.
One thing that helps keep RTITB Accredited Partners on track, is a free annual HealthCheck which reviews all aspects of their lift truck training and operations. The HealthCheck assesses operations against relevant guidance, such as ACoP L117, and Health and Safety Executive (HSE) guidelines, resulting in an impartial report that reveals potential risks and areas for improvement, and highlights good practice.
As well as supporting compliance and helping to decrease the number of workplace incidents, we also find that RTITB Accredited training also increases operator accuracy and productivity. Yet not all organisations think Accreditation is right for them.
The most common concern we hear from businesses is that after they have invested time and money in Accredited training, an operator might use their certificate to gain employment elsewhere. This means organisations issuing 'in-house' certificates, which do not have the backing and protection of RTITB Accreditation.
To help organisations put safety first while protecting their training investment, RTITB Accredited Partners can choose to restrict lift truck operator certificates for use exclusively within their business or make them transferable. And this is just one of many unique perks of RTITB Accreditation.
RTITB Accredited Partners can also receive unlimited licenses for the MyRTITB TrainingFriend app, which makes in-house lift truck training administration and assessment 100% paperless, saving money and time, and protecting the environment. The app also helps ensure accuracy in administration and assessment, improving operator testing standards, and training record compliance.
The RTITB Accreditation package for employers can also include licenses for eTruck UK, a unique forklift theory training e-learning tool, which is designed to help forklift operations to reduce risk, improve safety, and maintain compliance. What's more, one of the biggest benefits of RTITB Accreditation is access to the innovative RTITB eLibrary, a comprehensive online resource for ready-to-go training materials for forklift, plant and LGV, including presentations, videos, handouts, and more, developed by our experts.
Find out more: www.rtitb.com.