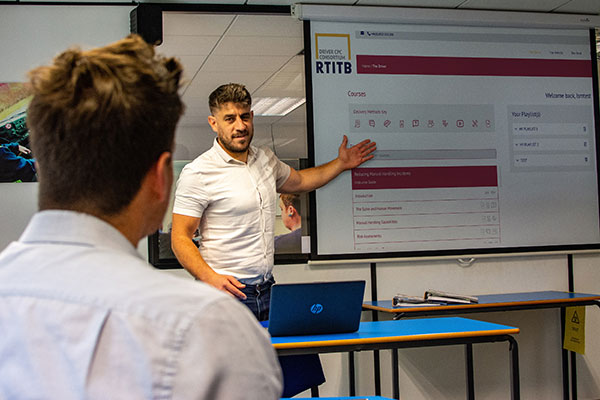 With difficult economic times and disruption in the road transport and logistics industry, it's no wonder that some businesses are looking at ways to save money on essentials like Driver CPC Periodic Training.
Cutting corners or opting for training based on a low price alone isn't recommended, quality is always key. However, those looking to make savings do have options.
First, use Driver CPC to save money
Driver CPC training exists to ensure skilled, safe drivers are behind the wheel of LGVs/HGVs and PCVs on our roads but, choosing the right topics, aligned with business objectives, can also help businesses save money. Training that focuses on fuel saving or reducing customer complaints, for example, help organisations reduce costs, often far beyond the value of the original training cost.
It's also important to recognise that the upfront cost of a training course is not always an indicator of its long-term value. For instance, what if you have to retrain drivers on certain topics at extra cost later because a bargain priced course didn't give drivers the right knowledge ?
Consider joining a Driver CPC Consortium
There can be an upfront cost to joining a Driver CPC Consortium, but (as of October 2023) the first six months of membership for the RTITB Driver CPC Consortium is free.
By being part of the RTITB Driver CPC Consortium, in-house training teams and commercial training providers have access to a huge range of Driver CPC training materials for both LGV and PCV drivers. This removes the time and cost of developing courses and gaining JAUPT approval.
Without the need to write or update materials,  Instructors and Trainers can devote more time to delivering training, utilising their time in the right way for valuable training is ultimately more cost-effective.
RTITB Driver CPC Consortium members also have access to our Driver CPC Portal. The portal makes it simple and quick to build custom course playlists from relevant, engaging course materials, making Driver CPC course preparation faster and more efficient.
Utilise external training resource
Delivering Driver CPC in-house does not make financial sense for all organisations. In these cases, businesses can use a training provider from the network of RTITB Driver CPC Consortium members to support them.
For companies with multiple sites or a large number of drivers to train, coordinating Driver CPC Periodic Training can become a real drain on time so RTITB provides a fully managed Driver CPC service.
RTITB arranges for all an organisation's Driver CPC Periodic Training to be delivered by trusted members of the RTITB Driver CPC Consortium. This gives reassurance of consistent and compliant training standards.
A dedicated Driver CPC Manager works with the organisation to develop the most cost-effective training plan and manages all training requirements nationwide.
Every organisation is different
The right option will always depend on the business in question. However, there are many ways that organisations can get the best value on Driver CPC without compromising on quality.
Why not talk to one of our friendly team for advice?
Or take a look at more information on joining the RTITB Driver CPC Consortium for in-house training teams and training providers.