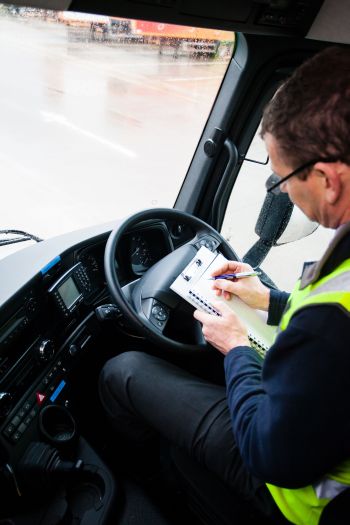 For lorry drivers (and their bosses) that still have many hours of Driver CPC training left to do before the 9th September deadline, we explain how to get the maximum benefit in the shortest time.
At the time this Blog was written (March 2019) there was less than 200 days left for the majority of lorry drivers to complete their 35 hours of Certificate of Professional Competence (Driver CPC) periodic training in the current 5 year cycle.
But what does this mean in practice? For a company with 70 drivers for example, each with 3 days (21 hours) of training left to do, there will be 210 days of training required in the next six months! This is sure to put pressure on any business and some will face the consequences of missing the deadline.
What's more, it is the responsibility of the employer to ensure that their drivers have completed their training when driving on their behalf. Employers should therefore help drivers to keep on top of their training records and support the time they need to invest in completing their training, to meet the deadline.
How to get benefit from Driver CPC
If you are an employer and faced with many hours of training still left to do, don't panic, use it to your advantage. Take the time to have a good look at your operation and identify the real issues that result in inefficiency, unnecessary expenditure, poor customer service, your time spent firefighting, legal setbacks, etc.
This will help identify what training topics to pick with a view that the overall operation will improve thanks to personal development of drivers.  It also helps to define which training provider suits your business needs rather than finding the cheapest provider to tick a box.
Don't forget, CPC is not just about the driver, its about office staff, management and HR aswell, so don't make it all about Driver CPC training. By making the training an element of the bigger picture, it helps to focus on the business needs, so you could call it a name such as "Project Zero Defects". Then keep the initiative running, measure, review and refine.
For more tips, download our Free guide: 5 STEPS TO ENSURING A RETURN ON YOUR DRIVER CPC INVESTMENT
Make the Driver CPC training worthwhile and meaningful
Psychologist Professor Daniel Willinghamwrites that "people are naturally curious, but we are not naturally good thinkers; unless the cognitive conditions are right, we will avoid thinking."  Training therefore must be memorable.
That's exactly what members of RTITB's Master Driver CPC Consortium aim to achieve with 150+ providers across the UK trained to the same standard, providing fun, interactive and interesting training.
RTITB's memorable training delivery methods, topics and materials
RTITB uses quizzes, case studies, workshops, games and discussions to deliver the training and offers a wide range of over 110 topics such as optical behaviour and driving, physical and verbal confrontation, camera technology, PTSD, bullying in the workplace, vulnerable road users, driving in challenging weather, telematics, professional driving, breakdowns, in-cab distractions and much more.
There are 36 different modules each lasting 3.5 hourswhich means businesses can quickly identify topics that will genuinely tackle issues specific to their business without having to identify a range of providers who can meet all their needs or develop materials.
RTITB's powerful off-the-shelf materials are designed to change driver behavior (not just impart information) through the use of recent, and relevant case studies and through active engagement in learning.
Afterall, Driver CPC training is a valuable professional development opportunity that employers can use to retain existing professionals and improve their operation with consistently safe, skilled drivers.
Find an RTITB Master Driver CPC Consortium member near you
Businesseslooking for an external training provider can quickly find a professional Driver CPC training provider near them by using the free online RTITB Course Locator.
Joining the Consortium may be right for you
For some employers, the most efficient method is to train employees to deliver the Driver CPC training inhouse, and become a member of the RTITB Master Driver CPC Consortium (MDC). Thanks to the RTITB Instructor Academy, employers can have their own skilled Driver CPC Instructors on siteto deliver Driver CPC Periodic Training to drivers at a convenient time, in a convenient place.
What about the next cycle?
If you've left it late this cycle, don't leave it late next time! Making training plans for the new cycle can ensure that your drivers get their training completed in good time and can also relieve the pressure of trying to complete your training in a limited amount of time.
Although 35 hours may sound like a lot of training time, when spread out over five years, it is easily manageable at just one day a year.
Did you get your Driver Qualification Card (DQC) on or after 10th September 2009?
Of course, there will be many drivers who gained their Driver Qualification Card (DQC) on or after 10th September 2009 who have a different deadline (5 years from the date of issue of their DQC) to contend with. This in itself presents a different challenge for businesses having to manage and comply with multiple deadlines.
What happens if you miss the CPC deadline?
If a driver misses their Driver CPC training deadline, they cannot drive professionally until the training has been completed, and if they do drive, it could result in a £1000 fine. Meanwhile O-Licences (Operator Licences) can be revoked where drivers are found not to have a current DQC. These two articles show what happened to companies and their drivers in Kent and Surrey.
Difficulties filling driver vacancies
Aside from the legal implications, if drivers do not get their DQCs a business will be left without the drivers needed to operate. The industry is already facing "a growing skills shortage" as reported in RHA's 2019 Pay Report which means it is even harder to fill driver vacancies.
For more information and support as we get closer to the deadline, contact the Solutions team on 01952 520207.
Do you know which Driver CPC course is best suited to the needs of your business objectives and your drivers' day-to-day role? Take our free questionnaire to find out which RTITB Driver CPC course is best for your training needs. Take the questionnaire now. Download the questionnaire here.