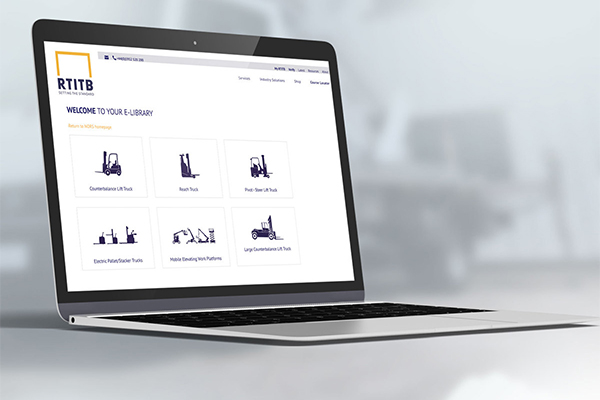 Did you know that instead of spending time and money developing your own lift truck, plant and LGV training materials, you can get everything you need via the RTITB eLibrary?
We know that in-house training teams are short on time, and, especially with peak season looming, Instructors' hours are in high demand. Add to that economic uncertainties and pressure to keep compliant and pulling together all the training materials that you need can seem a big task.
That's where the RTITB eLibrary of training materials comes in. Developed by our training experts to offer an extensive range of ready-to-go courses that can help take away some of your training team's headaches! Here are some of the ways it could help.
What you need when you need it
Our RTITB eLibrary contains a range of standardised forklift, plant and LGV courses for your operators and drivers, including presentations, videos, handouts, and more. We keep the training material up to date, so you don't have to. Rest assured that changes to legislation, for example, are all covered.
See a sample of our training material.
No hidden costs
Pay an annual access fee, and you can get hold of the courses you need without delay, anytime throughout the year and new courses are regularly added at no extra cost. Or pay per user login. Either way, you'll likely find it is much cheaper to use RTITB materials than to develop your own, as well as much quicker!
Easier training course admin
Our entire eLibrary is online, simplifying document control and providing you with a central database where everything you need is in one place.  Our smart system also leaves an auditable trail of updates, showing the activity of each user, making it easy to keep up.
Branded for your business
The eLibrary can be tailored to reflect your brand, with the logo, fonts, and colours that your in-house trainees would expect to see. We can also add your business' specific policies , risk assessments, and more, if required.
Save paper
We know that, like RTITB, many businesses are committed to reducing their environmental impact. As a traditionally very 'paper hungry' activity, training is a great place to start. With our eLibrary, everything is online, providing a more environmentally friendly option.
Ready to get started?
Don't delay. Get in touch and we can discuss your best options and get you started.
Our eLibrary is also just one of the many benefits of becoming RTITB Accredited for your workplace transport operations – it is included for our in house training team partners as standard.
Learn more about the benefits of Accreditation for in-house training.