The RTITB eLibrary is a comprehensive online resource for ready-to-go training materials for forklift, plant and LGV, including presentations, videos, handouts, and more, developed by our experts. It was already a great way for in-house training teams and RTITB Accredited Partners to save time and keep compliant, but we've just made it even better! Now, it's easier to see when any of our courses have been updated, helping save you time and ensuring you don't miss a thing.
The MyRTITB portal, used by RTITB Accredited Partners and RTITB eLibrary users, now includes a handy notifications feature, where we will let you know whenever there are course content updates in the eLibrary. Through these helpful notifications, RTITB Accredited Partners will also receive other important information from our team.  Basically, all your 'need to know' information will now be in one easily accessible place on the portal.
If there is an update, when you log in, a 'bell' icon will indicate that you have unread notifications waiting. View your notifications by clicking on the red bell, where a drop-down list will show all notifications.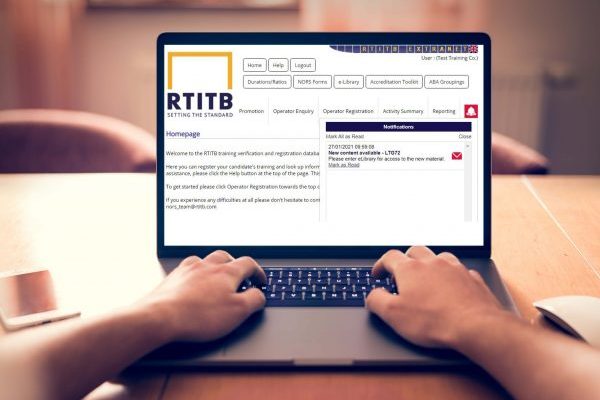 Once you've read a message, you can click 'mark as read' so that it will turn green, ensuring so you're clear on what's new, and what you've seen before. Or you can leave it marked as 'unread' if its something you want to come back to later.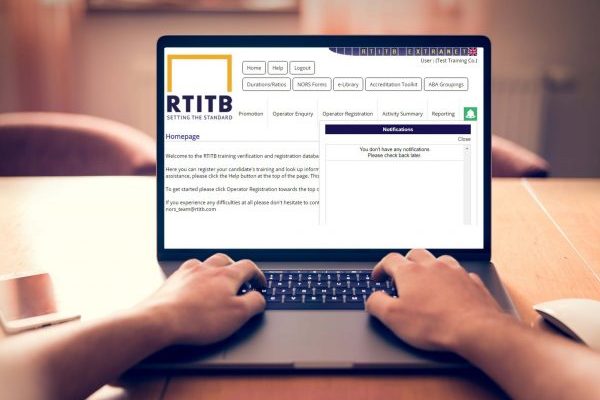 We know that one of the big benefits of RTITB Accreditation and the RTITB eLibrary is custom content and services specific to you and your business needs. For example, the eLibrary can be tailored to reflect your brand, with the logo, fonts, and colours that your team would expect to see. We can also add your business' specific policies, risk assessments, and more, if required.
The new notifications system also enables us to communicate targeted, relevant updates and messages only to the users, companies, or sites they apply to. This might be about course content updates but could be other messages too. Either way, it will ensure that if there is something you need to know about it, you'll get a notification on your MyRTITB portal login screen.
Our smart system also logs which notifications users have read, and when, providing an auditable trail and enabling us to remind you if you've missed an important notification. Likewise, managers and supervisors can check with us that their team members are keeping on top of notifications (and take appropriate action if not).
Not yet using the RTITB eLibrary?
Access to our eLibrary of quality training materials is just one of the many benefits of RTITB Accreditation for in-house training teams and RTITB Accreditation for Training Providers.
However, did you know you can also sign up for standalone eLibrary access? This gives you everything you need to deliver yardshunter, banksman,  lift truck, and plant operator training without having to spend time and money developing your own resources.
The standardised courses on the RTITB eLibrary are ready to go and kept up to date with the latest information and legislation. Content includes presentations, videos, handouts and more. See a sample of our training material.
Choose to pay an annual access fee or per user login, there are no hidden costs and no charges for updates. All materials and administration are online for ease, with simple document control and a central database. It also saves paper for a more environmentally friendly solution.
Sound good?
Get in touch and we can discuss your best options and get you started.