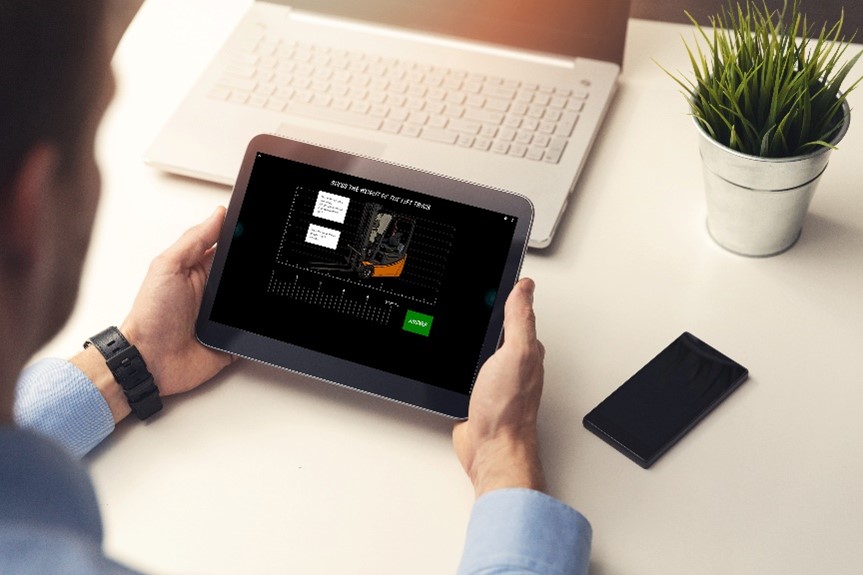 We know that time and money are tight at the moment, and that operations are especially complex as we strive to keep people safe and reduce Covid-19 infection risks in training. That is why we are so excited to introduce our brand-new refresher eLearning option for counterbalance lift truck operators!
eTruck Forklift Refresher Training
The new forklift operator Refresher training edition of our innovative eTruck UK online learning platform is available to RTITB Accredited organisations (both training providers and in-house trainers) from 5th October 2020.
Online, anytime, anywhere
With this new eLearning program, candidates must complete four chapters of interactive theory course content. This takes around one and a half hours and is done completely online rather than in a classroom setting, accessible from tablet, laptop or PC, so can take place anywhere and anytime, even outside of usual working hours.
Operators can even train when on furlough, while self-isolating, or if travel (or social) restrictions are in place.
Covid-secure refresher training
eTruck counterbalance refresher training keeps candidates safe by reducing face to face training contact. What's more, eTruck refresher training enables an operator to obtain a 2-year RTITB Operator registration extension (NORS) for counterbalance without doing any practical training if they successfully complete the final 25-question multiple choice test.
This two-year NORS registration can only be applied once before a full practical course must be undertaken to obtain a further RTITB operator registration. However, this is a great one-off way to dramatically reduce Covid-19 infection risk at this time.
Save time….and money
With our new eLearning refresher for lift truck operators, counterbalance practical training time (and time face to face with others) is kept to a minimum. In fact, the time savings allow three candidates to complete their practical refresher training in as little as 4.5 hours!
This gives Instructors more time to devote to deliver practical training and decreases the number of operators' hours lost to training. We know this can be expensive for employers, with some companies losing hundreds of hours a year, and is even more important during the current times of economic uncertainty and tight budgets.
Here to stay!
The new forklift eLearning refresher program has been designed by experts to not only be efficient, but also to result in safer operations, now and in the future. And it's not just for use during the pandemic.
This option will now be permanently available to give employers (and training providers) more flexibility and options in how training is delivered. eTruck Refresher lift truck operator training is available only to RTITB Accredited partners who can receive training licences within their Accreditation package. These training licences offer maximum value by giving operators lifetime access to a library of refresher training information that is always kept up to date and can be returned to as frequently as needed.
Pre-order now for a discount!
Until 31st October 2020, eTruck Refresher training licences can be pre-ordered at a special price of £28+VAT, instead of £32+VAT. So, don't delay – pre-order now!
Or if you need more information, email us or call the team on +44 (0) 1952 520 236.