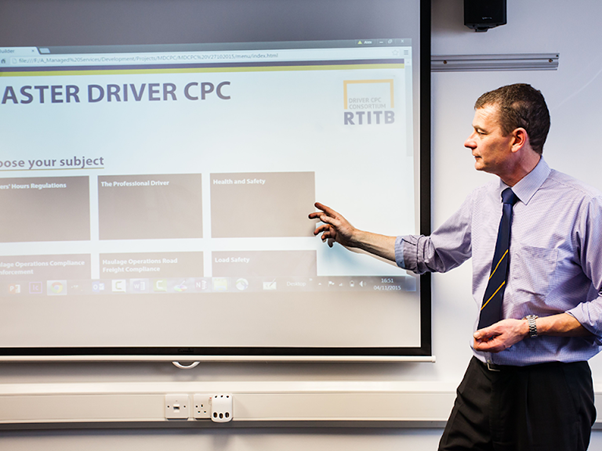 As a result of the COVID-19 pandemic, over the past year Driver CPC Periodic Training Providers have had to change how they deliver courses, with many implementing remote training delivery via video conferencing software (Teams, Zoom etc.). But should this remote training continue? We conducted a poll to find out.
With lockdowns preventing all but essential and urgent training during much of 2020, it was permitted for Instructors to deliver Driver CPC Periodic training remotely via video conferencing. This has helped to not only prevent training backlogs further down the line but has given drivers training to help them stay safe and efficient, even during the highly pressured and busy times for the supply chain.
Though Covid-secure classroom-based Driver CPC has now been able to resume, safety is still high on the agenda, and we are finding that, for now, many are continuing to deliver remote courses to help keep drivers safe, by reducing interpersonal contact (and in turn infection risks).
With all this in mind and with restrictions continuing to ease, we conducted a poll asking our social media followers whether they think remote Driver CPC should remain an option going forward.
Remote Driver CPC should be a permanent option
…even long after the pandemic has ended! That's what 61% of respondents said.
At the beginning of the pandemic, the Driver & Vehicle Standards Agency (DVSA) approved RTITB Driver CPC Consortium members to deliver CPC Periodic training via webinar or video-conferencing software to groups of up to 12 drivers.
With support from RTITB to get up to speed on this new training method, sessions were delivered live by a qualified Instructor, just like they would be in a classroom-based setting, using the same course materials that are normally used face to face, covering the same choice of topics and encouraging the same interactions between candidates and the Instructor.
Why try remote Driver CPC Periodic Training?
You might be thinking that delivering CPC training remotely, instead of in-person, must mean that there will be a compromise in quality and that drivers won't see the benefit. However, we've often found that drivers prefer this new way of CPC training. In fact, many find learning from the comfort of their own home (or a quiet corner of the office) is actually easier than if they were in a traditional classroom setting.
Of course, just like with learning in the classroom, there are challenges too. No solution is 100% perfect! For example, it can be difficult for Instructors to see and hear all drivers if they're sharing the same screen. However, remote training not only helps the environment by reducing the need for travel but it also saves time for candidates who don't have to spend extra hours travelling to and from training, on top of 7+ hours of learning they'd have to do to begin with.
What's more, we've also heard from some of our Driver CPC training providers that they prefer it too. They've found that there's more of an even playing field when delivering the training remotely – whereas in a classroom, some candidates might be able to hide at the back of the room and keep fairly quiet, that's not possible when all faces are on the same screen.
It also provides a more comfortable setting for drivers that might not necessarily be comfortable answering questions or speaking up – especially as their day-to-day roles allow them to keep themselves to themselves for the majority of the time.
And let's not forget that without the need to travel to in-person training, both drivers and Instructors can save hours of valuable time.
Get your CPC training back on track
Following the pandemic, we know that many teams are behind when it comes to their Driver CPC hours. However, whether you choose to deliver training in a classroom, or remotely, now is time to rectify this by putting solid plans in place. That's where the RTITB Master Driver CPC Consortium can help you, by ensuring you and your team are getting the most out of Driver CPC Periodic training hours.
What's more, when you become a member of the RTITB Driver CPC Consortium, you have the ability to build customised course playlists in just a few clicks, save and access them online, or download materials to deliver offline training later when it's more suitable for business operations.
Driver CPC has often been looked at as a 'box-ticking' exercise, but when drivers' CPC training hours are properly utilised, employers and drivers can both really reap the benefits. Please give our expert Driver CPC team a call today on +44 (0)1952 520219 as we'd be happy to give you some advice on how to approach your Driver CPC training challenges post-pandemic.